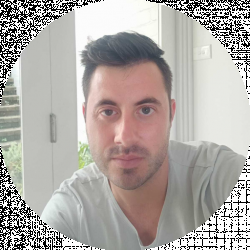 Latest posts by David Borgogni
(see all)
Keeping LEGO pieces in their original packaging isn't really an option because they arrive in plastic bags that wear out quickly after you open them. That is why you'll have to explore some of the best LEGO storage ideas to find a suitable storage solution for your collection.
Unless you're planning on keeping all sets you build on a LEGO display shelf, you're going to need an efficient way of organizing LEGO pieces that will allow you to have quick access to all parts you might need while building a LEGO model.
In this article, I'll walk you through all the steps you need to take to find a LEGO storage idea that best fits your collection, and I'll recommend several products that might help you organize your LEGO pieces. Please read our guide to the critical LEGO pieces to learn more about the most common LEGO parts.
At a Glance – The 5 Best LEGO Storage Ideas
Bottom Line Up Front
In my opinion, the LEGO Storage Box Brick is the best LEGO storage idea because its modular design allows for the gradual expansion of your collection. Moreover, this storage box is made of durable material that can't be damaged easily.
Selection Criteria
LEGO doesn't manufacture storage boxes for its sets, although several brands operating under LEGO's license offer multiple storage options. Aside from these LEGO-themed products, you can also use different types of containers and drawers to organize your collection of LEGO pieces.
Consequently, I had to consider a broad spectrum of storage solutions while selecting the best LEGO storage ideas for this article. Here are a few key criteria I utilized to identify the best LEGO storage ideas.
Collection Size
The storage needs of LEGO builders who own 3,000 and 30,000 pieces are very different. This parameter has helped me find solutions that could help the owners of small and large collections organize their pieces.
Room for Expansion
Besides providing you with enough space to store your existing pieces, the storage solution you choose should also allow you to extend your LEGO collection.
Nearly all ideas I included in this article enable LEGO builders to add new sets to their collections without worrying about storage space.
Check out our guide to the biggest LEGO sets to determine which active LEGO sets have the highest piece counts.
Estimating the Size of Your LEGO Collection
Building an extensive collection of LEGO doesn't take a lot of time because an average LEGO set has between 500 and 1,000 pieces. In addition, the brand introduces new models with high piece counts every year, which is why sets with more than 2,000 pieces are becoming common.
Collections with fewer than 5,000 pieces are considered small, and they don't require extensive storage space. A single plastic storage bin should be enough to hold an entire collection with fewer than 5,000 pieces.
Most LEGO hobbyists own more than ten LEGO sets, and the average sizes of their collections vary from 10,000 to 20,000 pieces. Storage solutions for collections of this size usually involve multiple containers that help with the organization of pieces.
On average, a large LEGO collection has over 50,000 pieces. Such vast collections require multifaceted storage solutions that allow LEGO builders to have an overview of all the pieces they have in their collections.
Please go through our guide to the best LEGO Harry Potter sets to discover some of the trendiest sets in this theme.
Assessing the Available Space
Before you can start searching for an optimal storage option for your collection, you must first decide where you're going to keep your LEGO. The room's size and the amount of available space will enable you to choose an idea suitable for a specific part of your home.
Hence, plastic containers and playmats are some of the best storage solutions for kids' rooms and similar spaces because children can easily access them whenever they want to play with LEGO.
On the other hand, storage solutions like the Wood Toy Organizer or wall-mounted storage bins better fit spaces where their size won't affect the room's functionality. These storage options make sorting out LEGO pieces easier because they have multiple drawers that allow you to group similar parts.
Check out our guide to creative LEGO ideas if you need inspiration for your next DIY LEGO project.
Storage Needs of Novice and Experienced LEGO Builders
The low piece count is the characteristic of all sets designed for the youngest LEGO fans. Sets from themes like Duplo or Classic themes don't require extensive storage space even if you purchase several models from either of these themes.
Sets aimed at children aged seven or older usually have over 1,000 pieces, so you'll have to start thinking about suitable storage options as your child gets older. A portable storage bin is arguably the best choice for sets in this age group because it allows kids to play with LEGO in different parts of the house.
Experienced LEGO builders should consider ideas that leave plenty of empty storage space so that they don't have to search for additional storage options every time they add a new set to their collections.
Please browse through our guide to the best LEGO City sets for more information about the latest sets from this theme.
Sorting out LEGO Pieces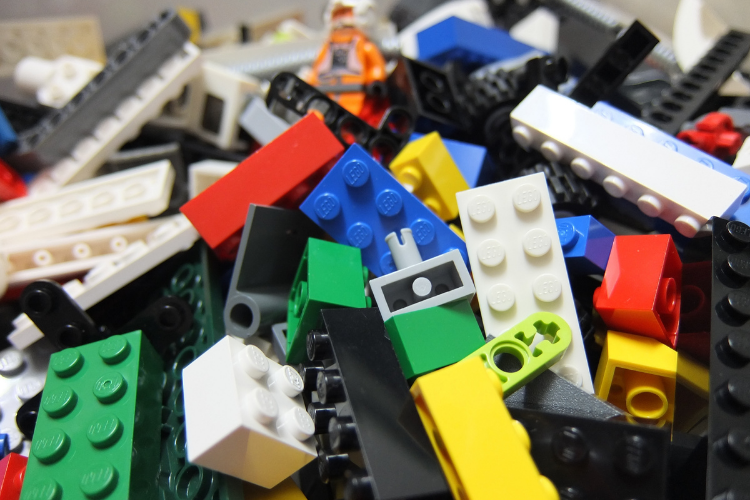 Small LEGO collections with fewer than 5,000 pieces don't require an advanced cataloging system because finding a particular piece won't take too much time. As your collection starts to grow, you should develop a system that will provide you with quick access to all pieces in your collection.
Sorting pieces by color is one of the easiest ways to separate different parts into multiple categories. However, this method isn't very practical since finding a small part in a box full of pieces with the same color can take a long time.
Most LEGO enthusiasts organize their collections by color, design ID, and element ID, which enables them to find a specific brick or slope part quickly. Adding labels to each storage box is also advisable because it will allow you to arrange storage in the way that makes the most sense to you.
Please go through our guide to the best LEGO display cases if you're searching for the best way to exhibit the LEGO models you build.
The Key Factors to Consider While Exploring Different LEGO Storage Ideas
The size of your LEGO collection and the amount of free space you have at your disposal are the most important aspects you need to take into account while considering different storage ideas. However, they aren't the only factors that can help you find the most efficient way to store your LEGO collection.
I've shortlisted some of the essential factors you should pay attention to while deciding which LEGO storage idea to choose, so let's take a quick look at them.
Portability of the Storage Solution
Considering this factor is only important if you're looking for a way to store a small LEGO collection. Children like to play with LEGO at different parts of the house, and choosing a portable storage solution will enable them to decide where they want to play.
Portable storage solutions allow you to change the location where you keep your child's LEGO collection and enable you to move it out of the way if you want to use the space for a different purpose.
How Difficult it is to Find a Specific Piece
The LEGO storage idea you choose should allow you to quickly find a piece you're looking for. That's why solutions that involve a few large containers aren't the best choice if you have an extensive collection containing many small pieces.
In case you have a large LEGO collection, you should opt for a storage option that allows you to organize pieces based on their type, color, or element ID.
Materials and Durability
The vast majority of LEGO storage bins are made of plastic, while other storage solutions include containers made of wood or metal. Most LEGO storage boxes are durable regardless of the model you choose, and you won't have to replace them often.
Playmats made of different fabric types are arguably the least durable LEGO storage option because polyester and similar materials are damaged easily. However, even the least durable LEGO storage products can remain in perfect condition for several years.
Does the Solution Offer Room for Collection Expansion?
Planning ahead is important when building a LEGO collection. That's why you should try to anticipate how much storage space you're going to need in the future while searching suitable LEGO storage idea.
Investing in a solution that exceeds your current storage needs will enable you to add new LEGO sets to your collection without fear of exceeding your storage capacities. The idea you choose should allow you to organize pieces efficiently as your collection grows.
The Cost of a LEGO Storage Idea
A single storage box can cost between $10 and $50 depending on its size, so if your collection is still under 5,000 pieces, you won't have to spend more than $20 to store your LEGO.
Storage cabinets and other storage solutions for extensive LEGO collections can cost up to $100, but you may have to spend several hundred dollars if you have a collection with more than 50,000 pieces.
The Advantages of LEGO Storage Ideas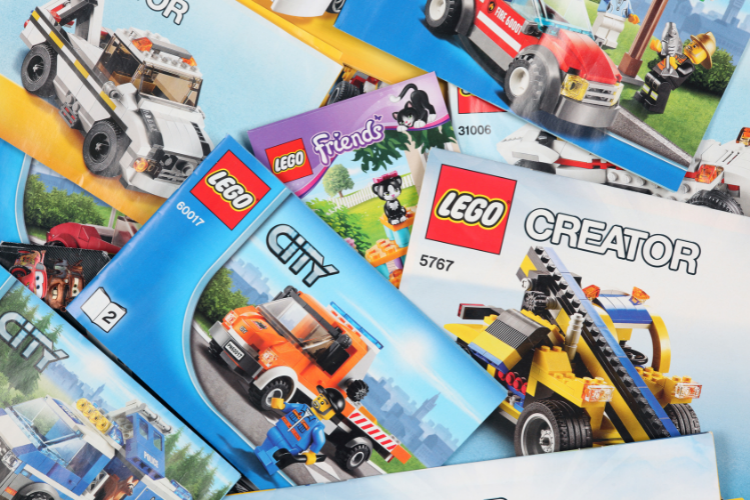 Decluttering the Kid's Room
Even a small LEGO set with fewer than 500 pieces can make any room look messy. LEGO storage options enable you to keep all pieces in the same place and allow you to clean up quickly once your children are done playing.
Efficient Organization of LEGO Pieces
Digging through a box of LEGO searching for a specific piece can be a frustrating experience. LEGO storage solutions let you organize pieces based on their type or color, which in turn reduces the amount of time you have to spend searching for individual pieces.
Most LEGO Storage Products Last for Years
Storage boxes, drawers, and other products you can use to store LEGO don't deteriorate over time, even if you use them often. Hence, you won't have to replace the LEGO storage idea you choose very often.
The Disadvantages of LEGO Storage Ideas
Some LEGO Storage Ideas Can be Costly
Finding a suitable solution for a LEGO collection with more than 50,000 pieces can be expensive, especially if you'd like to get an option that would allow you to divide the pieces into small groups.
Top 5 LEGO Storage Ideas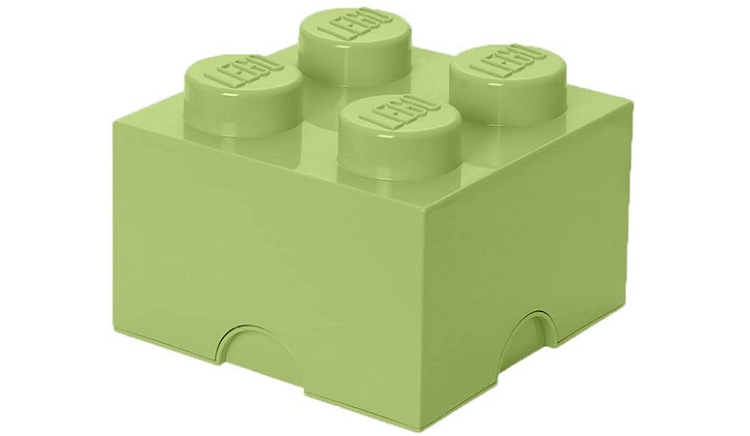 A stylish and highly functional option like the LEGO Storage Box Brick is excellent for small LEGO collections. A single box can hold around 500 pieces. However, each model has studs on the top that allow you to stack multiple boxes and extend your storage capacities.
You can choose from a broad spectrum of colors, but you should keep in mind that the price of these boxes isn't the same for all colors. LEGO storage box bricks are made of plastic that doesn't contain toxic components.
Pros
Elegant modular design
Available in multiple colors
A great fit for kids rooms
Easy to clean
Cons
A single box has a limited storage capacity
It isn't a budget-friendly option for large collections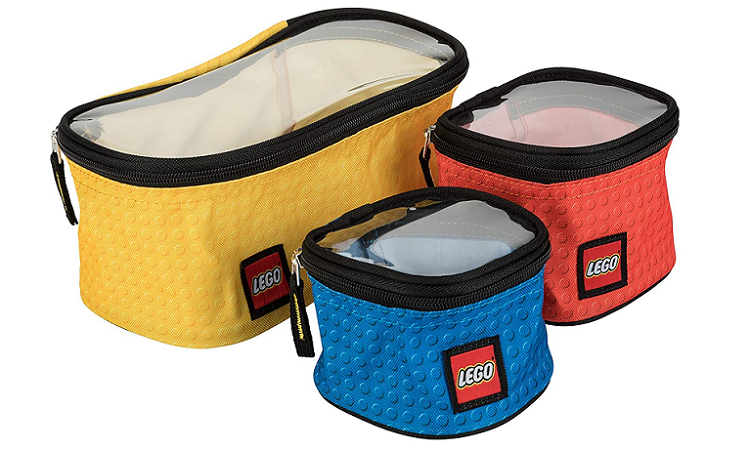 Portability is one of the biggest advantages the LEGO Storage Organizer has to offer. This product features three lightweight storage boxes made of fabric that enable LEGO builders to carry essential pieces from their collection wherever they go.
Each box has a transparent EVA top that allows you to check their contents quickly, while the zip closure grants kids instant access to LEGO pieces. However, the LEGO Storage Organizer can't hold more than 500 pieces.
Pros
The product is made of sturdy materials
Lightweight and portable
Two smaller pouches are great for minifigure storage
Quick access to stored pieces
Cons
The product isn't large enough to store an entire LEGO collection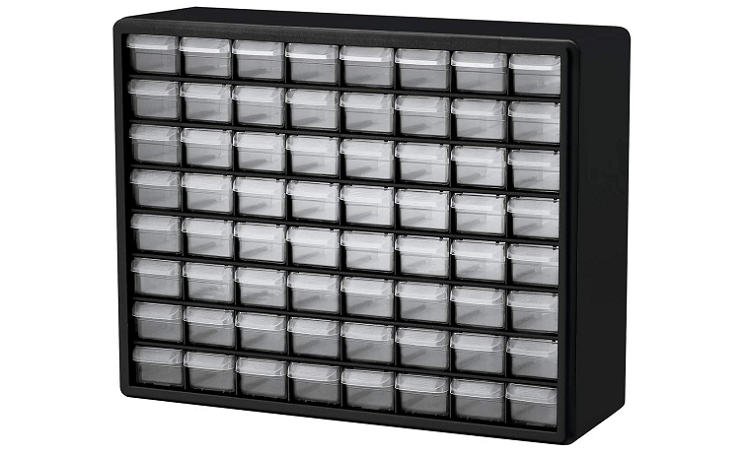 In addition to LEGOs, you can also store office supplies or hardware in the Akro-Mils 64 Drawer Plastic Parts Storage. The cabinet and drawers are made of polystyrene plastic resistant to high-velocity impacts.
Each drawer features a finger grip that allows you to pull it quickly from the cabinet, while the rear tabs prevent you from spilling its contents. The product offers dual installation options, and you can choose if you want to mount it on the wall or keep it on a desk.
Pros
It makes sorting out large collections easier
Stacking multiple cabinets is easy
Multifunctional
Spacious enough to accommodate multiple LEGO sets
Cons
It is difficult to estimate how many LEGO pieces can fit in a single cabinet
This model has only small drawers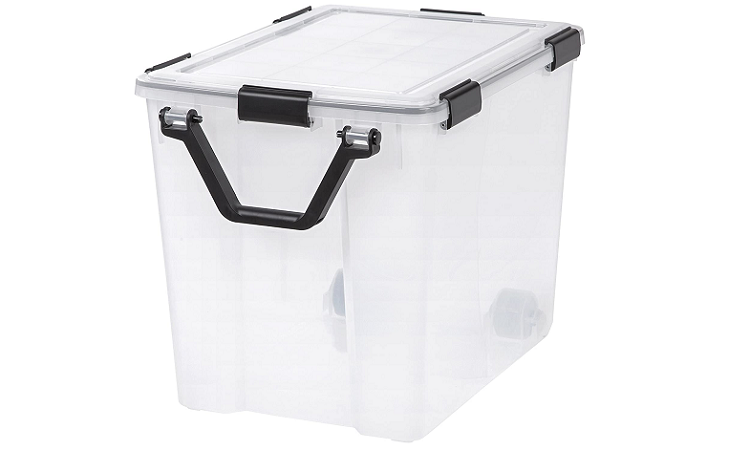 Getting a large plastic container like the Iris Weathertight Storage Box might be a good choice for you if you don't want to organize LEGO pieces. The box's volume is 103 quarts, and it is large enough to hold more than 5,000 pieces.
Hence, you can use it to store multiple LEGO sets, although you'll have to find a way to separate pieces from different sets. The box features a pair of wheels and a pull handle that allow you to move it effortlessly, while its reinforced top is strong enough to support the weight of stacked bins.
Pros
Strong and sturdy latches
This storage box is available in different sizes
High storage capacity
A Weathertight seal keeps the contents of the bin dry
Cons
It doesn't offer a way to keep LEGOs organized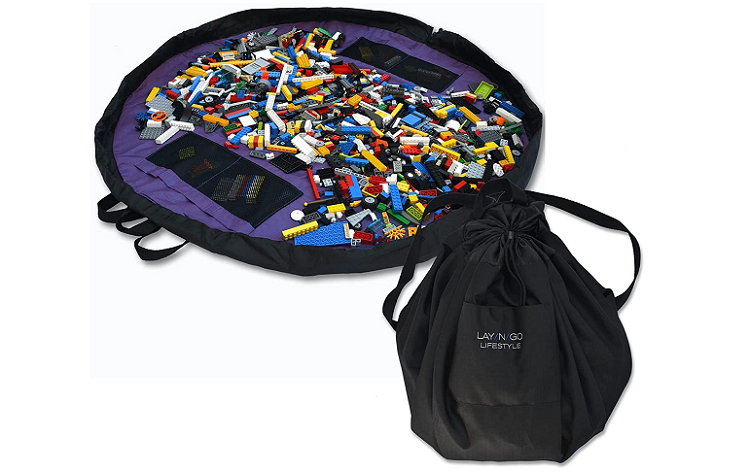 A playmat like the Lay-N-Go 2-in-1 Portable Storage Organizer will enable your children to play with LEGO wherever they go. This model features straps so you can carry it on your back when you take your children to the beach or park.
The Lay-N-GO's play mat features a mesh pocket that can hold minifigures or special pieces, and it has a lip around the edges that prevents pieces from sliding from its surface. The mat is spacious enough to store hundreds of pieces and still provide kids with a surface to build their LEGO models.
Pros
This product is available in multiple colors and sizes
It makes collecting LEGOs easy
It is great for children who like to take LEGOs wherever they go
The Portable Storage Organizer can serve as a bag or playmat
Cons
It's isn't an ideal permanent LEGO storage solution
The material might wear out quickly
Frequently Asked Questions About the LEGO Storage Ideas
Question: Can I Build a DIY LEGO Storage?
Answer: Absolutely, you just have to estimate your storage needs and design a storage that is big enough for your LEGO collection.
Question: Are Filing Cabinets a Good LEGO Storage Idea?
Answer: Yes, they are, especially if you want to organize sets and pieces based on their theme, type, or color.
Question: Do I Have to Separate Pieces from Different LEGO Sets?
Answer: Not necessarily, since all LEGO sets contain a certain amount of identical parts. However, separating pieces from different LEGO sets might make finding unique parts easier.
Question: Can Funnel Trays Help Me Find Pieces?
Answer: Yes, laying out the contents of a drawer or a bin on a funnel tray will help you find the piece you're searching for and return the rest to the container without wasting too much time.
My Verdict: Deciding which LEGO Storage Idea is the Best Option for You
Did you know that a single LEGO brick can withstand 953lbs of pressure before it starts to compress? That's why stepping on a LEGO is painful. Different LEGO storage options keep all pieces at a designated place and away from the floor where someone can accidentally step on them.
I recommend getting the LEGO Storage Box Brick if you're searching for a LEGO storage idea that will allow you to put away your child's LEGO once they stop playing with them. The Akro-Mils 64 Drawer Plastic Parts Storage might be a better option for you if your collection is too big to fit into a single box.
Which LEGO storage idea do you like the most? Let me know in the comments, or continue reading our guide to the best LEGO monster trucks if your kids like playing with these toys.
Recommended Reads: