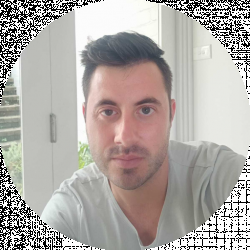 Latest posts by David Borgogni
(see all)
War toys offer children a learning tool that helps them process strong emotions and understand the concept of responsibility. Despite this, the LEGO tanks are rare, as the toymaker has strict policies regarding the production of realistic weapons and military vehicles.
Tanks featured in LEGO sets are modeled after the vehicles from Star Wars movies or Ninjago animated series. The company doesn't offer kits that allow builders to construct replicas of tanks used in conflicts since WWII.
Several competing brands have already filled the gap created by LEGO policies on realistic military vehicles, so finding sets that let you construct Sherman M4 or Tiger I tanks isn't difficult.
However, these building kits don't contain LEGO pieces, and you'll have to embark on a DIY project if you want to construct a tank composed entirely of LEGO pieces.
Bottom Line Up Front
Opting for a LEGO Star Wars set like the Armored Assault Tank 75823 is, in my opinion, the best option for first-time builders. Constructing a tank from WWII or Vietnam War era involves gathering a large number of LEGO pieces and discovering creative ways to incorporate them into your project.
See also: Critical LEGO pieces guide
10 Best LEGO Tanks
Most LEGO sets that come with tank toys are aimed at children, so constructing them doesn't require impressive skills or a lot of time. These sets don't have much to offer to adult LEGO builders fascinated by military history and features of different tank models.
Hence, constructing a DIY replica of a tank you admire is often the best option for LEGO and military enthusiasts. Still, you must have an excellent selection of LEGO pieces at your disposal before you can start working on such a project.
I've listed some of the best tank sets and DIY projects for LEGO fans of all ages, so here's what they have to offer.
LEGO Sets Containing Tank Toys
Iron Bull Tank 80007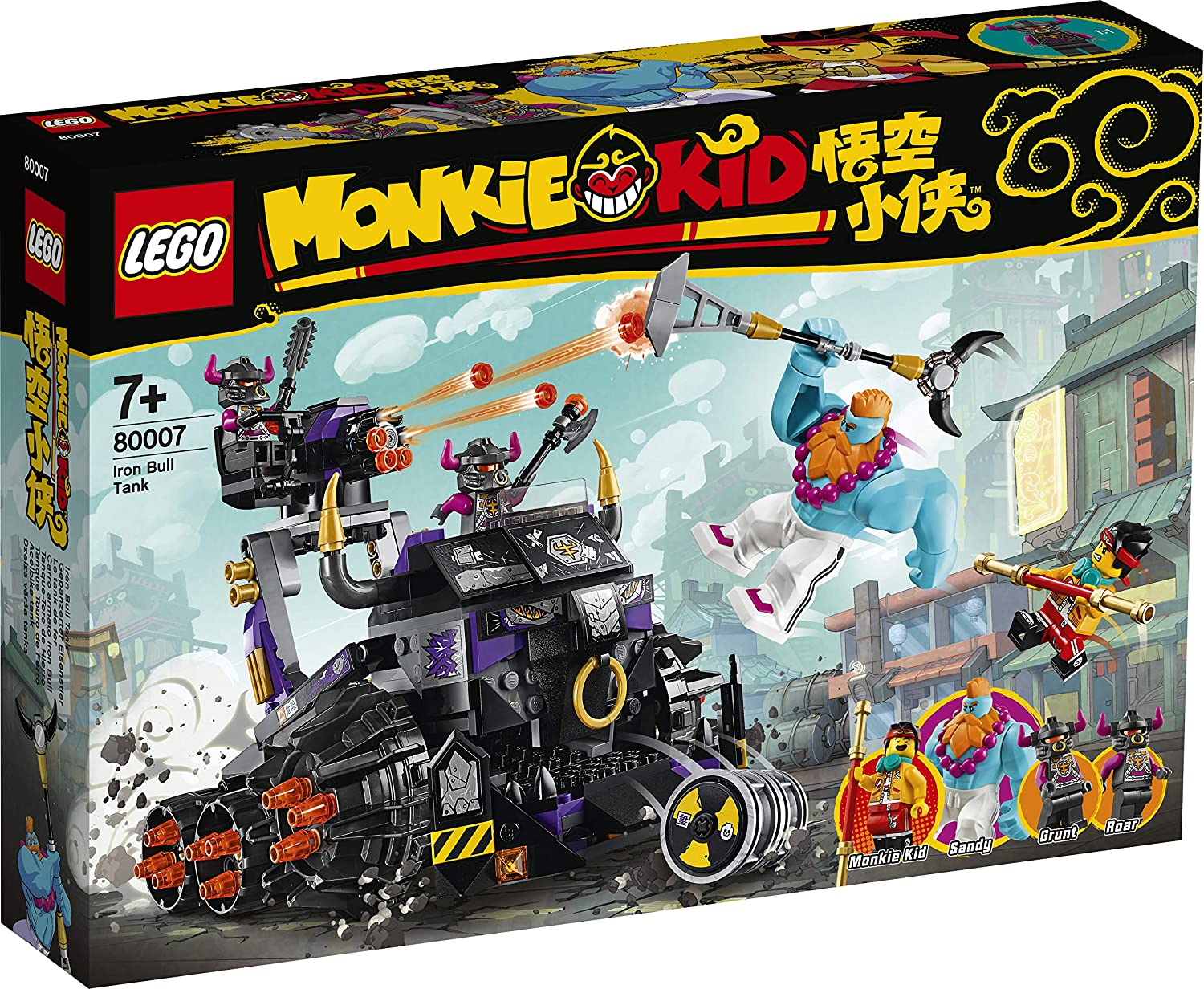 The Iron Bull Tank 80007 set was a part of an eight-seat wave released in 2020 that marked the introduction of the Monkie Kid theme to the LEGO product lineup. Since then, the toymaker published Pigsy's Noodle Tank 80026 model that features a tank toy equipped with stud and disc shooters.
These sets contain pieces that can be useful for DIY LEGO tank projects, even though they're inspired by armored vehicles from the LEGO Monkie Kid animated series. However, these toys have rotating turrets, tank threads, and cockpits like replicas of real tank models.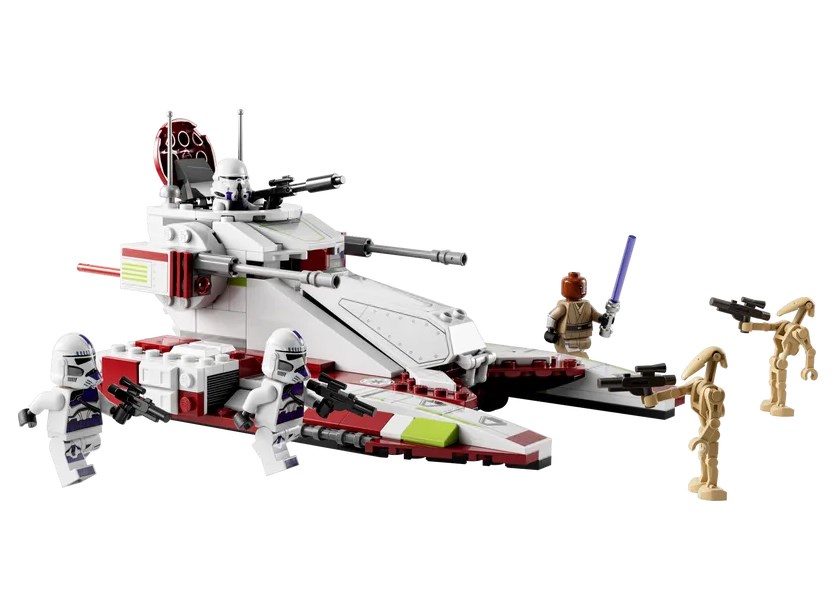 A model with a low piece count like the Republic Fighter Tank 75342 is a good fit for first-time LEGO builders interested in armored vehicles. This set is based on the Star Wars: The Clone Wars animated series, and besides the tank toy, it also contains Mace Windu, Battle Droid, and Clone Trooper figures.
The TX-130 Saber-class tank featured in this set has a pair of elevating spring-loaded shooters, an opening cockpit, and hidden wheels. The toy is just 8 inches long, and most of its pieces aren't suitable for large-scale tank replicas.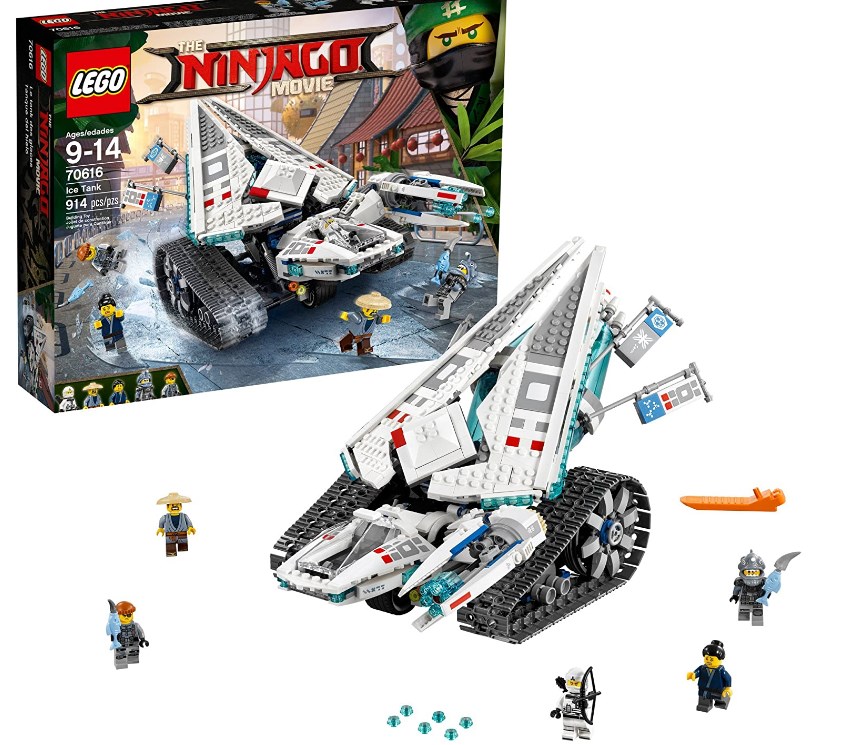 Tanks aren't common in sets from the Ninjago theme since only a handful of models released within this theme featured this toy in the last ten years. The Ice Tank 70616 is one of the rare Ninjago sets that feature a tank toy.
This model was discontinued four years ago, and you'll have to spend hundreds of dollars to get it. Active sets in this theme don't contain tank toys, so opting for a retired model is your only option if you're looking for armored vehicles in the Ninjago theme.
It's worth adding that the discontinued Dieselnaut 70645 set also features a tank toy.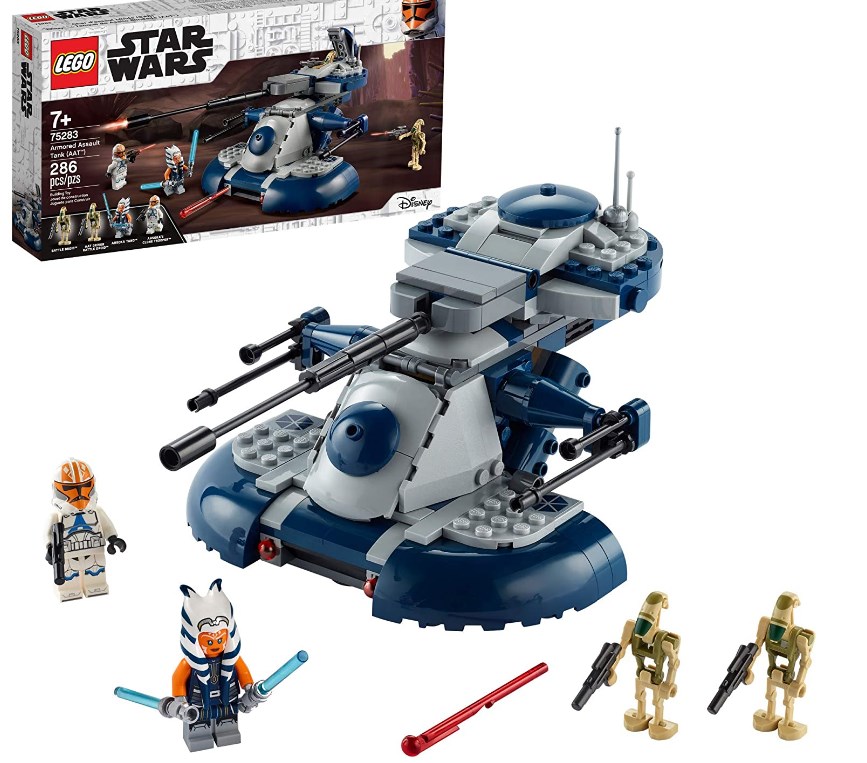 Constructing the Armored Assault Tank 75823 is easy since the set has less than 300 pieces. The futuristic tank toy has elevating canon elements, a rotating turret, and other fun features that inspire active battle play.
This model was released more than two years ago, and LEGO will cease its production by the end of the year, so you should get this set before its value increases. Keep in mind that this set isn't a good source of pieces for DIY LEGO tank projects since only the toy's guns can be a good fit for a replica of a real tank.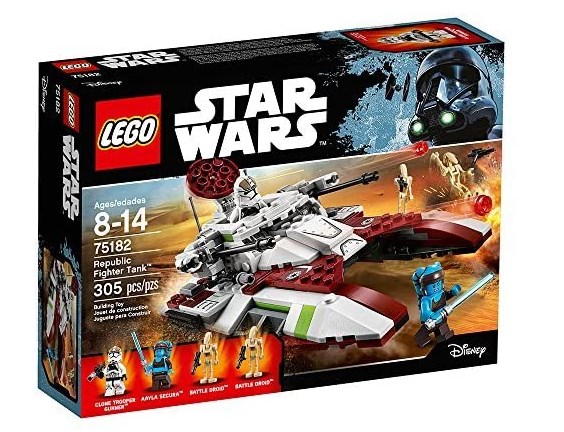 This LEGO set is an earlier version of the upcoming Republic Fighter Tank 75342 model. The tank toys featured in these sets have similar designs and features. However, the Republic Fighter Tank 75182 model has more pieces, and it comes with Aayla Secura, Clone Trooper Gunner Minifigures.
Both versions of the tank have hidden wheels, an opening top hatch, and a rotating turret. Hence, you won't be able to use the set's parts to build a tank tread, but some of its pieces can be utilized to construct the turret.
Also, none of these sets have power functions, so you'll have to purchase the motor element separately if you want to control your DIY tank remotely.
DIY LEGO Tank Projects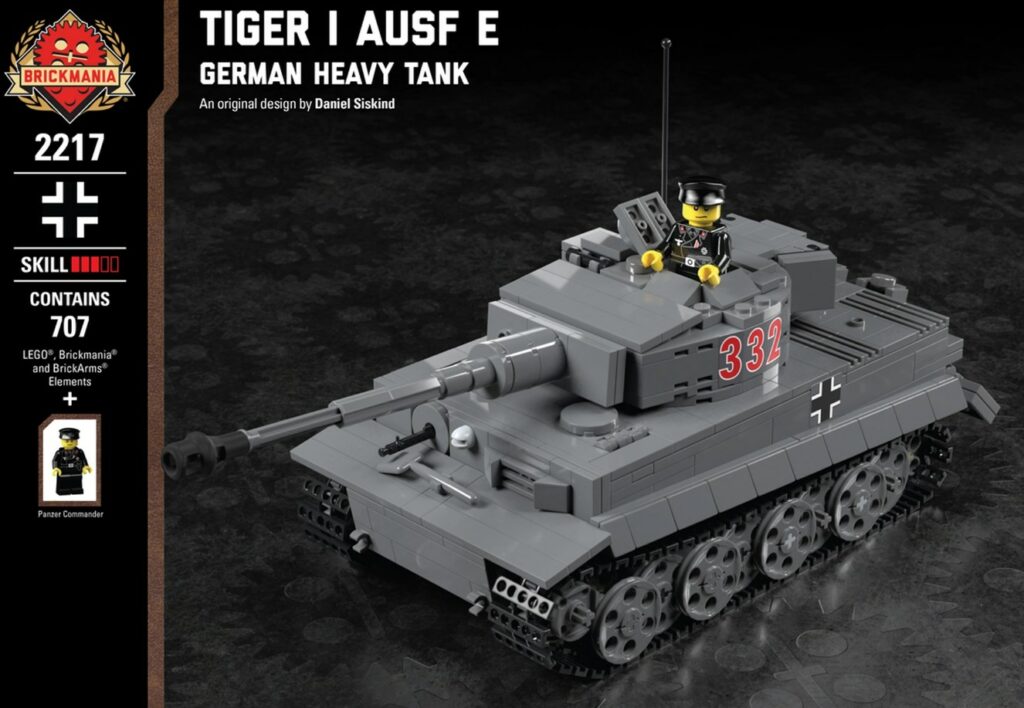 The number of LEGO pieces and elements you need to build a German Tiger I tank depends on the model's size. Constructing a 14-inch replica of this tank requires more than a thousand pieces.
The original versions of these tanks were produced in dark gray and dark yellow colors, which makes obtaining the pieces to construct an accurate replica challenging.
You should bear in mind that several toy manufacturers offer German Tiger I tank display models and playsets, but these sets don't contain authentic LEGO pieces.
The most challenging part of building a WWII Soviet T-34 tank is obtaining LEGO pieces in the right color. These tanks had army green color, so gathering enough LEGO parts to build the tank's hull, turret, and the gun won't be easy.
Fining the building instructions for a LEGO replica of a T-34 tank doesn't take much time, and you can even purchase a booklet with the complete part list and building instructions for this vintage tank model.
You don't necessarily need a lot of pieces for this DIY project, since even T-34 replicas with a few hundred pieces can be overwhelming for novice LEGO builders.
US Sherman M4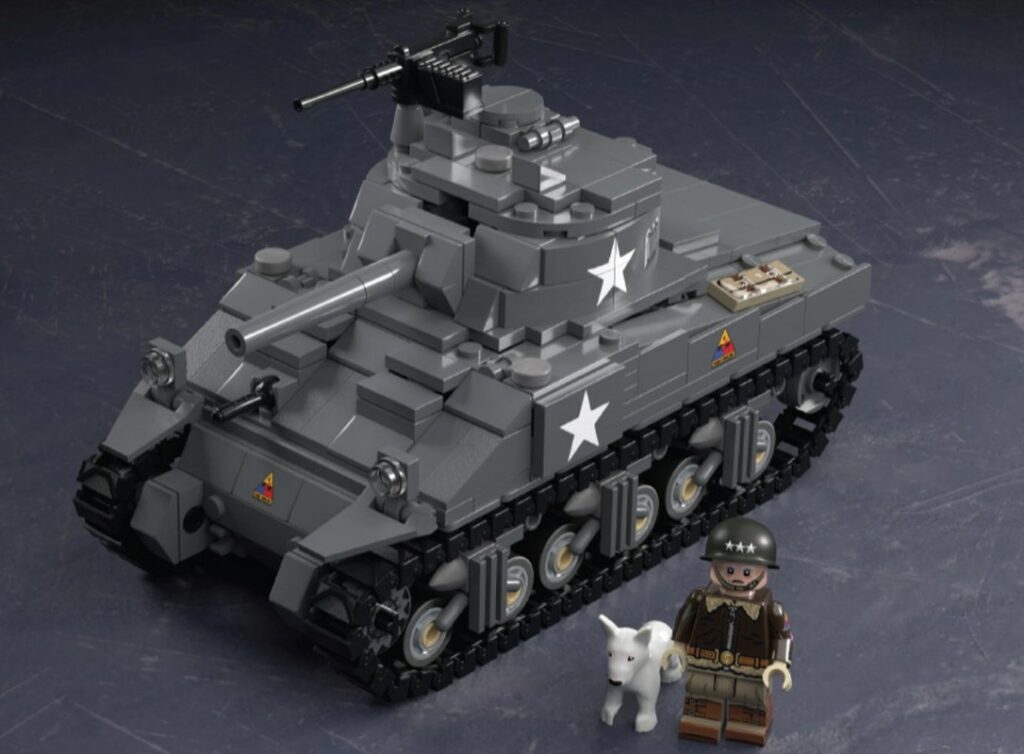 Standard LEGO sets contain most pieces you need to construct a US Sherman M4 tank replica, but some gear and wheel parts are hard to come by. Most LEGO models inspired by this WW2 tank you'll find online are light gray, even though the tank's original color was olive drab.
Several websites offer part lists created specifically for the US Sherman M4 display models, and browsing through these lists can give you a vague estimate of the number of pieces you're going to need for your project.
I advise against purchasing US Sherman M4 sets from online retailers that aren't authorized by LEGO because you may spend a substantial amount of money on a low piece count set.
Panther II Tank
The Panther II tank used by Nazi Germany during WWII is one of the most recognizable tank models in military history. That's why it's hardly surprising that this tank is a popular LEGO DIY project. Online video tutorials feature detailed instructions on how to construct this tank.
Several online retailers offer Panther II tank models containing pieces compatible with LEGO bricks. However, obtaining authentic LEGO parts, Minifigures, and accessories for a Panther II tank may take a while since you'll have to gather a considerable amount of rare pieces.
Optionally, you can add a large Technic motor or a medium linear motor to the model if you want to control it remotely.
US M48 Tank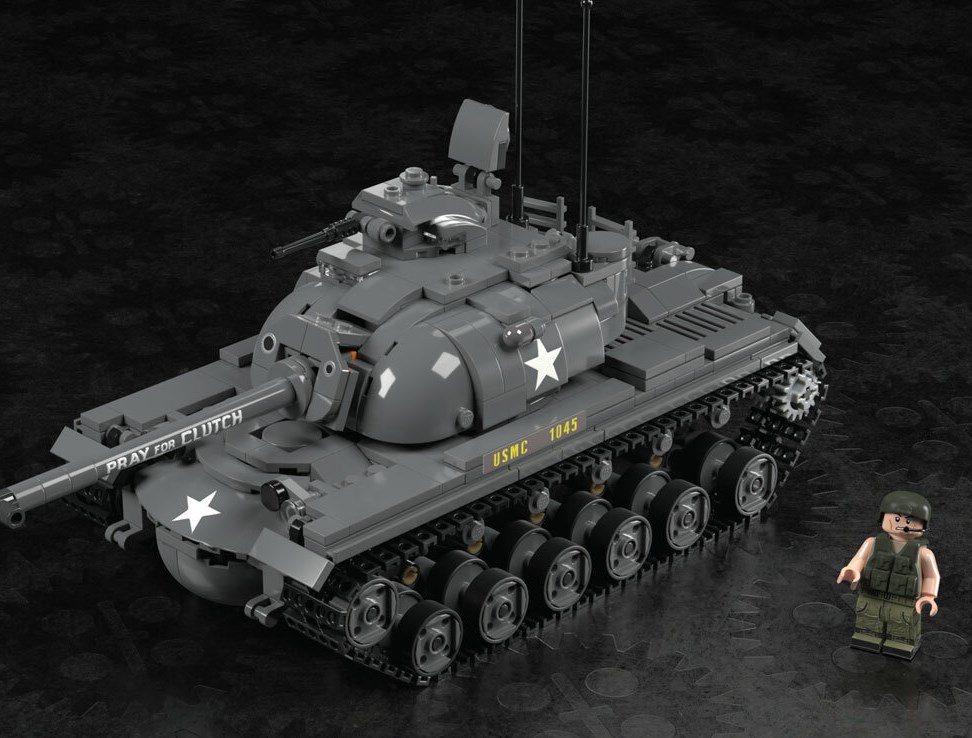 The so-called M48 Patton was predominantly used during the Vietnam war, so this DIY project might be a good option if you're interested in this era of American military history. Custom building kits with parts made from authentic LEGO pieces and building instructions are available online.
Most kits have around a thousand pieces, and their prices vary from $150 to $200. Bear in mind that you'll have to customize various LEGO pieces if you decide to complete this project on your own. However, constructing the tank's hull, a rotating turret, or an elevating gun shouldn't take too much time.
LEGO Themes With Tank Toys
None of the sets LEGO released in its long history were modeled after real tank models, but despite this, tank toys appear sporadically in LEGO sets released within different themes. Armored vehicles featured in different movies or cartoons usually serve as inspiration for these fictional tanks.
Properties of these toys depend on the model, but a rotating turret, opening cockpit, and stud shooters are among the standard features included on most tanks.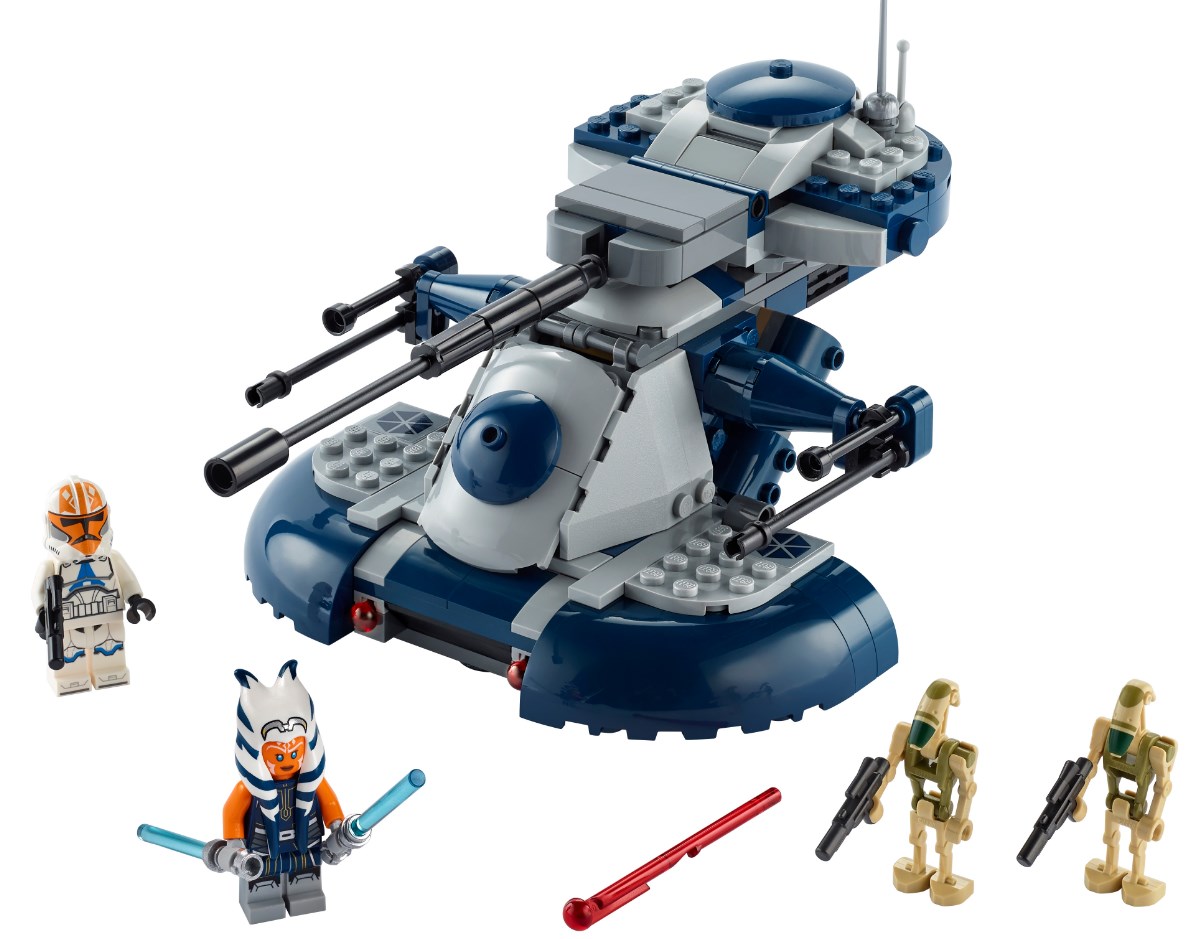 Most Star Wars sets that contain a tank toy are published within the Clone Wars subtheme. Even though LEGO published numerous Star Wars models inspired by tanks, only two active sets in this theme feature these toys.
These sets are aimed mostly at children aged seven or older, and their piece count is usually below 500 pieces.
See also: The best LEGO General Grievous sets
Monkie Kid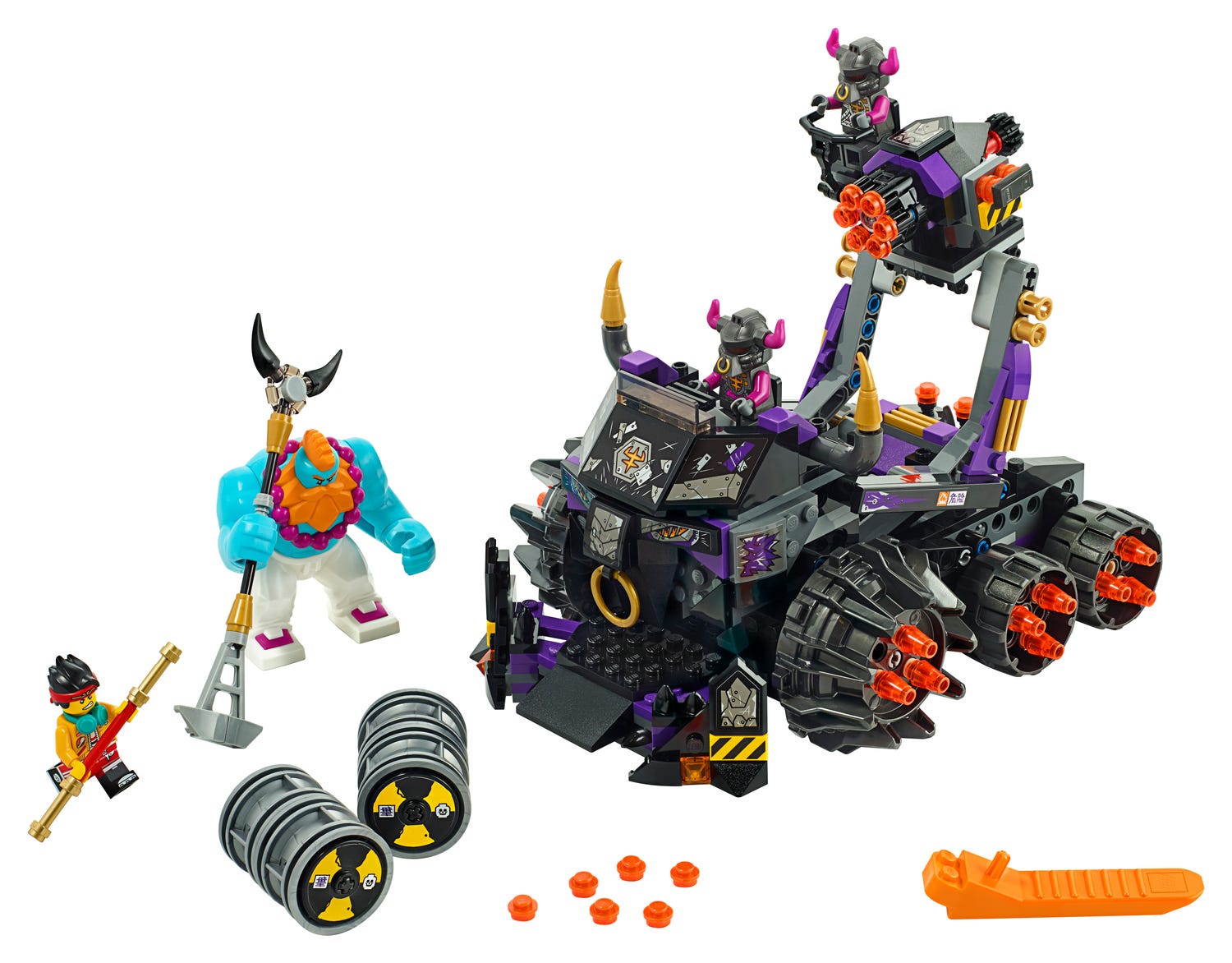 You won't have a variety of options at your disposal if you'd like to get Monkie Kid tank-themed set because only two models feature this toy. This theme is just two years old, so it wouldn't be surprising if LEGO releases more Monkie Kid sets with tanks in the future.
See also: The best Marvel LEGO sets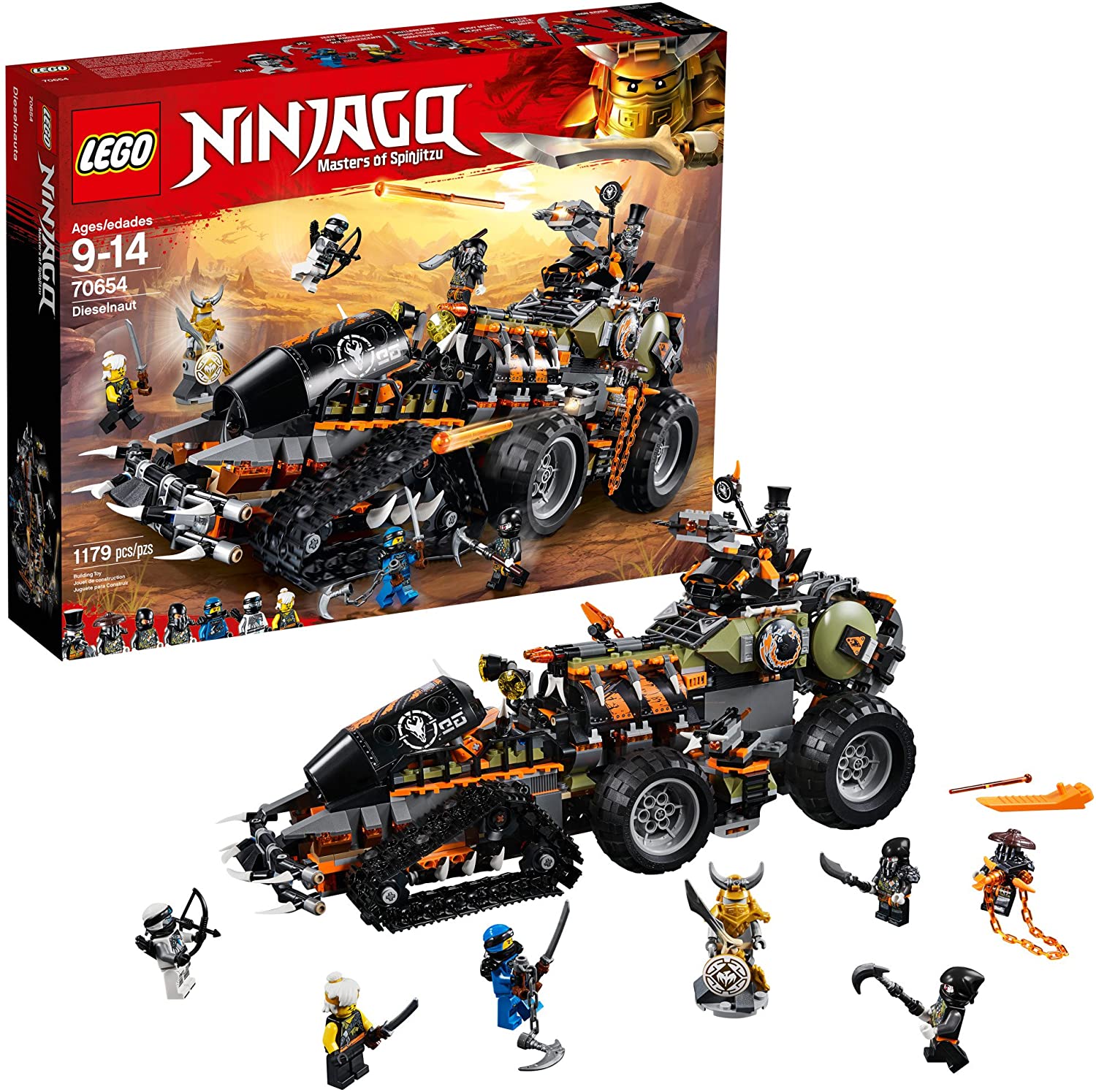 Tanks are rare in the Ninjago theme. None of the theme's active sets feature these vehicles, and you'll have to buy a retired model if you'd like to get a Ninjago tank. Discontinued sets from this theme often cost more than a hundred dollars, and they're not a budget-friendly option.
See also: The best LEGO Ninjago Minifigures
Tank Crew Minifigures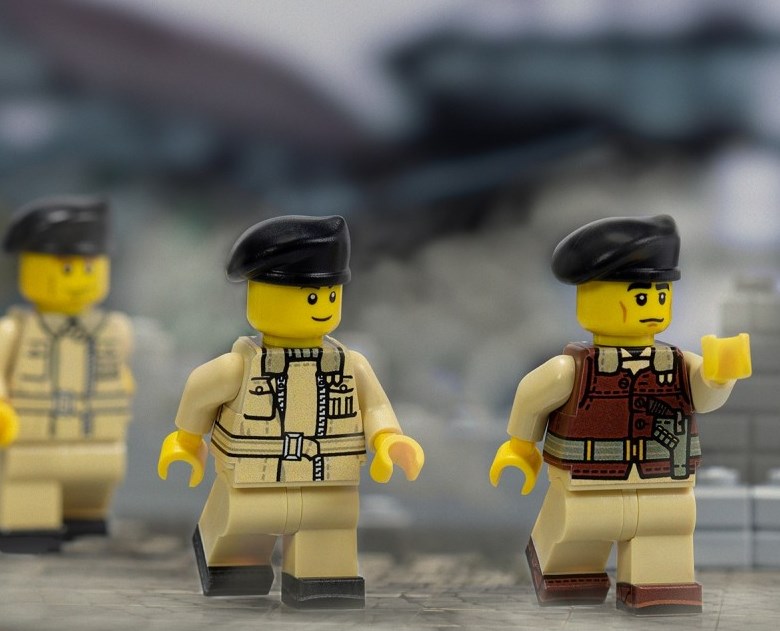 Gunman, commander, driver, and loader Minifigures aren't a part of the LEGO product lineup. So, the only way to create an authentic crew for your DIY project is to customize standard LEGO Minifigures by printing uniforms on torso and leg elements.
Helmets, vests, or boots are also among the elements you'll have to customize to create a believable tank replica that fits a specific era of military history.
Online retailers offer custom LEGO soldier Minifigures with WWII, Vietnam War, and even Afghanistan War uniforms, but the price of a single Minifigure can exceed $10. Designing Minifigures from LEGO pieces is a more affordable but time-consuming option.
You shouldn't spend too much time looking for Minifigures you can use as a tank crew, as they're just a decorative element.
See also: Best LEGO Star Wars Minifigures
LEGO Tank Accessories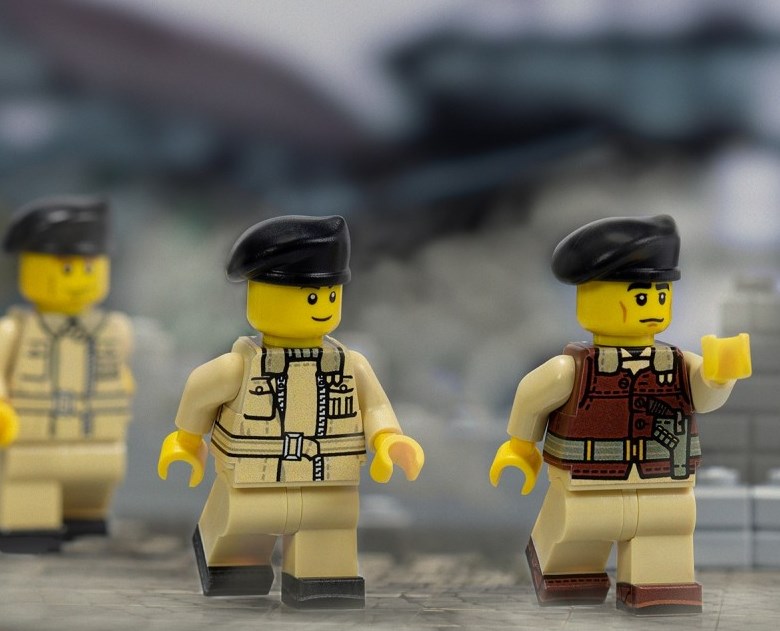 Hand grenades, rifles, machine guns, or oil barrels are some of the accessories that can enrich a DIY LEGO tank project. Some online retailers offer entire accessory packs, while various producers of custom LEGO tanks include these accessories in their sets.
Finding the accessories that will match your project is relatively easy since you have to know if the tank you're constructing is from the Cold War or WWII era. However, radio and similar accessories you can integrate into a tank model from the 1940s or 1960s are often expensive and hard to find.
Like Minifigures, accessories are decorative elements that don't increase the model's functionality. Hence, it would be best only to consider getting accessories after you've gathered the pieces you need to construct a specific tank model.
See also: LEGO Clone Trooper review
Building Custom LEGO Tanks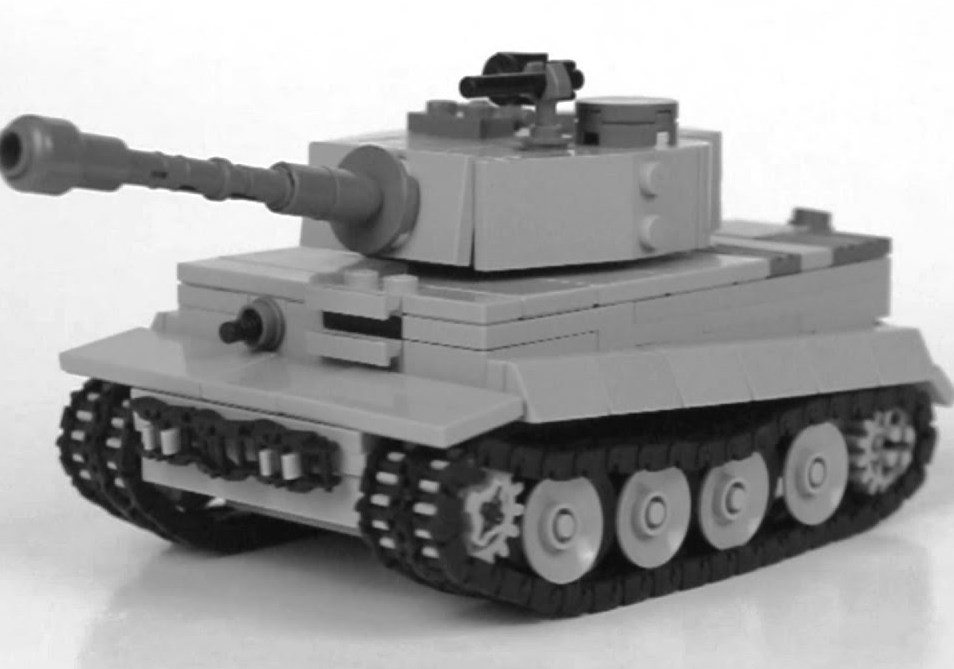 Approaching a DIY LEGO tank project can be intimidating since it's difficult to know where to start or how many pieces you're going to need. Choosing a particular tank model like the M4 Sherman or T-34 will give you a good starting point.
Websites like Rebrickable and Brickmania offer building instructions for a wide range of tank models. Besides giving you access to part lists, some online LEGO forums can also help you gather the pieces for the tank you want to construct.
Most builds require around thousand pieces, and the complexity of the assembly process depends on the level of detail you want your tank replica to have. Creating the engine compartment, the ammunition storage, or including the gunner and driver areas will increase the complexity of the build.
Ordering custom tank sets is also an option, but keep in mind that some of these kits only include bricks compatible with LEGO pieces.
See also: The best LEGO Captain America sets
Competing Brands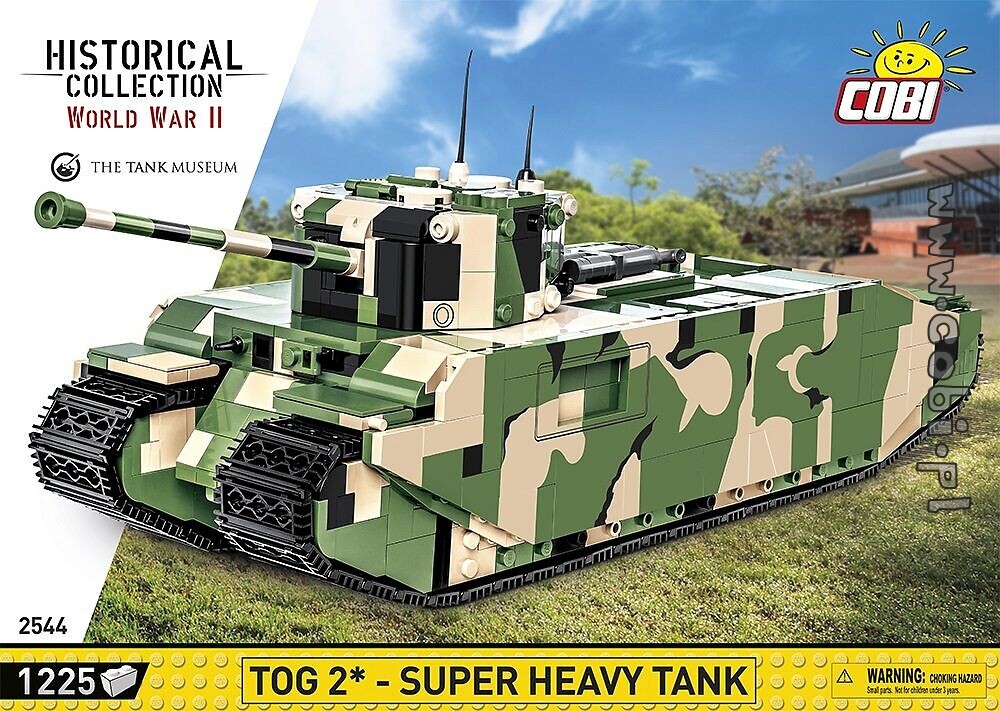 Several brands produce brick-build replicas of historic tank models. Cobi, Octopbrick, Nifeliz, and Feleph are among toy manufacturers that offer buildable tank models. It's important to note that combining parts from Cobi or Nifeliz sets with LEGO pieces may not be possible.
Nonetheless, getting a model manufactured by one of these brands can help you prepare for building a tank display model from LEGO bricks.
I recommend avoiding brands that don't have official websites because you may end up with an overpriced, low-quality product. In addition, some brands offer sets with confusing building instructions, which complicates the assembly process.
The quality of bricks, Minifigures and accessories varies from brand to brand, while some models can have stability issues. Some models don't offer a rewarding construction experience because they have low piece counts.
See also: The best LEGO merch guide
The Key Factors to Consider While Choosing a LEGO Tank
Decide which tank replica you want to build
Create an estimate of the model's dimensions
Use online resources to learn more about the methods other LEGO builders used to construct a specific tank model
Gather the pieces, Minifigures, and accessories you need for the project
Consider buying tank sets produced by other brands to get familiar with the construction process
Frequently asked questions about LEGO Tanks
Question: Do LEGO tanks contain Technic pieces?
Answer: Most builds involve the use of System and Technic pieces. However, the exact part list depends on the model you want to build.
Question: How many pieces do I need to build a LEGO tank?
Answer: A simple five to ten-inch LEGO tank has around 300 pieces, while large-scale replicas can have thousands of pieces.
Question: Are LEGO tanks difficult to build?
Answer: Yes, constructing a custom LEGO tank requires advanced building skills.
Question: Is it safe to order a custom LEGO tank?
Answer: You should only order custom LEGO tanks from reliable sources and avoid retailers that don't ship sets in original packaging.
Final Thoughts
LEGO sets feature tanks inspired by vehicles from Ninjago, Monkie Kid, and Star Wars cartoons and movies. Although they're fun to play with, these toys don't offer a rewarding construction experience since they usually have fewer than 500 pieces.
I recommend getting the Armored Assault Tank 75823 set if you're looking for a model suitable for a young LEGO fan. Constructing a DIY replica of a Tiger I or US M48 tank can be an entertaining project for experienced LEGO builders who don't want to purchase tanks sets produced by competing brands.
Was this guide to the best LEGO tanks useful? Let me know in the comments, or continue reading our guide to the biggest LEGO sets to learn more about models with 5,000 or more pieces.