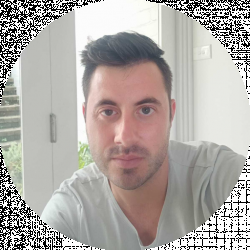 Latest posts by David Borgogni
(see all)
LEGO has released hundreds of sets inspired by Star Wars movies since the turn of the century. Despite this, the best LEGO General Grievous sets remain scarce because the toymaker introduced less than ten models based on this villain since 2005.
Only one active set in the Star Wars theme is based on this character, while all other models featuring a General Grievous figure or Minifigure are discontinued. Whether or not LEGO plans to publish new sets inspired by the supreme commander of the droid army is currently unknown.
In this article, I'll take you through all aspects you need to consider while deciding which LEGO General Grievous set is the right option for you, and I'll recommend some of the best models you can find in online stores.
Our guide to the best LEGO Yoda sets will help you discover some of the most popular Star Wars sets featuring this iconic character.
Bottom Line Up Front
The General Grievous' Starfighter 75286 is the only active LEGO set based on this character, and in my opinion, it is the best choice for LEGO fans who are just starting a collection of Star Wars Sets.
On the other hand, The Malevolence 9515 is a must-have set if you're looking for the next valuable addition to your LEGO Star Wars collection.
At a Glance – The 8 Best General Grievous Set
Selection Criteria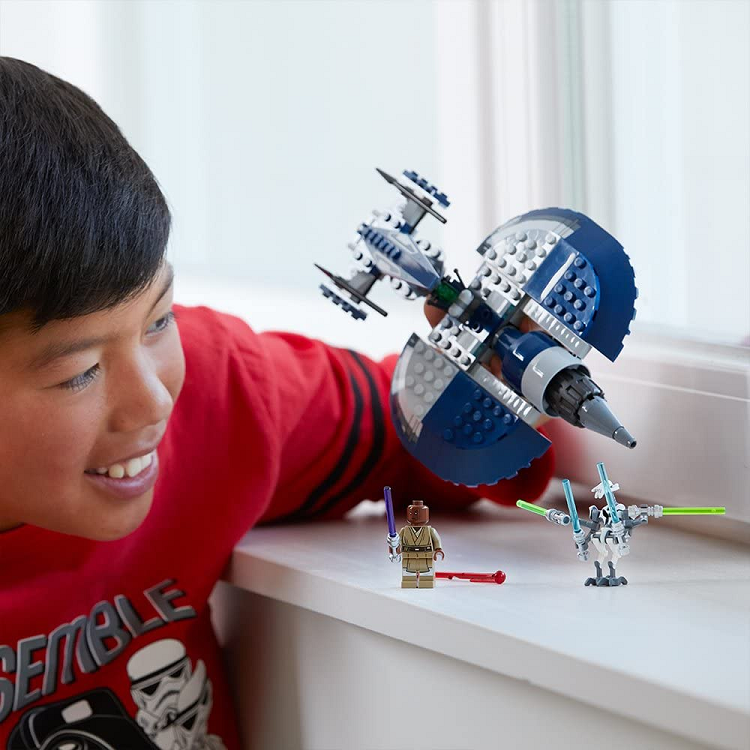 LEGO published less than ten General Grievous sets in the last twenty years. That's why choosing the sets for this article was easy. I considered all models the toymaker produced from 2005 onward, and I included the most valuable options.
I utilized only a few parameters during this process that helped identify General Grievous sets suitable for LEGO fans of all ages. Let's take a look at the most important ones.
Set's availability – The final selection of the best General Grievous sets includes both active and retired models. I also included models aimed at collectors searching for rare sets featuring this villain.
Price range – This criterion has helped me choose expensive and affordable models so that you can pick a set that best fits your budget.
Please read our guide to the best LEGO lightsaber sets for more information about models featuring these Jedi weapons.
General Grievous and LEGO Star Wars Theme
The collaboration between Lucasfilm and LEGO started in 1999. Since then, LEGO renewed the license to produce Star Wars-themed sets three times, and all signs indicate that two entertainment industry giants are going to continue collaborating beyond 2022.
The first set featuring the General Grievous character was released in 2005. This villain appears in models inspired by Star Wars: The Revenge of the Sith and Clone Wars. However, one of the most famous Star Wars villains appears in LEGO sets sporadically.
Most models featuring General Grievous were retired more than ten years ago. Furthermore, LEGO published just a few sets with this character over the course of the last decade.
General Grievous appeared in the LEGO Star Wars Collectible Display Set released in 2009 that also featured Count Dooku and Asajj Ventress figures. However, this set is nearly impossible to find.
Check out our guide to the best LEGO Stormtrooper sets to discover LEGO sets with different variants of Stormtrooper soldiers.
Key Characteristics of LEGO General Grievous Sets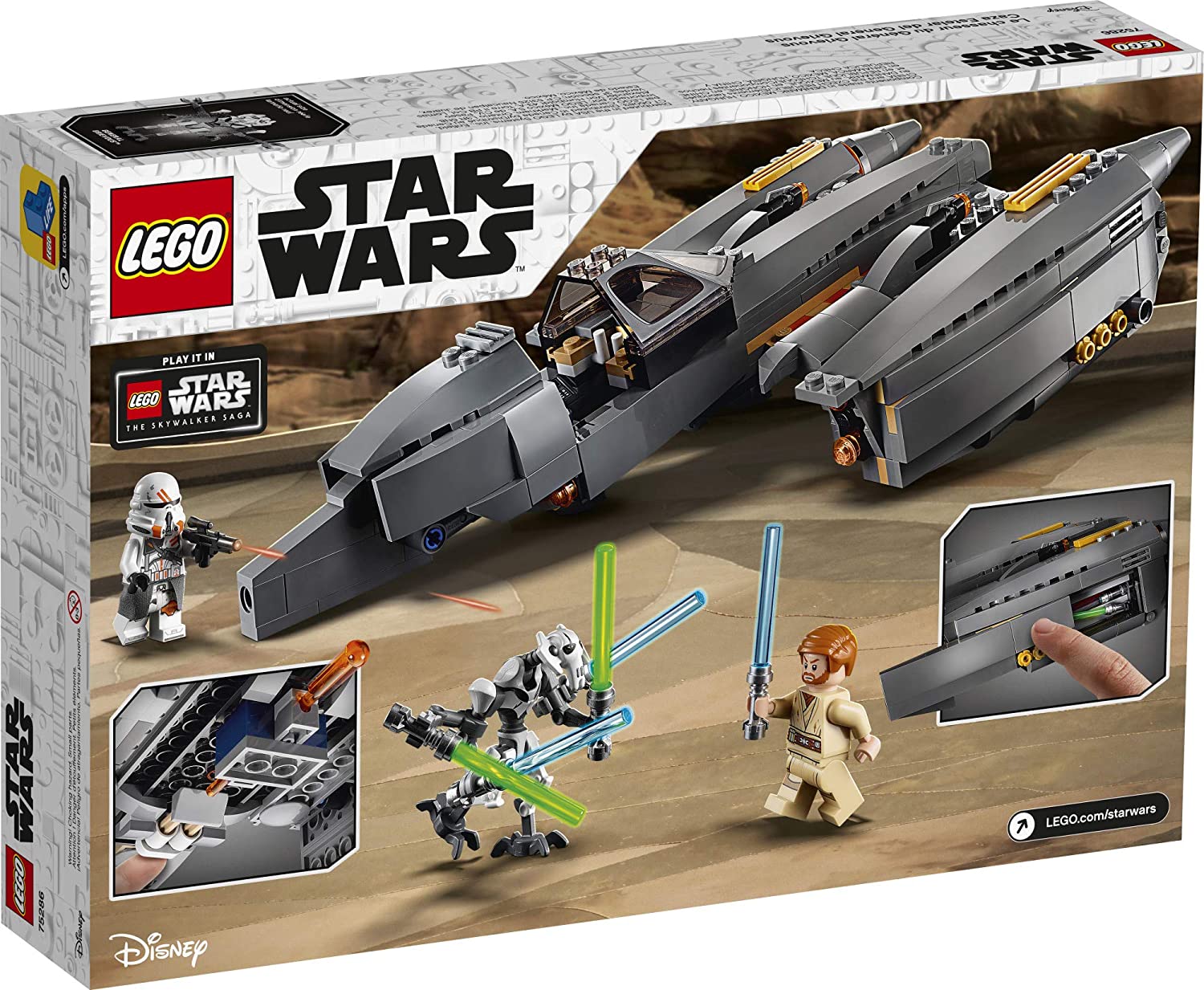 Models inspired by General Grievous have nearly identical features. Display sets feature posable figures equipped with two green and two blue lightsabers. Playsets, on the other hand, usually feature a spaceship toy.
So far, LEGO has published General Grievous sets containing starfighter, combat speeder, and wheel bike toys. Besides guns and lightsabers, these sets don't feature other accessories kids can play with. What's more, General Grievous sets usually have two or three Minifigures.
The piece count of these sets is low, and none of the models LEGO released to date had more than 1,500 pieces, while just two sets had over 1,000 pieces. Only one display General Grievous set is designed for LEGO fans aged 14 or older, while the rest is suitable for children under ten.
In most cases, children don't need previous set-building experience to construct a set featuring this Star Wars villain. Please browse through our guide to the best Star Wars Minifigures for more information about sets that can help you start a collection of Star Wars Minifigures.
Variations of General Grievous Minifigures
The original version of the General Grievous Minifigure appeared in the General Grievous Chase 7255 set released in 2005. It had four lightsabers for each arm and a red cape. Two years later, LEGO published the General Grievous Starfighter 7656 that featured the same Minifigure but without the cape.
Since then, LEGO introduced Clone Wars and Episode III variants of this Minifigure included in all General Grievous sets published since 2010. The Clone Wars variant appears only in sets published before 2014.
The Minifigure was redesigned in 2014, and all General Grievous sets released since then feature the Episode III variant of this Minifigure. It's worth pointing out that the differences between Clone Wars and Episode II variants are miniscule.
Please take a look at our Battle on Tatooine review if you'd like to find out what makes this Star Wars set so popular.
Building a LEGO General Grievous Set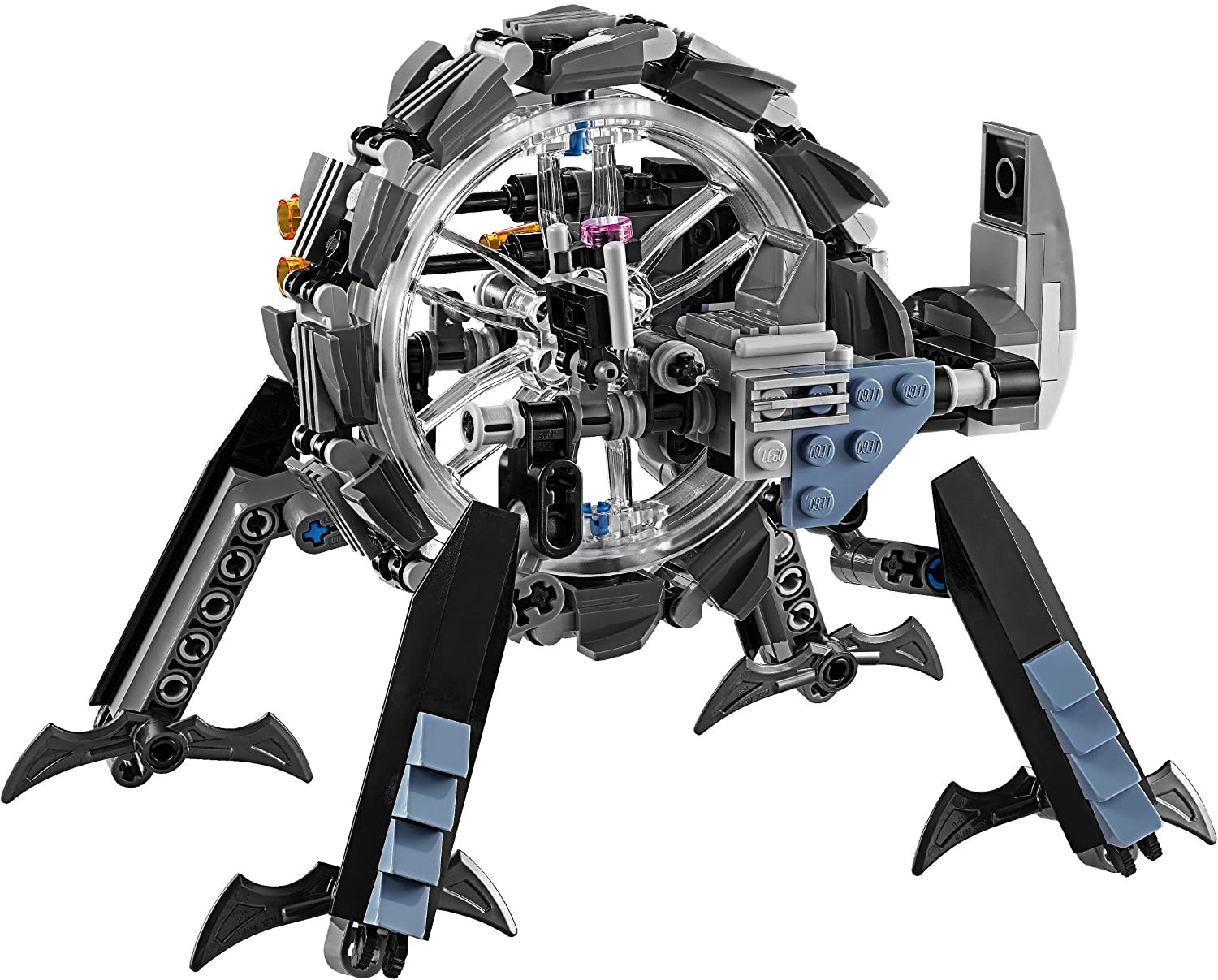 Sets inspired by General Grievous contain standard LEGO bricks, and they're not suitable for toddlers. These sets don't contain Starter Bricks, so children between four and six might struggle to assemble them.
However, most General Grievous sets are suitable for kids under ten, although their recommended age limit varies between seven and nine. As I already mentioned, low piece count is one of the traits most General Grievous sets have in common.
Assembling a model with more than a thousand pieces takes only a few hours, while even novice LEGO builders can construct sets with fewer than 500 pieces in less than an hour. Moreover, each model comes with detailed instructions that are easy to follow.
Please browse through our guide to the best LEGO sets under $20 if you're looking for an affordable LEGO set that can help children improve their set-building skills.
The Key Factors to Consider while Choosing a LEGO General Grievous Set
Price range – Retired General Grievous sets are expensive even if they have a low piece count, and you may have to spend hundreds of dollars to get a set retired more than ten years ago.
New or used set – Some online retailers offer used General Grievous sets that don't have the original packaging. These models can be a good option for a collector who wants to obtain a rare General Grievous set, but they're not ideal if you're looking for a present for a young LEGO fan.
Availability of spare parts – Finding replacement parts for a set LEGO retired more than ten years ago is difficult because you can't order the piece you're missing from the manufacturer.
Minifigures and accessories – Keep in mind that General Grievous sets come with a handful of accessories, which limits the range of play options they offer. Moreover, these sets usually have two or three Minifigures.
Don't buy a retired LEGO set from an unreliable source – Prices of retired General Grievous sets vary from one retailer to another. In addition, some sellers offer damaged or incomplete sets at high prices.
Top 8 LEGO General Grievous Sets
General Grievous' Starfighter 75286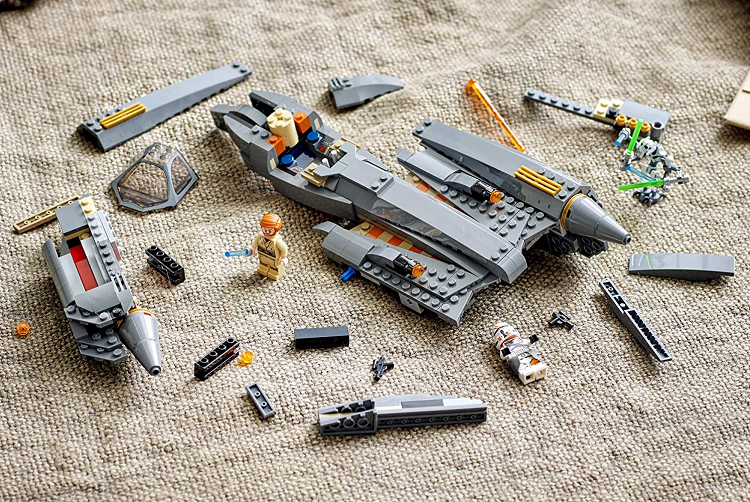 Almost two years after the release, the General Grievous Starfighter 758286 is still one of the best-selling sets in the Star Wars theme. The Starfighter toy has retractable landing gear, and it is equipped with a pair of stud shooters.
The spaceship's cabin is spacious enough to fit the General Grievous Minifigure, and you can store the lightsabers in the ship's weapon compartment. Obi-Wan Kenobi and Airborne Clone Minifigures are equipped with blaster and lightsaber accessories.
Pros
The Starfighter toy is nearly 12 inches long
Short assembly process
It's less expensive than most General Grievous sets
It encourages active play
Cons
It has just three Minifigures
The set contains fragile pieces
General Grievous 75112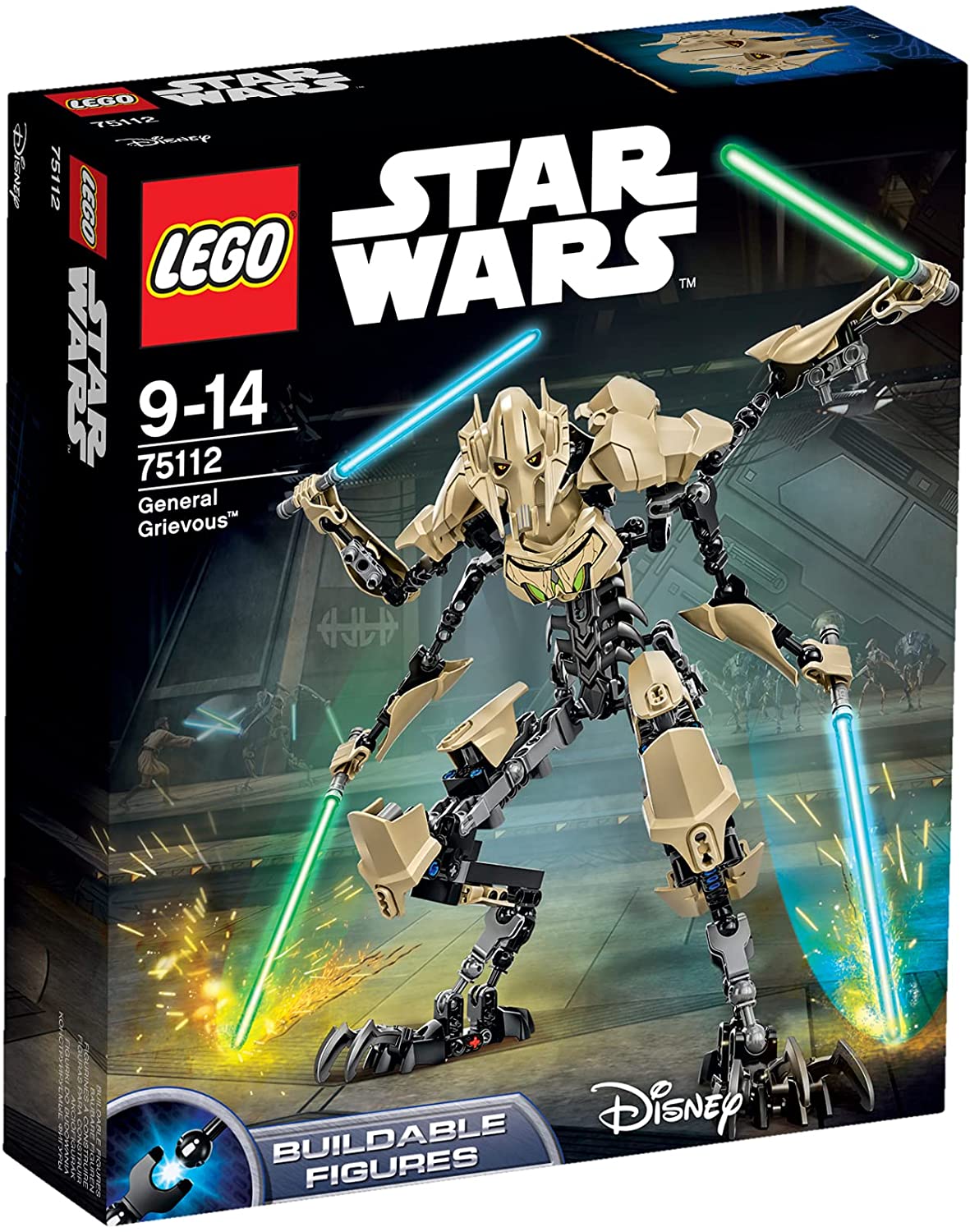 Although it was retired more than five years ago, the General Grievous 75112 set is still available in online stores. This set was affordable during its 14-month lifespan, but its value has increased significantly since then.
This action set features an 11-inch tall General Grievous figure with posable arms and legs. Four buildable blue and green lightsabers are also included, but the set doesn't have other accessories.
This model is compatible with Obi-Wan Kenobi 75109, Darth Wader 75111, and other Star Wars sets featuring action figures.
Pros
The figure has 2-into-4 arms
Stable and sturdy design
The building instructions are easy to follow
The figure is easily portable
Cons
Children grow tired of this set quickly
This set is hard to find
General Grievous' Combat Speeder 75199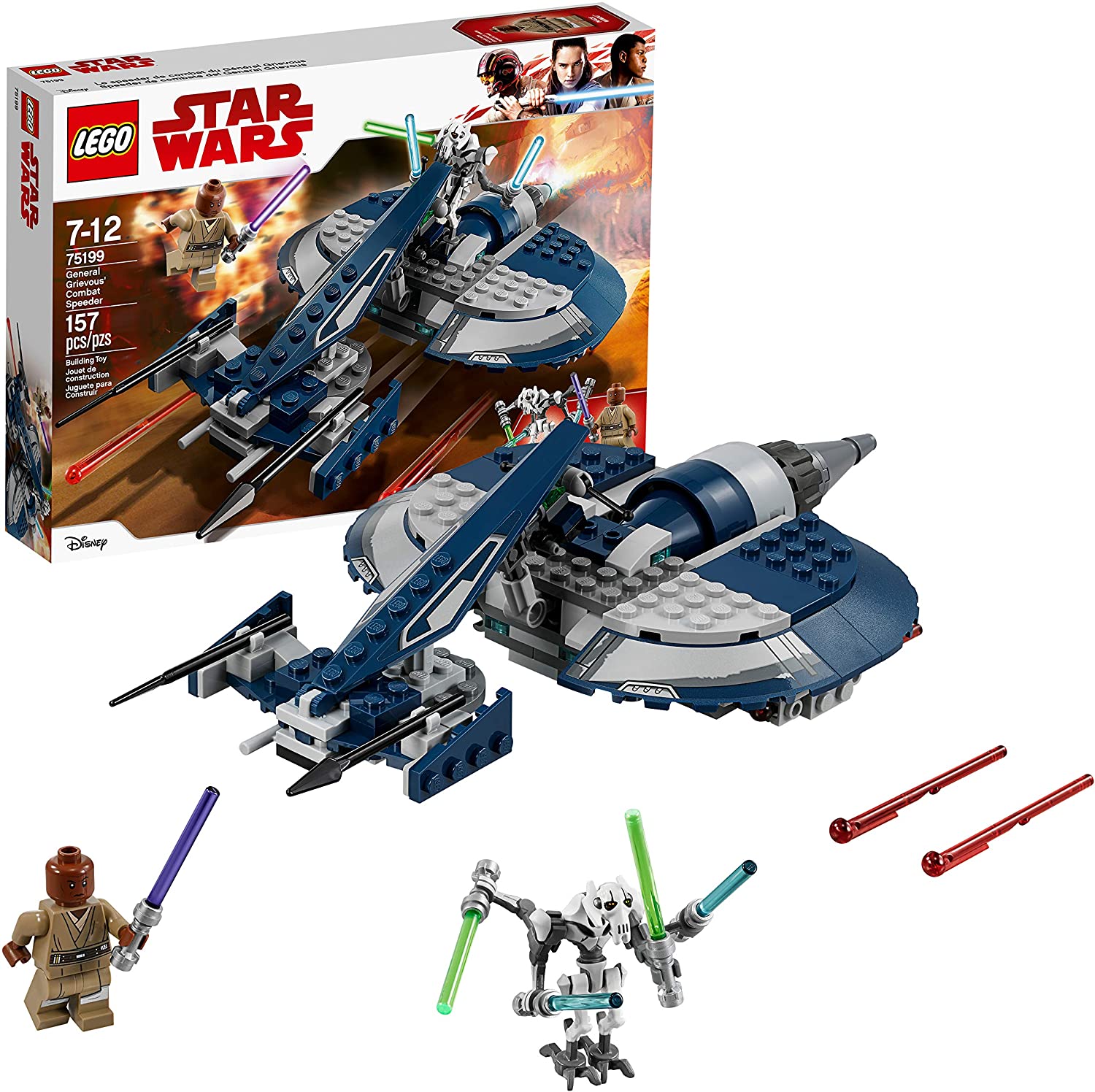 Children can develop a variety of play scenarios with the General Grievous Combat Speeder 75199 set, despite a low piece count. This model has just 157 pieces, and even first-time builders can assemble it by simply following the building instructions.
The Combat Speeder toy has a cockpit for the General Grievous Minifigure, and it features two stud shooters the General can fire at Mace Windu Minifigure. The toy also has storage space for the General's lightsabers. The set was in production for 23 months before LEGO retired it in December 2019.
Pros
This set is based on Star Wars: The Clone Wars animated series
Suitable for a seven-year-old
It has functioning stud shooters
Children can stage battles between Mace Windu and General Grievous
Cons
A limited selection of accessories
General Grievous' Wheel Bike 75040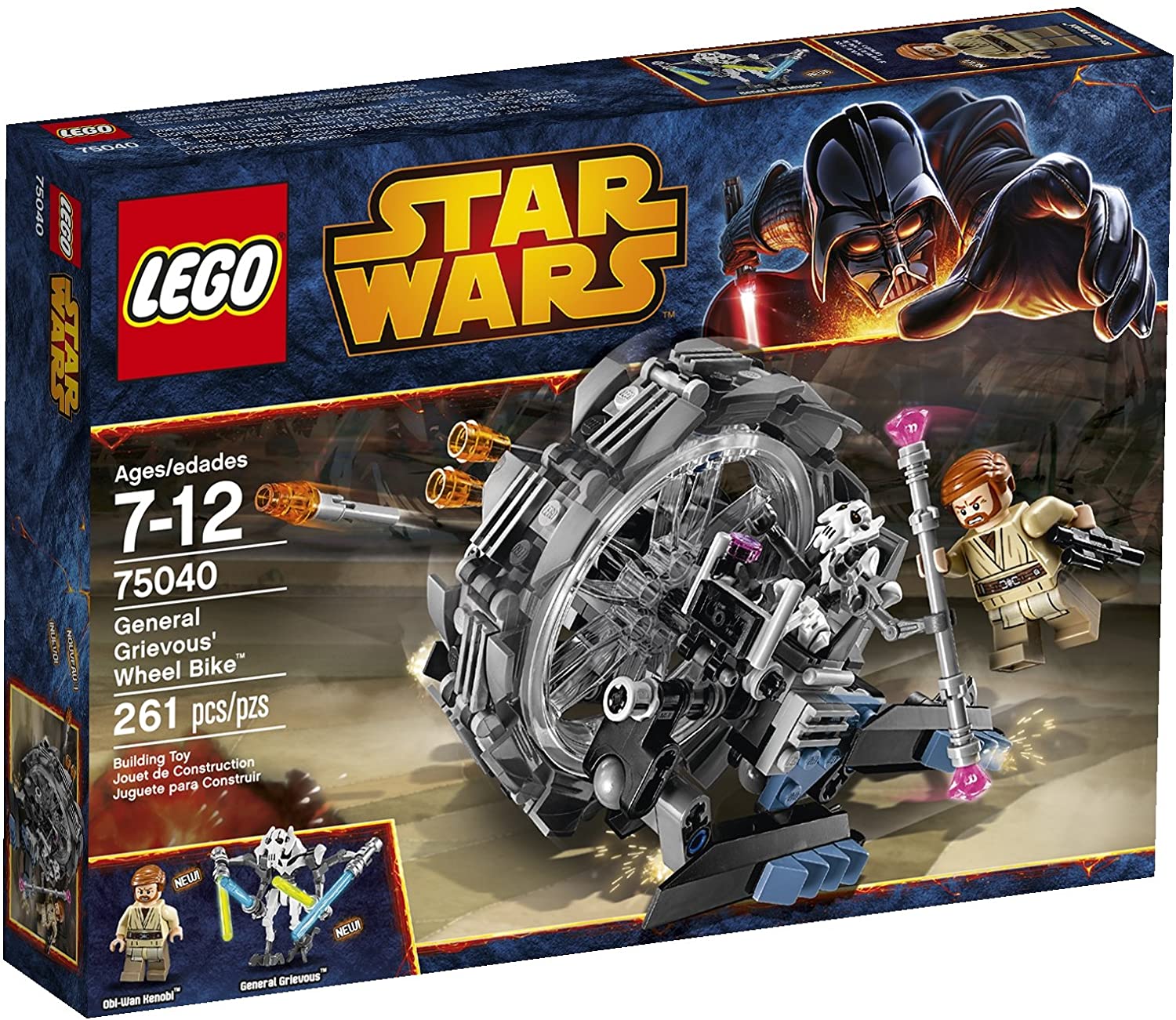 Finding a new and unused General Grievous' Wheel Bike 75040 set is challenging because LEGO retired this set in 2015. The Tsmeu-6 speed bike features foldout clawed legs that allow children to park when they're not playing with it.
The bike has a turning wheel that starts to spin as soon as the legs are folded and a seat for the General Grievous Minifigure. It has two cannons the General can fire at his enemy Obi-Wan Kenobi armed with a blaster pistol.
Pros
The electro-staff accessory is included in the set
Speeder bike toy has authentic details
General Grievous Minifigure has adjustable arms
Fun assembly process
Cons
This set is rare and expensive
Experienced LEGO builders might find this set underwhelming
The Malevolence 9515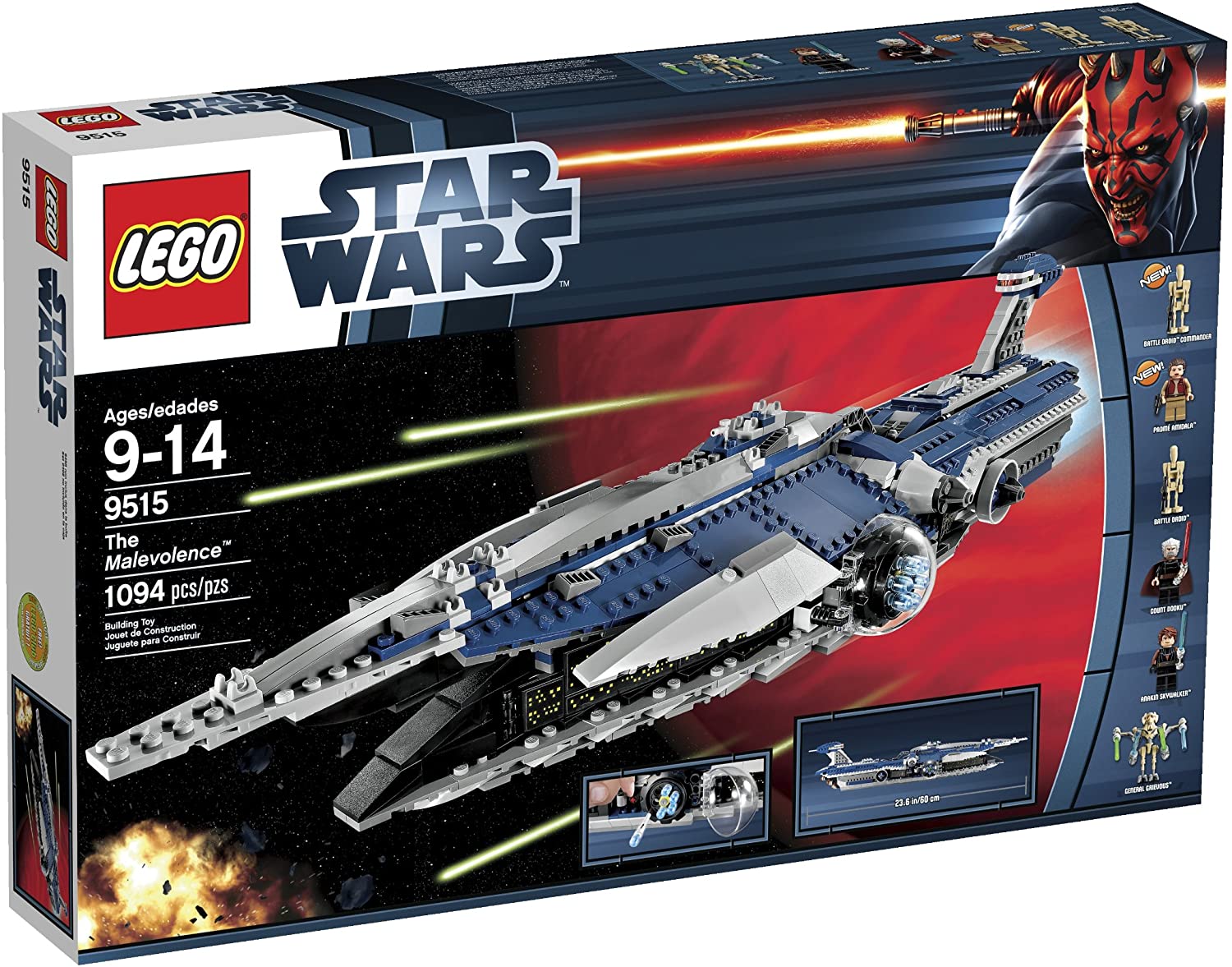 An excellent selection of Minifigures and an impressive starship toy are some of the reasons why The Malevolence 9515 is one of the best General Grievous sets ever created. The set is inspired by the Clone Wars series, and it features the original variant of the General Grievous Minifigure without a robe.
Besides General Grievous, this set also features Anakin Skywalker, Count Dooku, Padme Amidala, Battle Droid Commander, and Battle Droid Minifigures. The starship's cargo bay and command room are easily accessible, and both sections are large enough to fit multiple Minifigures.
Pros
The set comes with two building instruction booklets
Starship toy has several missile launchers
Each Minifigure is equipped with different weapons
It has a high piece count
Cons
This set was released in 2012
Finding spare parts for this set is difficult
General Grievous' Starfighter 8095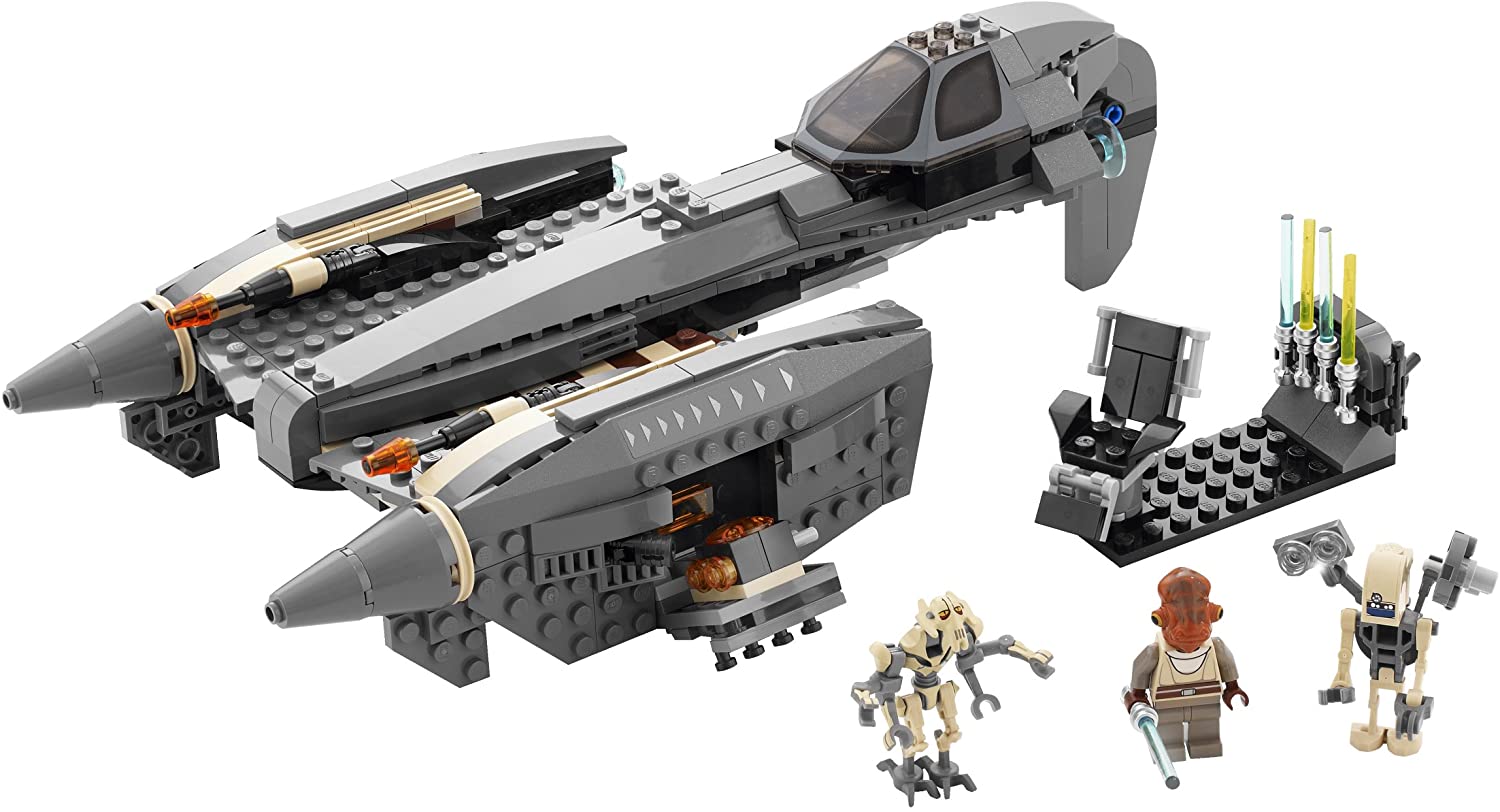 Collectors of Star Wars sets should consider adding the General Grievous Starfighter 8095 set to their collections. This 2010 set served as a model for the more recent version of the set with the same title.
Starfighter toys featured in these sets are almost identical as both toys are 11.5-inches long, they have opening cockpits and stud shooters. The older version of this set was the first LEGO Star Wars set to feature A4-Droid and Nahdar Web Minifigures.
Pros
Starfighter toy has four rockets
The cockpit has a seat for the General Grievous Minifigure
Straightforward assembly process
It offers a variety of play options
Cons
It's more expensive than the 2020 version of this set
General Grievous Chase 7255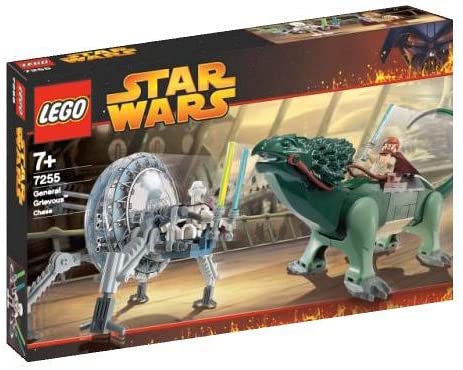 Released within the Revenge of the Sith product line in 2005, the General Grievous Chase 7255 is the first LEGO Star Wars set to feature the villain's Minifigure. It contained two elements, the wheel-bike and Boga lizard.
The wheel-bike has four legs that connect to the wheel and a seat for the General Grievous Minifigure. Boga toy has a seat for the Obi-Wan Kenobi Minifigure. This set didn't have other accessories except five lightsabers with grey handles.
Pros
The General Grievous Minifigure comes with a cape
It's a collector's item
Both toys are small and easily portable
Cons
This set has just 111 pieces
LEGO retired this set 15 years ago
General Grievous 10186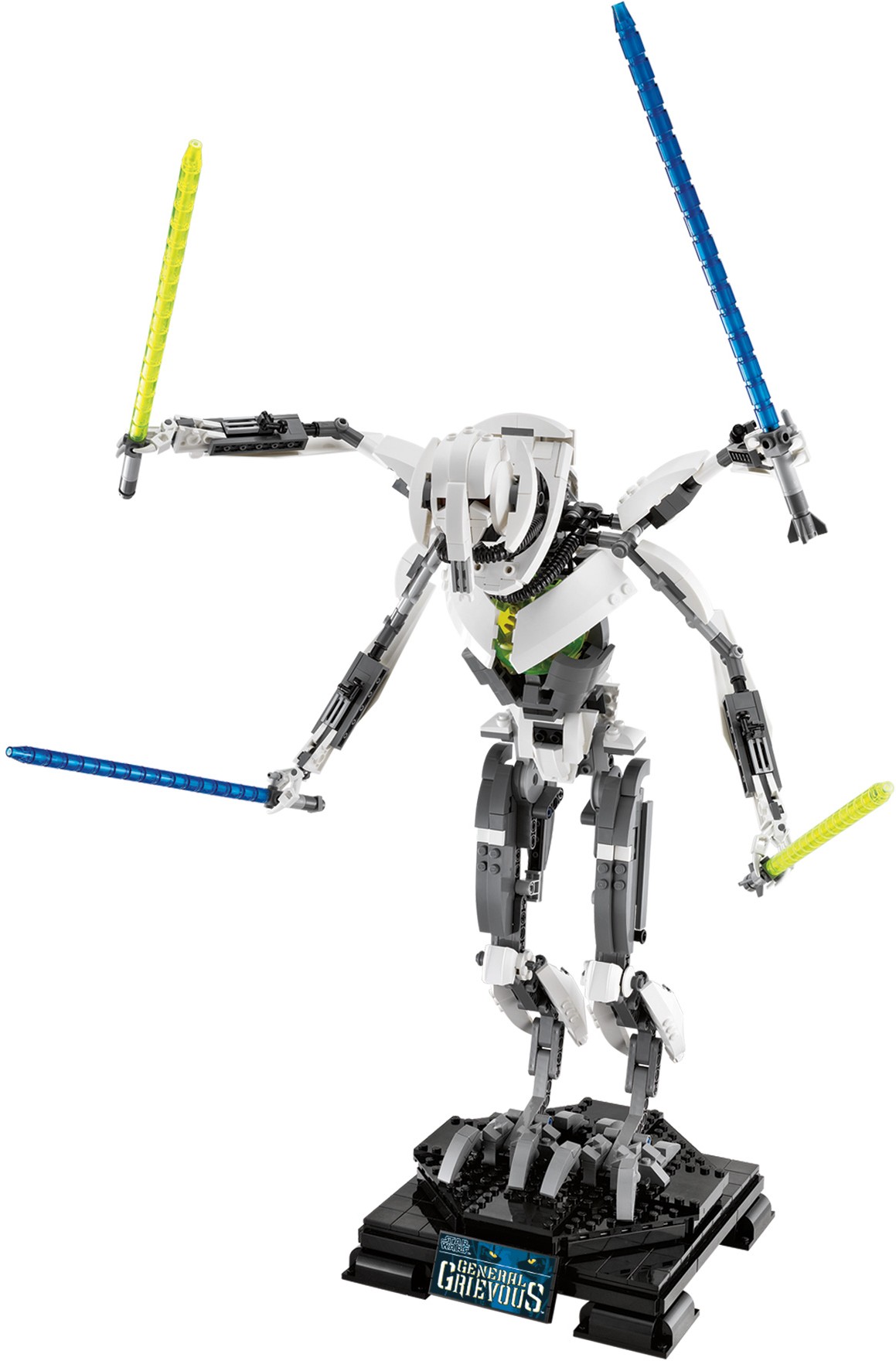 The General Grievous 10186 set was released within the LEGO Ultimate Collector's Series, and it is one of the most valuable General Grievous sets released to date. The set features a plaque with the character's name and an octagonal rotatable display baseplate.
The figure is 18-inches tall, it is composed almost entirely of LEGO Technic pieces, and builders can change the position of the arms effortlessly. Each arm has a claw that can hold a buildable lightsaber.
Pros
A beautiful display model
The value of this set will continue to increase
The challenging but rewarding assembly process
A prized position for all LEGO Star Wars collectors
Cons
Finding an unused General Grievous 10186 set is difficult
This set is expensive
Frequently Asked Questions about LEGO General Grievous Sets
Question: Is LEGO Releasing New General Grievous Sets in 2022?
Answer: None of the Star Wars sets LEGO released since the start of 2022 features this character. Also, the company hasn't announced the arrival of new General Grievous sets this yea
Question: Where Can I Find Retired General Grievous Sets?
Answer: Online retailers like Amazon or Walmart have retired General Grievous sets in stock.
Question: Can I Buy a General Grievous Minifigure Separately from the Set?
Answer: Yes, you can, but keep in mind that these Minifigures can cost more than $50.
Question: Why do Some General Grievous Sets Have Identical Titles?
Answer: LEGO occasionally releases updated versions of General Grievous sets with the same titles. You need to check the model's set number to determine its release date.
My Verdict: Which LEGO General Grievous Set is the Best?
You won't have an abundance of options while searching for the best LEGO General Grievous set because LEGO released only a handful of models inspired by this Star Wars villain in the last couple of decades.
I recommend the General Grievous' Starfighter 75286 set because it is the only active set in the Star Wars theme based on this character. It is also more affordable than retired General Grievous sets.
However, discontinued models like The Malevolence 9515 or General Grievous' Wheel Bike 75040 are excellent for collectors of rare Star Wars sets. Which LEGO General Grievous set are you going to choose?
Let me know in the comments, or continue reading our guide to the most expensive LEGO sets to learn more about the priciest LEGO models.
Recommended Reads: