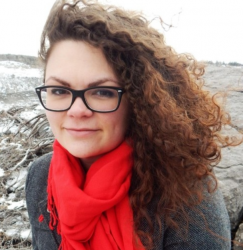 Latest posts by Candace Osmond
(see all)
As any enthusiast or parent knows, LEGO sets come and go. One of the more recent sets was the LEGO Infinity Gauntlet. Keep reading if you're not sure how it stacks up against other recent models.
In this article, I'll go over everything you should know about the LEGO Infinity Gauntlet. I will also introduce three alternative LEGO sets to check out, just in case this one doesn't do it for you.
This information will help you make a purchase that'll delight your loved one (or yourself) with less hassle.
(Spoiler Alert: This is a really cool set.)
About the LEGO Infinity Gauntlet
The LEGO Infinity Gauntlet is an installation modeled after the golden glove of the Marvel character Thanos. LEGO released the Infinity Gauntlet in June 2021, but the United States did not get access until August 2021.
The villain Thanos first debuted in Marvel comic books in 1973 and has since become an icon of power. In 1991, his popularity soared with the release of The Infinity Gauntlet. This story details Thanos crafting a golden gauntlet with the six Infinity Gems to kill off half the universe.
There are two very cool things to know about the LEGO Infinity Gauntlet:
The set includes 153 gold drum-lacquered pieces it is, after all, the golden gauntlet.
Once it's put together, you can position the gauntlet's fingers however you want.
The LEGO Infinity Gauntlet is a fantastic collectible item for any hardcore Marvel fan. It's ideal for adults or older children, but the little ones are sure to enjoy helping put it together. Upon completion, it'll make an epic accessory or centerpiece for your living space.
Pros and Cons of the LEGO Infinity Gauntlet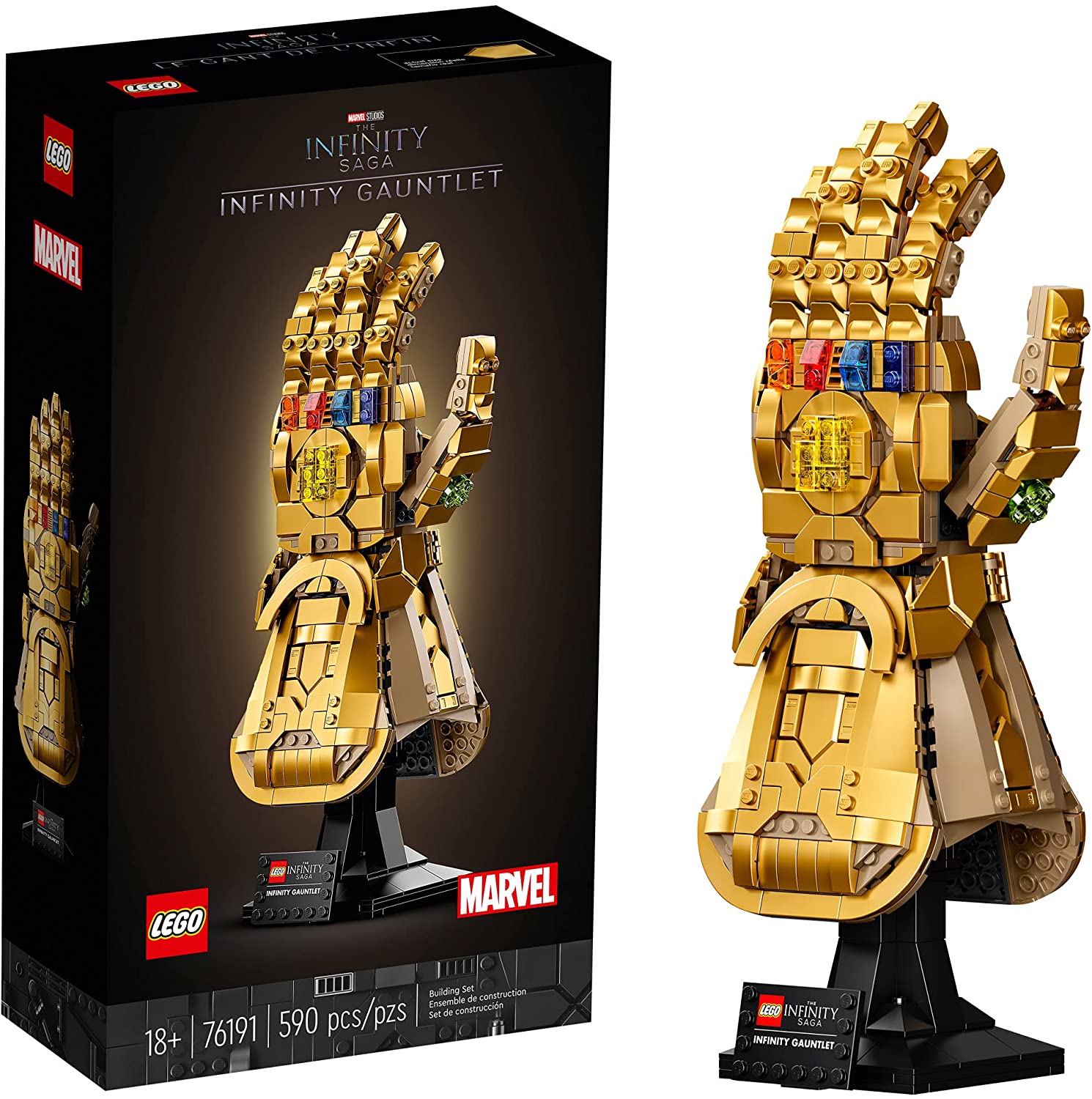 Though it's an awesome concept, some LEGO fans would argue that the Infinity Gauntlet is not the company's best work. To determine whether or not you'll love the LEGO Infinity Gauntlet, consider these pros and cons.
Pros
A collectible item.
Features authentic details.
Gold drum-lacquered pieces.
Perfect size for display.
Includes the six Infinity Stones.
Fingers are posable.
A fun challenge to build.
Cons
Some people think it looks clunky.
The color is a bit off.
Features of the LEGO Infinity Gauntlet
The LEGO Infinity Gauntlet is a more complex set with a whole lot of building fun to offer. Here are the most important features of the LEGO Infinity Gauntlet to consider before buying.
Age Range
The recommended age for the LEGO Infinity Gauntlet is eighteen or older. This is because the set contains many small pieces and is rather complex to construct. That said, older kids may be able to put the gauntlet together with few problems especially if they're LEGO experts!
Price Range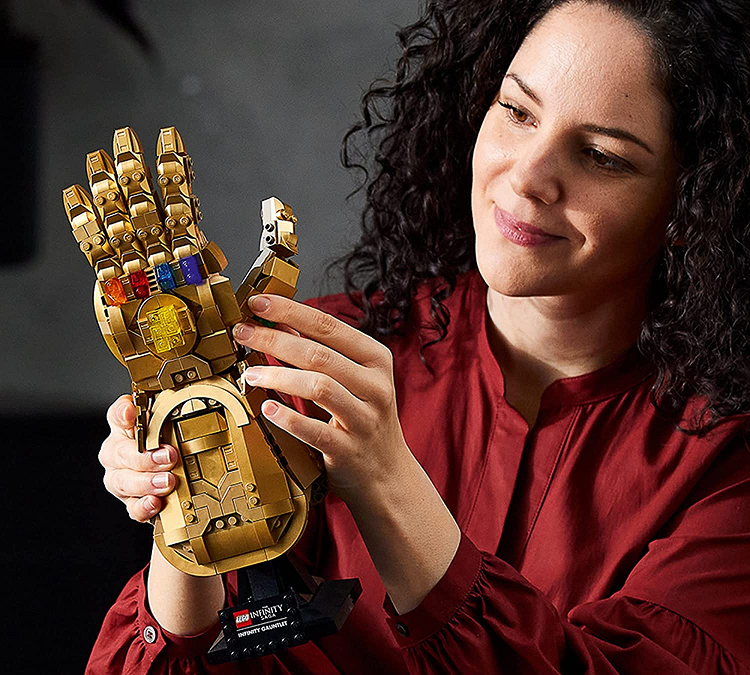 Most major retailers are selling the LEGO Infinity Gauntlet at a price point of about $70. You may be able to find new or used sets for a slightly better price ($45+) on websites like eBay.
Number of Pieces
The LEGO Infinity Gauntlet consists of 590 pieces in total, 153 of which are gold drum-lacquered.
Size
LEGO lists the model's dimensions as:
H: 13″ (31cm)
W: 6″ (13cm)
D: 5″ (11cm)
This is an ideal size for displaying the finished LEGO set in your home or office space.
What's Included
There's a ton to be excited about if you plan on purchasing the LEGO Infinity Gauntlet. Below is just a snapshot.
153 Gold Drum-Lacquered Pieces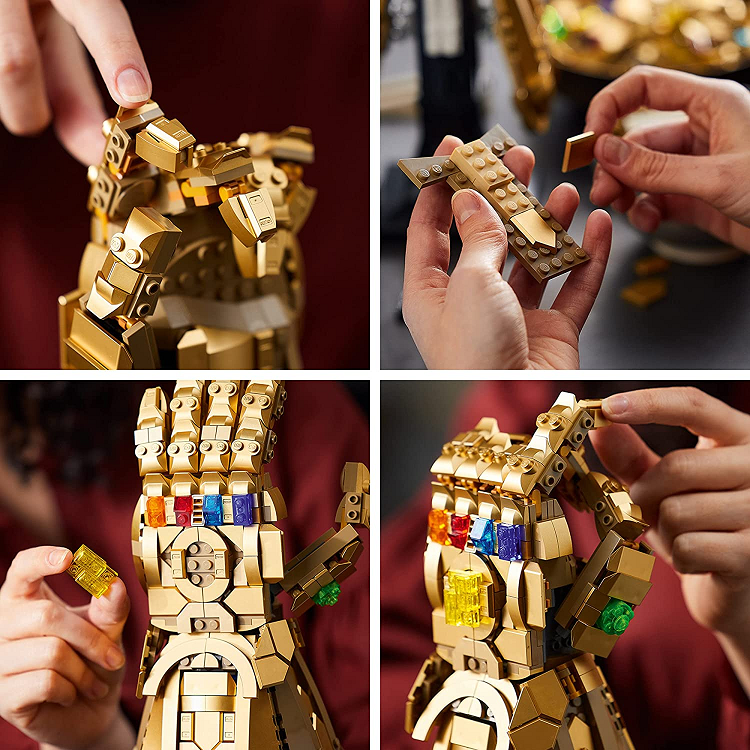 According to BrickFanatics, this is actually a LEGO record! Prior to the release of the LEGO Infinity Gauntlet, the Monkey King Warrior Mech had the most drum-lacquered pieces (119). One more reason to make sure you have this set in your collection.
6 Infinity Stones
Beautifully set in the gauntlet are the six Infinity Stones. The purple, yellow, orange, red, green, and blue pieces offset the golden hue of the gauntlet. It'll be a sight to behold sitting on your desk, living room table, or anywhere else you display it.
Posable Fingers
The LEGO Infinity Gauntlet has another fun feature: posable fingers. This adds to the model's appeal, as it means you can pose the gauntlet however you desire. Many fans enjoy positioning the fingers to form Thano's Snap, which he used to destroy half the universe.
Display Stand
The display stand that's included makes it easy to showcase the end result of your hard work. It fits like a glove (wink) and gives the gauntlet a more defined presence wherever you choose to place it.
Descriptive Tablet
Another key component of the model is its descriptive tablet. It reads: "LEGO. The Infinity Saga. Infinity Gauntlet." Sure to impress your friends!
Detailed Instructions
In addition to the instructions you get, you can also find a downloadable PDF version on the LEGO website. Since this is a more complex building project, you'll be glad to know the instructions are detailed and clear.
Is the LEGO Infinity Gauntlet for You?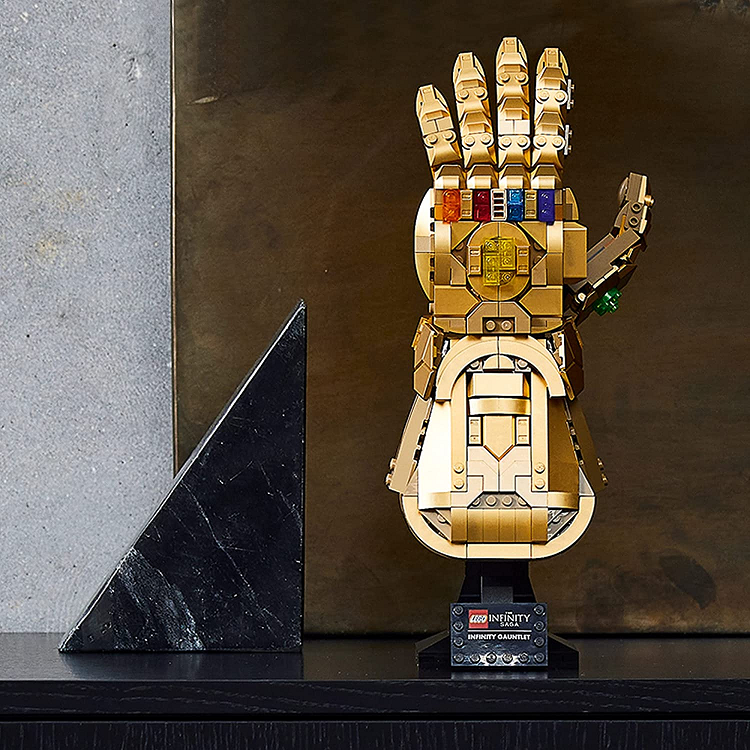 Interested? I thought so. But before diving into a purchase, you should consider whether or not this set is ideal for you or yours.
So, who is this set designed for?
Fans of the Marvel Avengers.
Adults, older children, or LEGO guru kiddos.
People who want an eye-catching sci-fi home or office accessory.
Anyone who loves spending hours on LEGO sets or other intricate projects.
If you checked off most of these items, I have a feeling you'll enjoy putting this LEGO set together. Also, since the LEGO Infinity Gauntlet is a collectible, it's the perfect gift for the LEGO aficionado in your life!
Remember that this set is not recommended for little kids, who may choke on the small pieces. Additionally, this is more of a display item rather than a toy another reason your kids might not care for it.
Where Can You Buy the LEGO Infinity Gauntlet?
The LEGO Infinity Gauntlet is readily available from most major retailers at the moment. Since this set is relatively new (2021), prices are pretty comparable across retailers. Here is a quick list of online and brick-and-mortar stores where you can find the LEGO Infinity Gauntlet:
At the time, it seems that you might be able to score the best deals on eBay. There may also be smaller retailers offering this product that isn't listed above. I would recommend checking with the larger retailers first and shopping around for a great buy.
Alternatives to the LEGO Infinity Gauntlet
Not convinced the LEGO Infinity Gauntlet is for you? Wondering if something else will better match your loved one's skill level or interests?
Here are three alternative LEGO sets you or yours may prefer!
LEGO Thor's Hammer 76209 | Marvel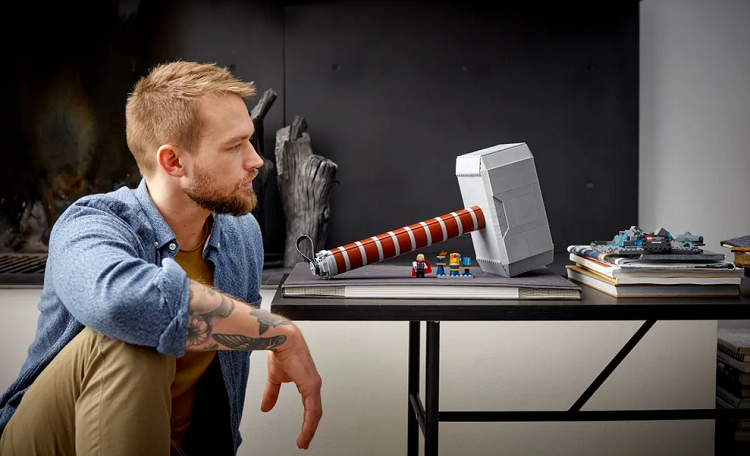 As noted earlier, some LEGO fans had complaints about the overall design of the Infinity Gauntlet. If that's a deal-breaker for you, consider getting the LEGO Thor's Hammer instead. Here are some quick facts for you:
Age Range: 18+.
Price Range: $100.
Number of Pieces: 979.
Size: H = 18" (46cm) / W = 11.5" (29cm).
Thor's Hammer is a newer addition to the LEGO family, having been released in March 2022. It includes a variety of accessories:
Descriptive tablet.
Thor minifigure.
Small Infinity Gauntlet.
Tesseract.
Odin's Fire.
This LEGO set is ideal for adult Marvel fans, especially those with a strong appreciation for the character Thor.
LEGO The Guardians' Ship 76193 | Marvel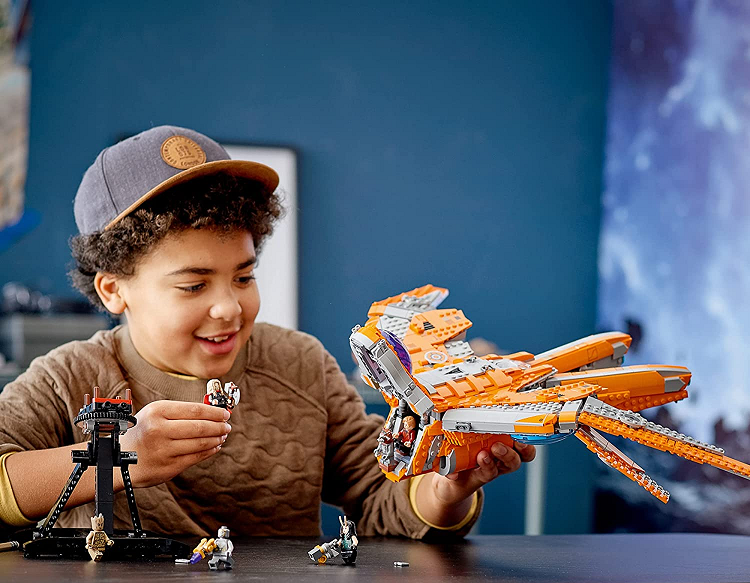 If you're looking for a more kid-friendly but still delightfully challenging LEGO Marvel set, consider The Guardians' Ship. This set was released in 2021 and is currently available at the LEGO shop, Amazon, and Target.
Age Range: 14+.
Price Range: $150.
Number of Pieces: 1901.
Size (with stand): H = 9" (23cm) / L = 14" (35.5 cm) / W = 23" (58.4cm).
LEGO's The Guardians' Ship includes an array of accessories to enjoy:
Stand for display purposes.
Star-Lord mini-figure.
Groot mini-figure.
Rocket mini-figure.
Mantis mini-figure.
Thor mini-figure.
Chitauri warrior mini-figure.
Various weapons.
Coffee and donut accessories.
Another cool thing about this set is… Wait for it… All of the mini-figures listed above can fit inside the ship's cockpit! The LEGO Guardians' Ship is perfect for older kids who are equally likely to play with or display the model.
LEGO Thanos Mech 76141 | Marvel Avengers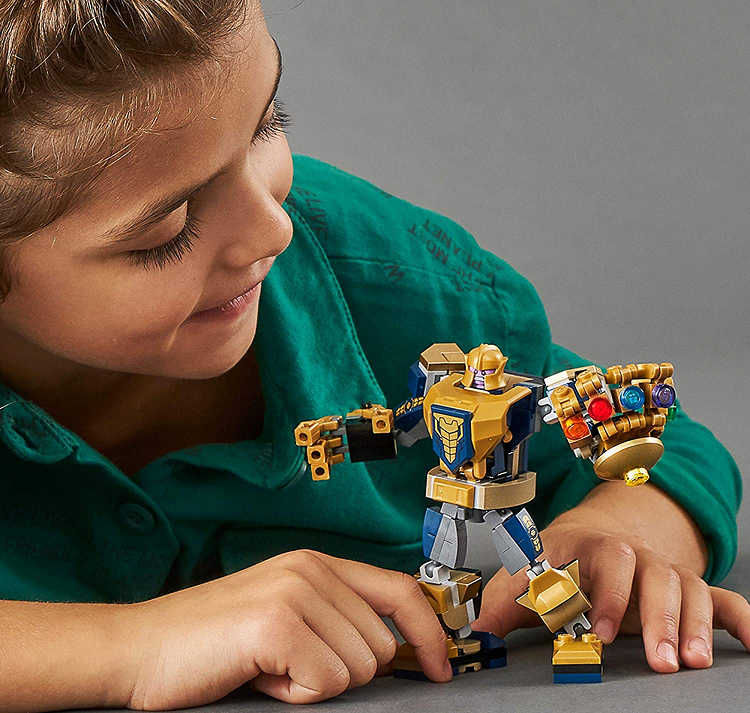 The LEGO Thanos Mech may be retired, but it's not losing its appeal anytime soon. LEGO recommends this product for younger kids, who will easily put together this simpler model. You can get it from most major retailers, but it's selling out fast.
Age Range: 6+.
Price Range: $10 to $25.
Number of Pieces: 152.
Size: H = 7.52″ (19cm) / W =  5.55″ (14cm) / D = 1.81″ (4.6cm).
This fun LEGO set comes with the following:
Thanos mech.
Thanos mini-figure pilot.
Infinity Gauntlet.
6 Infinity Stones.
Your kid will definitely have the time of their life putting it together and playing with it. Make sure to get your LEGO Thanos Mech before they're sold out!
FAQs
Question: When did the LEGO Infinity Gauntlet Come out?
Answer: In most countries, the LEGO Infinity Gauntlet came out on June 1, 2021. In the United States, however, it came out a couple of months later, on August 1st.
Question: How Long does it Take to Build the LEGO Infinity Gauntlet?
Answer: The time it takes to build the LEGO Infinity Gauntlet depends on your level of experience and time commitment. Based on product reviews, most people can build it in 2-4 hours. Your mileage may vary. 😉
Question: What Size is the LEGO Infinity Gauntlet?
Answer: The LEGO Infinity Gauntlet has the following dimensions:
H: 13″ (31cm)
W: 6″ (13cm)
D: 5″ (11cm)
Bottom Line
The LEGO Infinity Gauntlet is the ideal gift for Marvel fans, LEGO collectors, and challenge seekers. You should have a good idea of what's included and how it compares to similar LEGO sets.
Before you go: What's your favorite LEGO set to date? Do you look forward to taking on the Infinity Gauntlet? Drop a comment and join in the conversation! Want more LEGO recs like this? Check out our breakdown of the LEGO Avenger's Tower!
Recommended Reads: