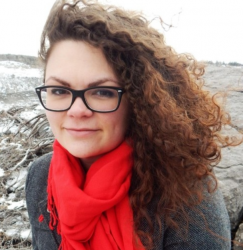 Latest posts by Candace Osmond
(see all)
Are you a big fan of Star Wars: The Clone Wars like me? Do you know someone who is, and they've got a birthday or special event coming up? Then you've got to check out the LEGO 501st Battle Pack review!
I'll discuss what makes this battle pack, inspired by the 501st Legion Clone Troopers you see storming into battle on screen, so special. Then, we'll check out 3 alternative LEGO Star Wars battle packs to add to your collection. Grab a blaster and let's head out!
About the LEGO 501st Battle Pack
I'll give ya a little background information on what inspired the design of this popular LEGO battle pack and what other versions you can find. This has been a well-received battle pack ever since it became available, so let's take a look at why that is.
When this LEGO Pack was Made
It was 2020 when this LEGO battle pack was made. This set is relatively new, so it's pretty easy to find. This means you won't have to pay a fortune for a new set. Battle packs made years and years ago can go for hundreds of dollars even if they don't have many pieces.
It's nice that LEGO is still releasing new sets featuring Star Wars characters from movies that premiered decades ago. We get to see all our old favorites in new, updated ways.
Inspiration
During the hit movie, Star Wars: The Clone Wars, a legion of clone troopers and battle droids stormed into the First Battle of Geonosis. The Grand Army of the Republic sought to destroy those who stood with the Confederacy of Independent Systems. To do this, they chose to use force with the 501st Legion.
This army for the Republic is what inspired the weapons, vehicles, and mini-figures you see in the LEGO 501st Battle Pack. It's all bad guys in this set!
Other Versions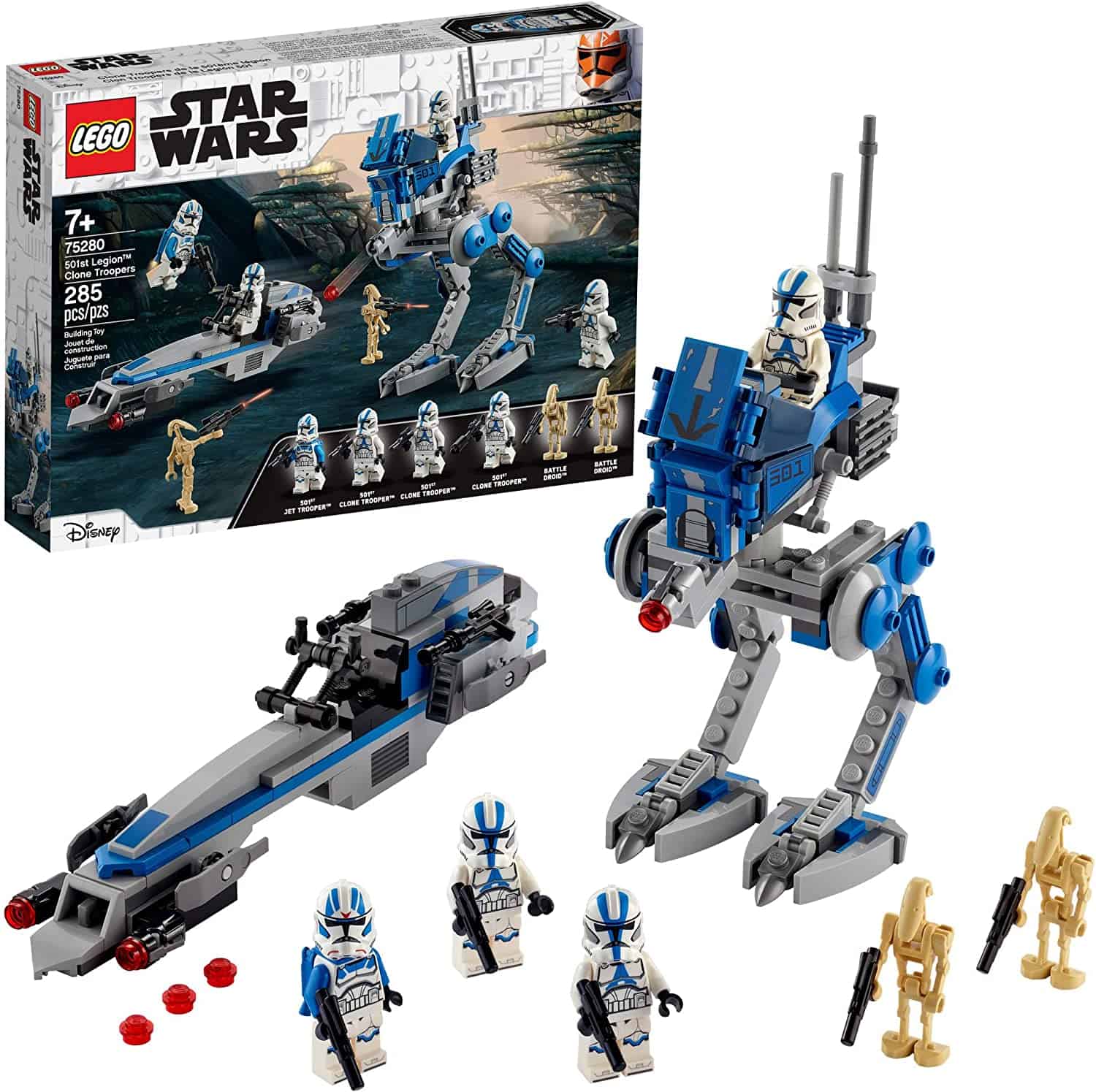 I'll go over several Star Wars LEGO battle packs that feature similar characters and equipment to the 501st Battle Pack. Some of the sets I'll show you include a BARC Speeder like the 501st Battle Pack does.
We'll talk about the LEGO Star Wars: The Clone Wars Armored Assault Tank (AAT) #75283 Building Kit. This popular set is based on the formidable 501st legion, too.
Pros and Cons of the LEGO 501st Battle Pack
Let's weigh a few pros and cons of owning this LEGO Battle Pack. This LEGO set is an absolute must for fans of Anakin's Star Wars trilogy, but you should still consider all your options when you're buying someone else (or yourself) the perfect gift.
Pros

4 501st clone trooper mini-figures
2 battle droid mini-figures
Minifigures equipped with blasters
Interactive BARC Speeder and AT-RT Walker

Vehicles shoot ammo pucks
6 pucks included
Minifigures fit inside BARC Speeder and AT-RT Walker
285 pieces

Perfect for children older than 7 and adults
Star Wars: The Clone Wars is a popular movie

Cons

The pucks are very small and easy to lose
No main character mini-figures
Some children may have difficulty assembling this set
Key Features of the LEGO 501st Battle Pack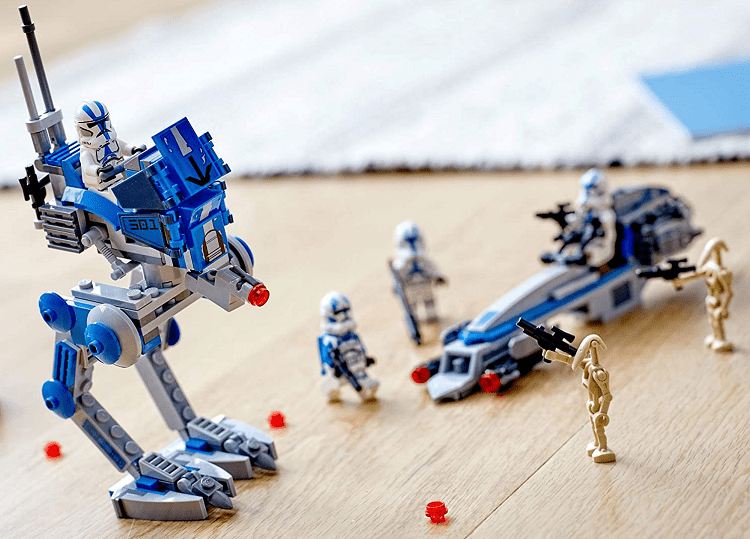 Let's talk about what makes the 501st Battle Pack unique! Star Wars is LEGO's top-selling product line, so many, many Star Wars LEGO sets have been released over the decades. Despite that, this set has kept its popularity ever since it hit the shelves.
Number of Pieces
There are 285 pieces in total within the LEGO 501st Battle Pack. The majority of LEGO sets contain at least a few hundred pieces as this one does. You'll get a challenge out of this set without the stress of keeping track of thousands of pieces.
Characters Included
There are 6 mini-figures included in this Star Wars battle pack! You'll get 4 iconic clone trooper mini-figures, each sporting white and blue armor. 2 battle droid mini-figures are included, too. Each character is equipped with a blaster.
Time Needed for Assembly
For adults, the LEGO 501st Battle Pack should take a few hours to assemble, depending on how good you are at following visual instructions. For some, it may take up an afternoon. Even for unpracticed LEGO builders, this shouldn't be a very complex project. It may take kids a few days to complete the entire set.
Age Range
Kids and adults alike can enjoy constructing this battle pack. The set is recommended for everyone 7 years of age and older. If you have little ones, I always recommend LEGOs. LEGO blocks are toys that inspire creativity and help build problem-solving skills.
Price Range
LEGO has sets much, much more expensive than this one. You can usually buy this set for anywhere between $20-$40. Considering other LEGO Star Wars sets can cost upwards of $1,000, this one is a steal.
Extra Features
The BARC Speeder and AT-RT Walker actually shoot! The BARC Speeder is equipped with 2 stud shooters, while the AT-RT Walker is equipped with 1. You'll get 6 studs for ammunition. Place posable mini-figures in both of these vehicles and fire away!
Where Can You Buy the LEGO 501st Battle Pack?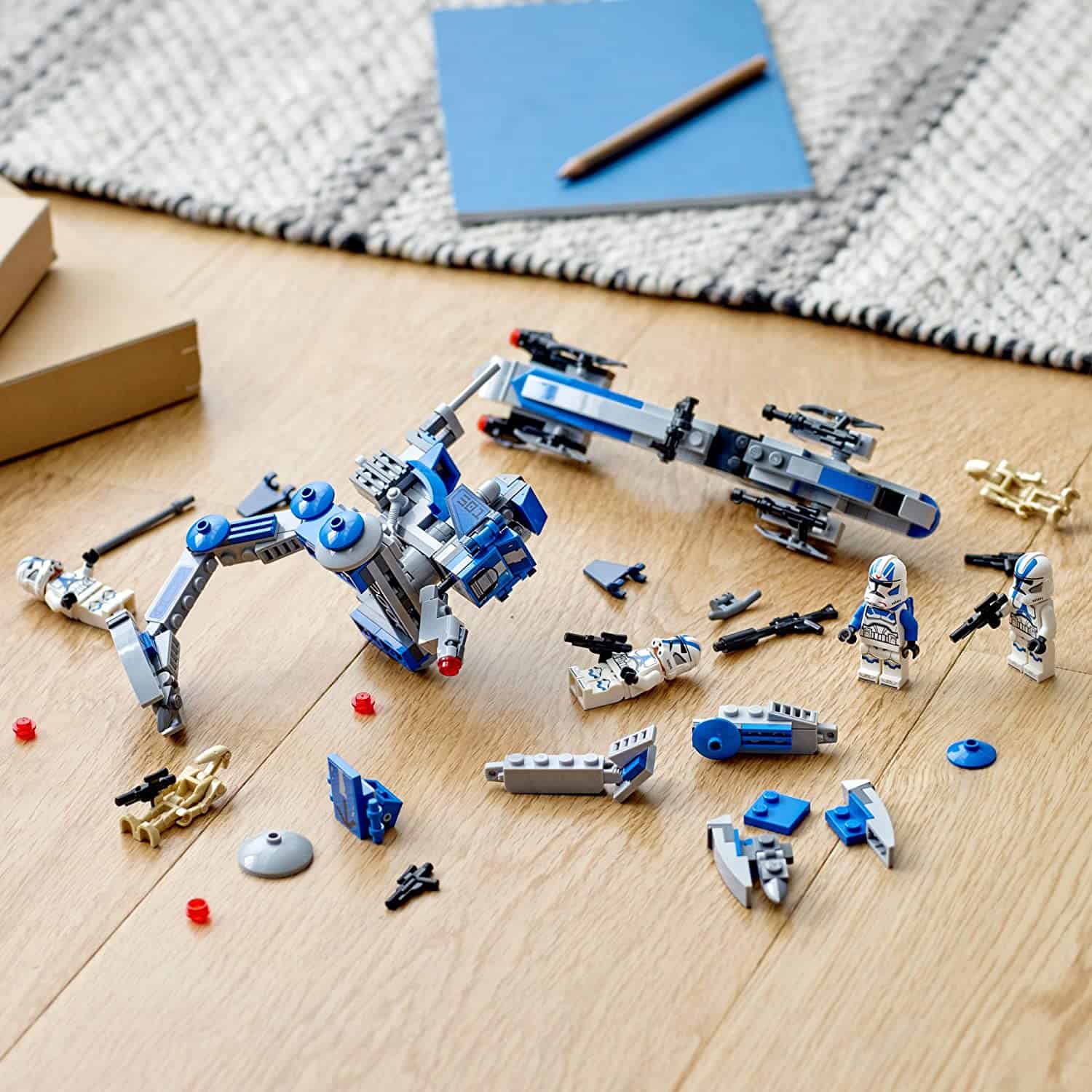 Curious where you can pick up the LEGO 501st Battle Pack yourself? You've got plenty of options whether you like to shop in stores or online from the comfort of your home. The best places to find this battle pack are:
Is the LEGO 501st Battle Pack Right for You?
I have to recommend the LEGO 501st Battle Pack for any hardcore Star Wars fan. Fans of the franchise will recognize the iconic designs of the mini-figures and vehicles. Episodes 1-3 are some Star Wars fans' favorite movies, so they'd love to see familiar scenes from their beloved movies played out with cute, buildable LEGOs.
I also recommend this set for fans of LEGO-building in general. Since Star Wars is LEGO's favorite franchise to use for inspiration, LEGO fans are sure to be familiar with building Star Wars vehicles and other machinery. This set would be perfect for their collection.
Alternatives to the LEGO 501st Battle Pack
Want to check out some more top-selling Star Wars battle packs? There's no shortage of options since Star Wars fans have demanded more and more LEGO sets since the first Star Wars LEGO set was released. If you're a Star Wars mega-fan or you know one and would like to buy them a present they'll love, keep reading!
LEGO Star Wars Special Edition Set #7869 Battle for Geonosis
Best Alternative LEGO Star Wars Battle Pack
This is a total must-have for fans of Anakin Skywalker's trilogy! You can start by building the smaller vehicle-the sleek white and maroon BARC Speeder.
Then, show your skills by completing the intricate Proton Cannon that really fires! You'll get 5 mini-figures to pose in battle stances around the vehicles (all of whom are equipped with blasters or lightsabers.)
Key Features
Number of Pieces: 331
Price Range: $360-$400
Age Range: 8-14
Characters Included: Captain Rex, Luminara, a Super Battle Droid, and 2 B-1 battle droids
The suggested age range is 8-14, but don't let that deter you if you're an adult fan. This may not be the most difficult set for adults to put together, but with its coordinated color scheme, interactive vehicles, and cult favorite characters, it distinguished itself from other LEGO battle packs.
Pros
Includes 5 mini-figures and 2 vehicles
Many interactive elements
Young kids, older kids, and adults can enjoy this set
Cons
LEGO Star Wars Clone Trooper Battle Pack #7913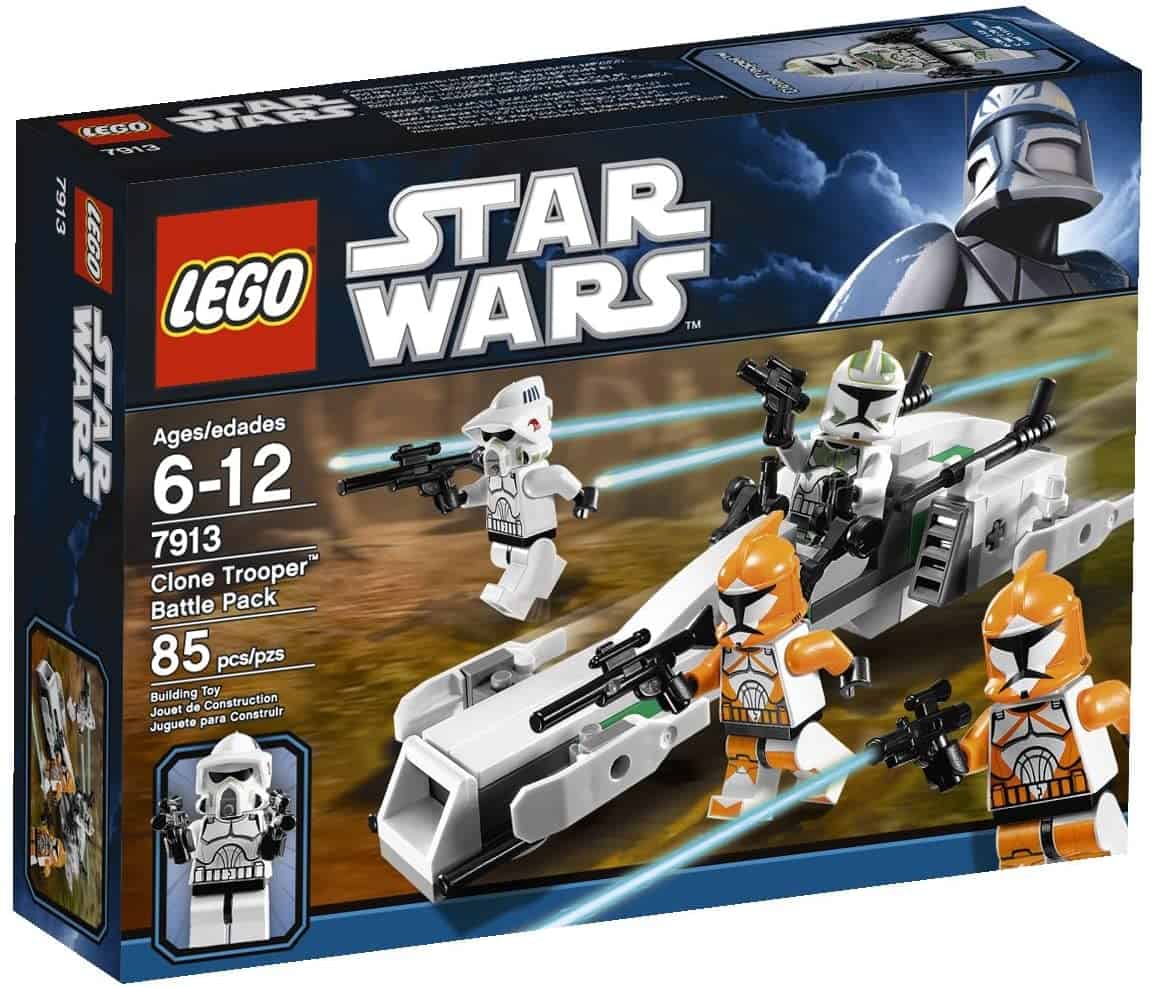 Best For: Kids
If you've got a little one who dreams of spending their life amongst the stars and saving the galaxy, this set is sure to inspire their imagination.
There's an assortment of 4 trooper mini-figures, each of whom fits inside the green and white BARC Speeder. BARC Speeders are a common vehicle of choice in the Star Wars universe for the good guys and bad guys, so it's nice to see LEGO giving us a color variety with the same vehicle.
Key Features
Number of Pieces: 85
Price Range: $110-$130
Age Range: 6-12
Characters Included: 2 bomb squad troopers, 1 ARF trooper, and 1 clone commander
Since this set only has 85 pieces, it's the perfect challenge for young children or inexperienced LEGO builders. Adults may want to check out some of the more challenging sets listed (unless you've just gotta have this one in your collection.)
Pros
Assortment of different trooper mini-figures
Great choice even for kids who are very young
Mini-figures can fit inside BARC Speeder
Cons
Not challenging for experienced LEGO builders
LEGO Star Wars: The Clone Wars Armored Assault Tank (AAT) #75283 Building Kit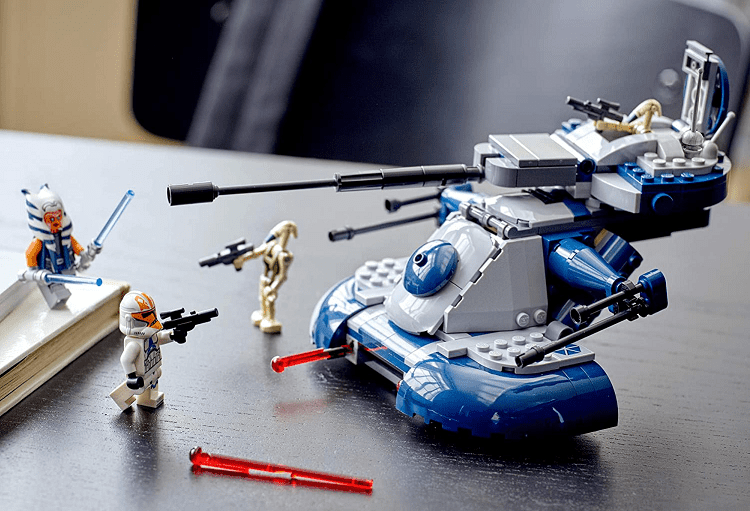 Best For: Price
Looking for a budget-friendly option? You're in luck, here it is! Even though this Star Wars LEGO set contains almost 300 pieces, it's less than $40. That's a great price. Children, tweens, teens, and adults can have fun building the AAT manned by 2 battle droids with blasters.
Ahsoka Tano and Ahsoka Tano's clone trooper are here to take the AAT on with lightsabers and blasters of their own. This LEGO set is another one that's inspired by the 501st Legion.
Key Features
Number of Pieces: 286
Price Range: $27-$37
Age Range: 7+
Characters Included: Ahsoka Tano, Ahsoka Tano's clone trooper, and 2 battle droids
The Armored Assault Tank you'll get to construct can fire at enemies. Though the recommended age range says 6-12, we all know us adult Star Wars fans adore little interactive toys like this. If you've never built with LEGOs before, even this set could be quite the challenge.
Pros
The cheapest price out of every LEGO set listed in the article
Ahsoka Tano is a very popular character
Interactive elements and over 200 pieces
Cons
Very young children may find this difficult to assemble
FAQs
Let's get your most frequently asked questions about the LEGO 501st Battle Pack answered! LEGO has made tons upon tons of Star Wars sets, so if you have any other questions about Star Wars and LEGOs, please leave your question in the comments below.
Question: Is the 501st Battle Pack Retired?
Answer: It isn't retired, yet, but make sure to get your hands on the 501st Battle Pack soon! LEGO is scheduled to retire this battle pack by the end of 2022. By buying this set now, you won't have to pay an inordinate amount of money for it later once it's been retired. Once retired, it will be harder to find.
Question: How Much Does the 501st Battle Pack Cost?
Answer: The 501st Battle Pack is inexpensive compared to many Star Wars LEGO sets. You can find this set for under $40! Some of the other Star Wars LEGO sets can go for hundreds of dollars or even thousands. Again, be sure to pick this set up now while the price is low.
Question: Is the 501st Battle Pack Worth It?
Answer: If you're a mega-fan of the movie, Star Wars: The Clone Wars, then I think this set is completely worth it. This is an excellent set to buy if you're interested in Star Wars, LEGOs, or both. It's not particularly challenging, so I don't recommend this set for serious LEGO builders who want something difficult to build.
It's Up to You Now, Builders
Ready your Jedi powers, because now the building is all up to you! I hope you enjoyed learning about what makes the LEGO 501st Star Wars Battle Pack unique. Star Wars: The Clone Wars will always have a special place in fans' hearts, so new sets like these give us new merch to look forward to.
Are you interested in buying this LEGO battle pack for yourself or a loved one? Let me know in the comments below! Learn more about the best Star Wars merchandise on our website!
Recommended Reads: