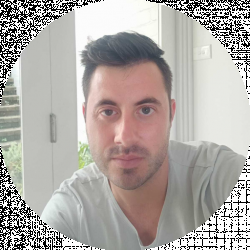 Latest posts by David Borgogni
(see all)
The latest market research shows that LEGO toys are more expensive than those offered by the brand's competitors, but this doesn't mean you have to spend hundreds of dollars on the LEGO set you like. Some of the best LEGO sets under $20 allow children to unleash their imagination and create relatively complex models.
LEGO offers hundreds of sets that explore different themes for less than $20, enabling you to choose a set inspired by the Marvel universe or opt for a set that lets you develop creative LEGO ideas with your children.
In this guide to the best LEGO sets under $20, I'm going to walk you through all the steps you need to take to find a set that meets your demands and suggest a few models that might turn out to be a perfect gift for your child.
Browse through our guide to the critical LEGO pieces to find out more about the most common LEGO pieces.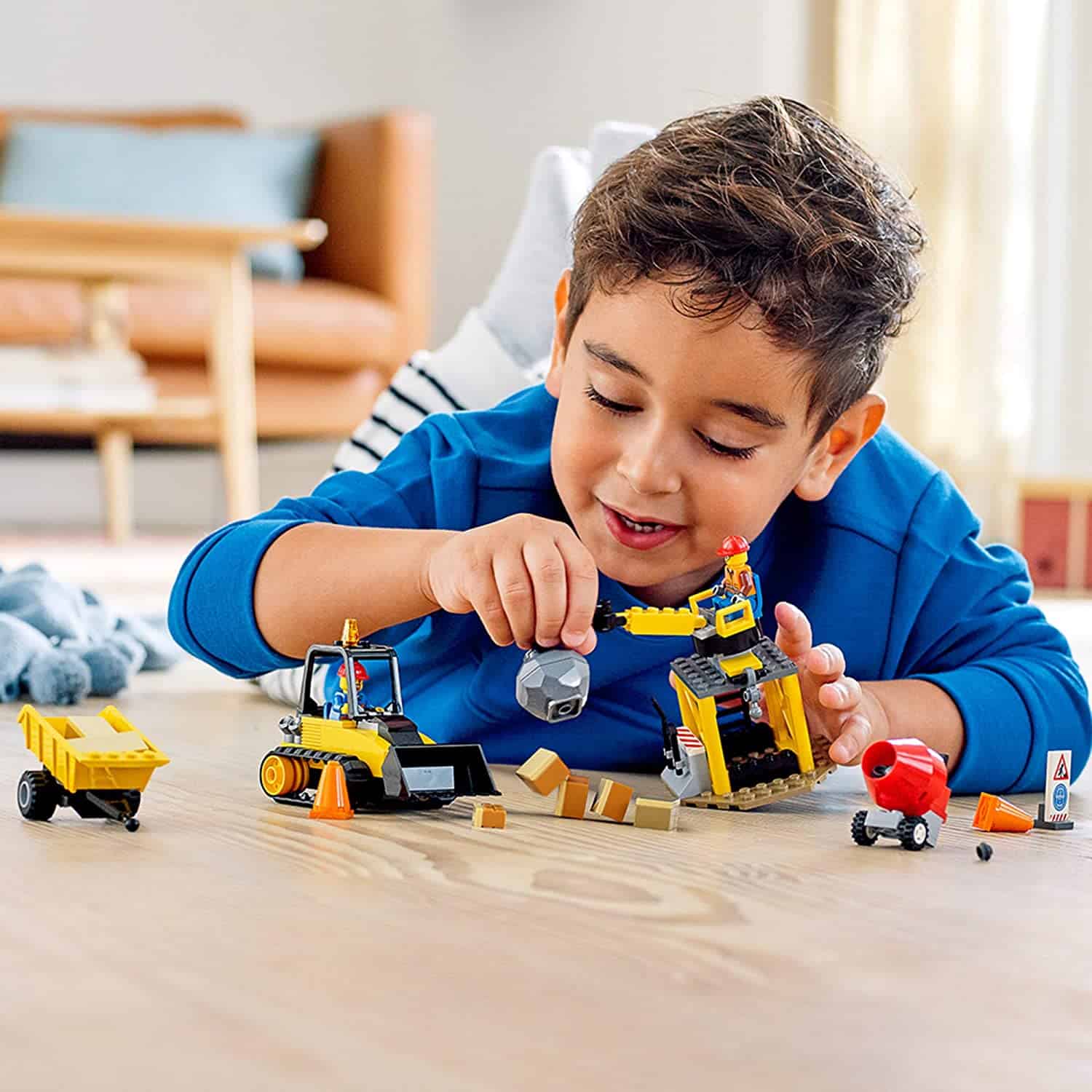 At a Glance – The 5 Best LEGO Sets Under $20
Selection Criteria
Shortlisting a handful of the best LEGO sets that cost less than $20 is by no means an easy task, as there are hundreds of models to choose from. Choosing the best LEGO set under $20 is further complicated by the fact that each of LEGO's themes features at least one set that costs less than $20.
That's why I used a broad spectrum of parameters during the selection process that assisted me in choosing the sets you'll find in this article. Here are some of the most important criteria I utilized to pick the best LEGO sets under $20.
Set theme – I identified the most popular LEGO themes and then selected a set from each theme that is priced below $20 so that you can choose a classic LEGO set or opt for one of the sets inspired by superhero movies.
Set size – Each set in this article is aimed at users with different set building skills. A model with fewer than 50 pieces is best suited for a novice builder, while sets with more than 200 pieces are an excellent choice for an experienced LEGO builder.
Our guide to the best LEGO sets can help you identify some of the best LEGO sets ever created.
A Brief Guide to the LEGO Themes
All LEGO sets are released within a specific theme, and currently, LEGO publishes sets within forty themes. Some of these categories, like LEGO City or LEGO Technic, are decades old. On the other hand, themes such as LEGO Art or LEGO Super Mario were only recently added to the brand's product lineup.
You'll find inexpensive sets that cost $20 or less within each theme, so let's take a closer look at some of the brand's most popular themes.
LEGO Classic
This theme was reintroduced in 2014 after being discontinued for more than a decade. Initially, LEGO published sets within the Classic theme from 1966 until 1999. All sets within this theme allow you to build a variety of models. The most affordable sets from this theme are:

LEGO Star Wars
As one of LEGO's longest-running themes, the Star Wars theme contains hundreds of sets inspired by the Star Wars universe. Currently, this theme features more than sixty sets, including 11 sets that cost less than $20. The least expensive LEGO Star Wars sets are:

LEGO Creator 3-in-1
The first Creator 3-in-1 theme set was released in 2003. Sets from this theme are equipped with specialized bricks to build unique models. Here are a few sets from this theme you can get for less than $20.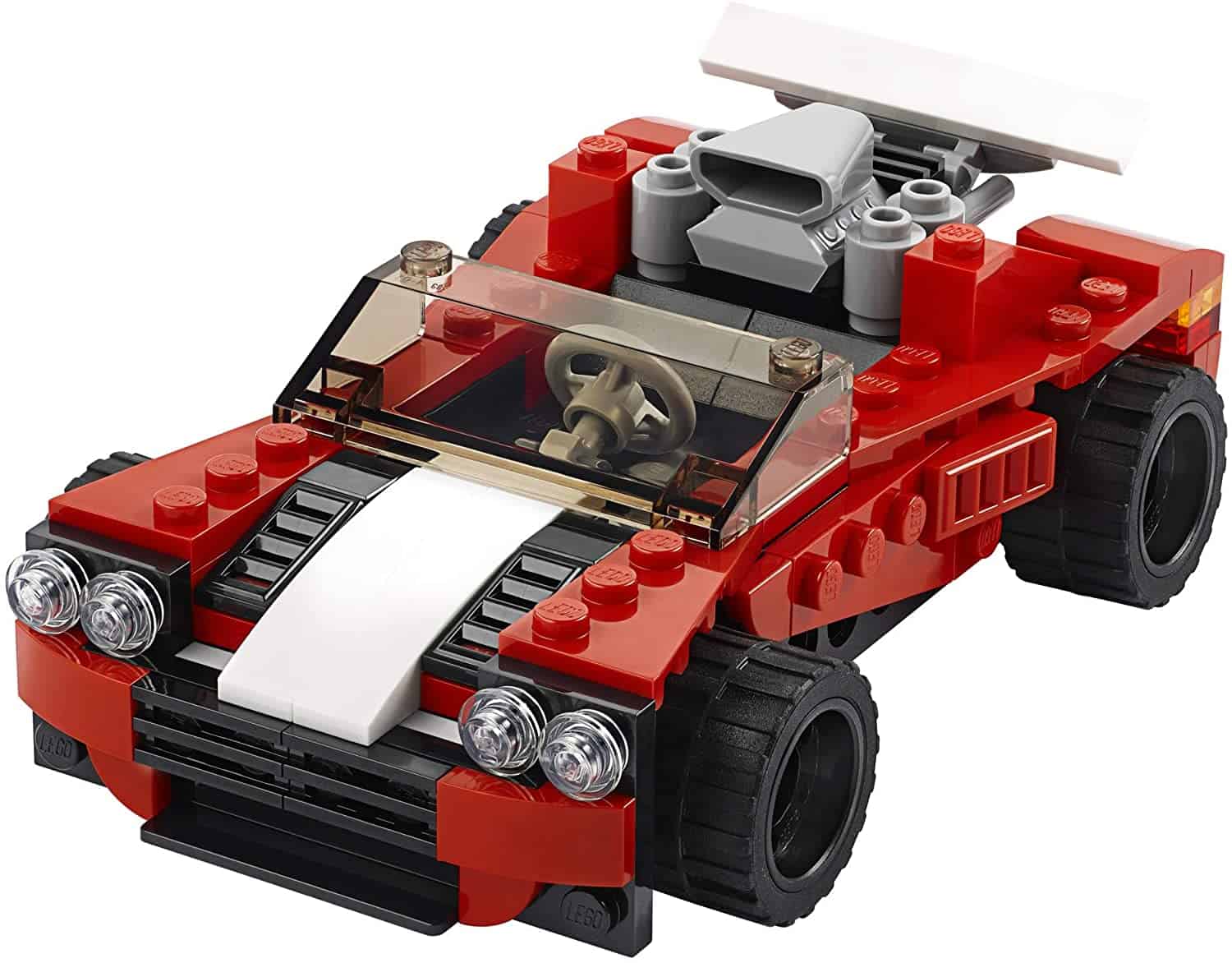 Check out our guide to the best LEGO gifts to discover sets that can be a perfect present for a LEGO fan.
Set's Versatility
Getting a set that allows you to build just one model can be limiting. Moreover, children get tired of toys quickly, which is why parents often choose LEGO sets that have more than a thousand pieces.
However, large sets usually cost much more than $20, which can be challenging to assemble. Opting for a set from the LEGO Classic or LEGO 3-in-1 Creator themes will enable your child to combine elements freely.
This, in turn, will make a set more interesting because it will provide a child with a wide range of play scenarios. You should also consider sets that include a combination of buildable models and mini-figures since they're fun to play with and inspire a child's creativity.
Read our guide to the best LEGO merch to learn more about LEGO-themed products.
LEGO Sets Under $20 for Children Below the Age of 4
Standard LEGO sets contain pieces a child can swallow, making these sets unsuitable for toddlers and preschoolers. You should opt for one of the LEGO Duplo sets that cost less than $20 in case you're looking for a set that is safe for children under the age of 4.
Luckily, you'll have a variety of options at your disposal because most LEGO Duplo sets are inexpensive. This product line currently features a dozen sets priced under $20. Here are some of the least expensive LEGO Duplo sets you should consider: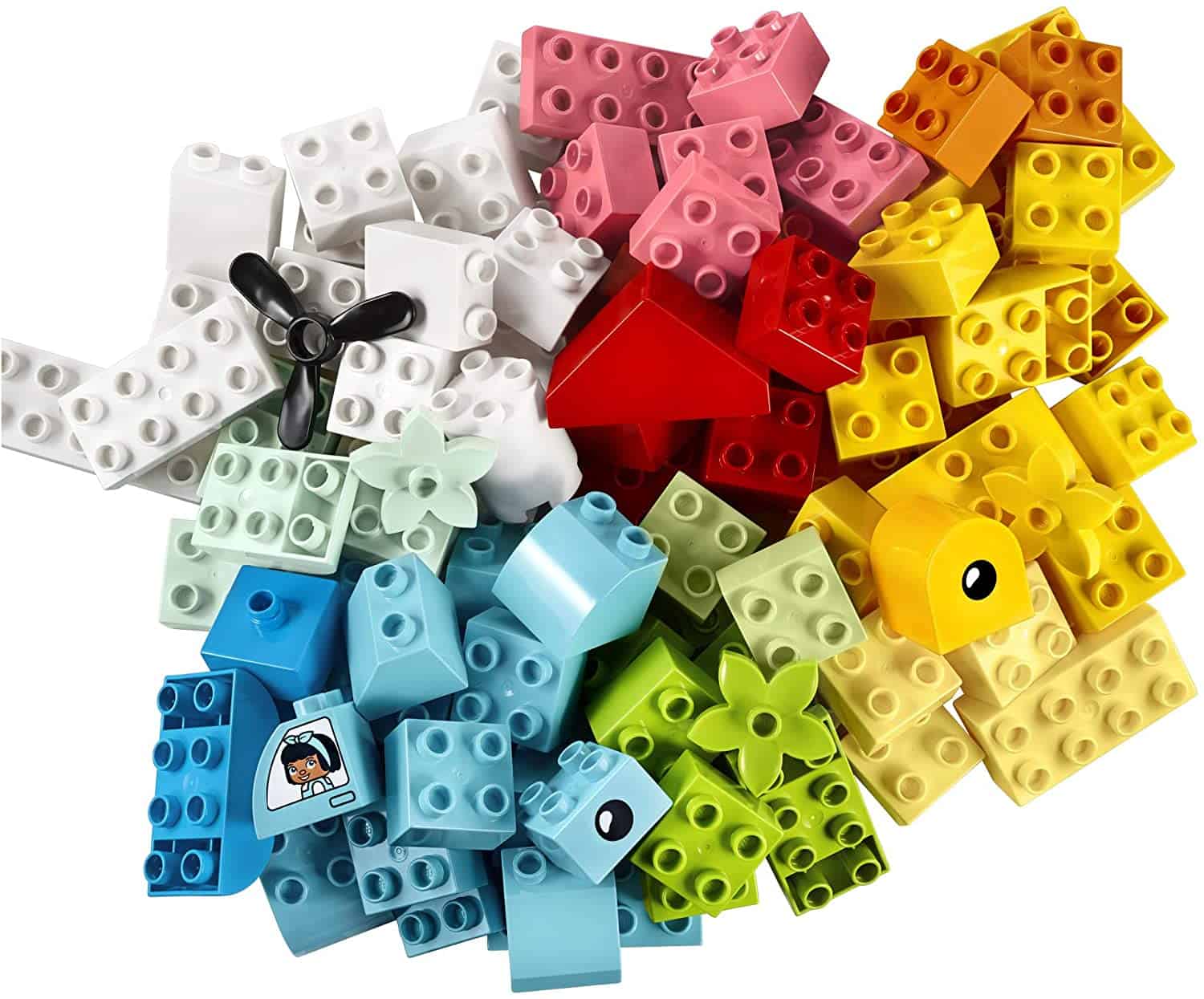 Besides being fun to play with, these sets can also help a child learn new things and improve creative thinking skills. Go through our guide to the best LEGO Star Wars lightsaber sets to find out if any available models are suitable for preschoolers.
Navigating through Retired LEGO Sets Under $20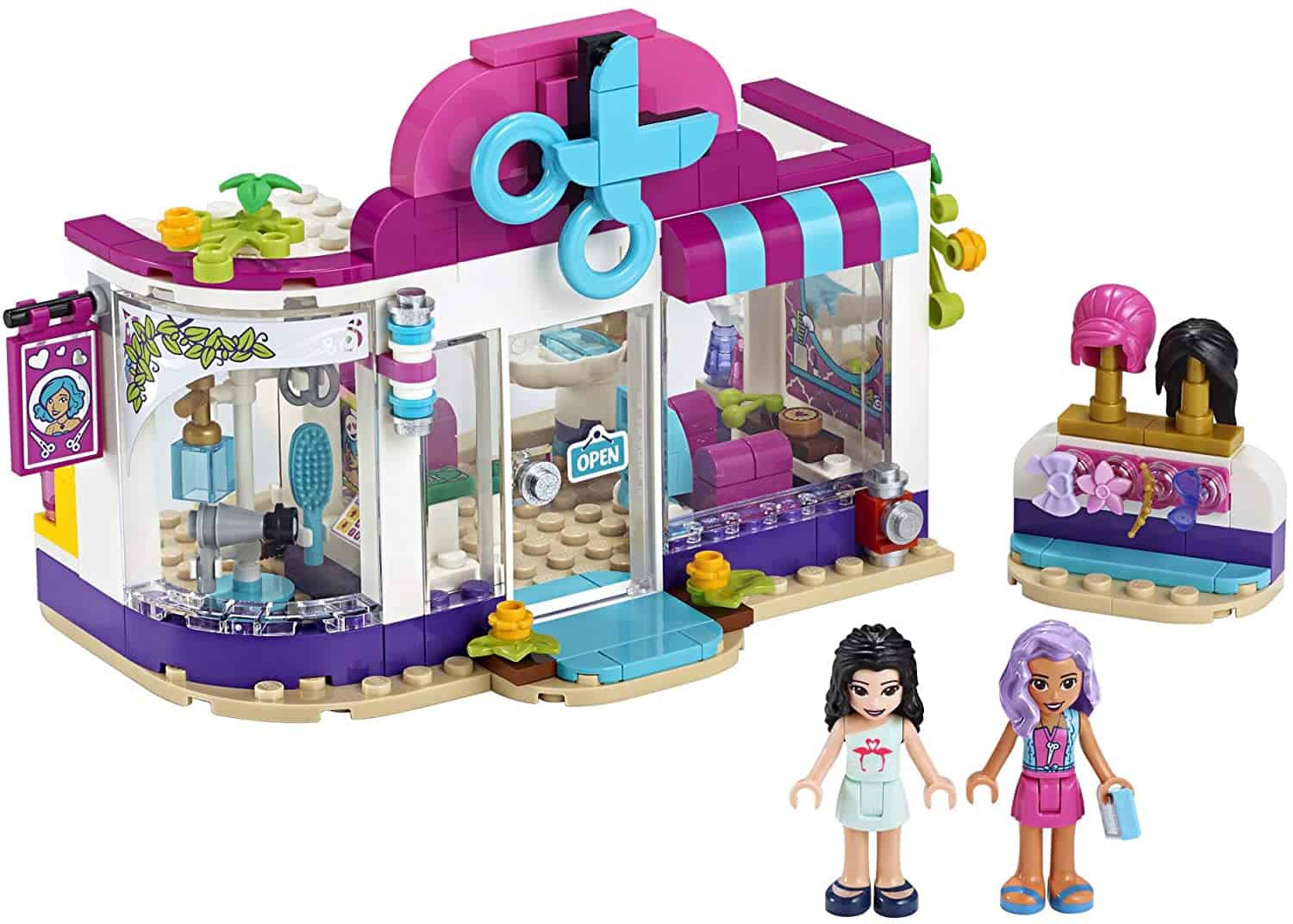 Discontinued sets like the Heartlake City Hair Salon 41391 or Thanos Mech 76141 cost less than $20, and they're still relatively easy to find. Retired sets remain available on the market for as long as stores have them in stock, but their price is usually higher than the sets that are still in production.
Finding a discontinued set that costs less than $20 shouldn't be too tricky, but you should only buy these sets from reliable sources to avoid getting a set that's missing crucial pieces. Arguably, one of the most significant downsides of retired LEGO sets is that replacement parts can be hard to find.
The easiest way to find out if a set was discontinued is to check if it is still listed on LEGO's website.
The Most Important Factors to Consider while Choosing a LEGO Set Under $20
LEGO offers a broad spectrum of sets from forty different themes that cost $20 or less. Such an abundance of available options makes finding a set that meets all your criteria challenging.
That's why you'll need to utilize several other search parameters besides your budget to shortlist the best sets within this price range. However, I've selected some of the most critical factors that can make your search for the best LEGO set under $20 easier, so let's take a quick look at them.
Child's age and gender
Although LEGO sets are made for all children, some topics might be more suitable for boys or girls. For example, taking the child's gender into account can help you decide if a set that contains a buildable model of a superbike or cat-grooming car is a gift your child will like.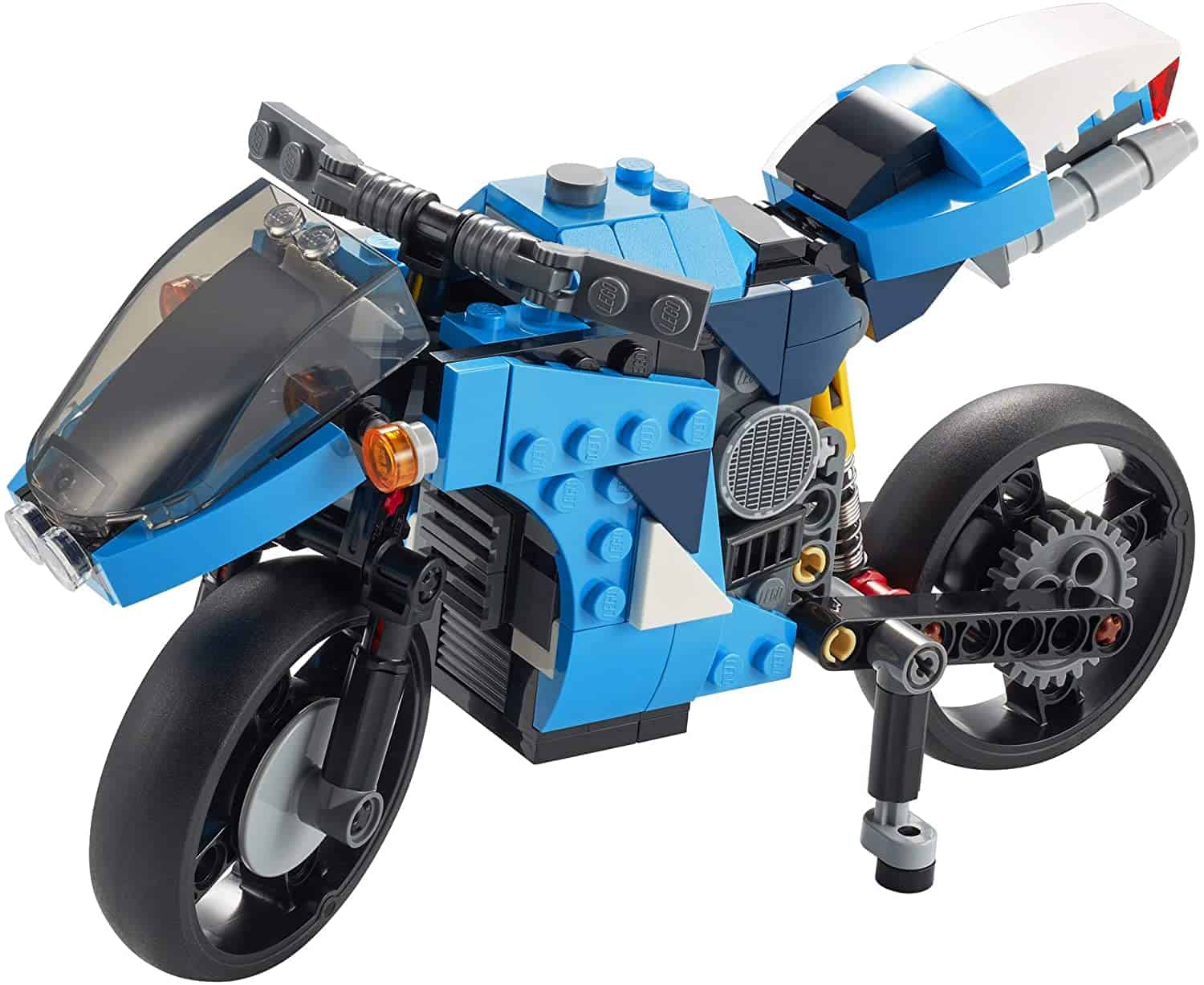 LEGO sets are designed for specific age groups, and you should avoid getting a set that is made for kids older than your child.
Set's skill development potential
Playing with LEGOs can help a child develop various skills that range from creative thinking to planning and organization. So, for instance, a set from the LEGO Classic theme can inspire a child to seek creative ways of building different models.
Getting a set that requires a child to follow instructions during the assembly process might improve literacy and problem-solving skills. In addition, all LEGO sets enable kids to better understand spatial relations between objects and encourage three-dimensional thinking.
Set's size and complexity
The number of pieces in a LEGO set often affects its price, which is why sets that cost less than $20 don't have more than 300 pieces. Nonetheless, a set with over 200 pieces can still be challenging to assemble, especially if a child doesn't have advanced set building skills.
It is better to opt for a set with less than 100 pieces if you're searching for your child's first LEGO set, while more complex sets are better suited for kids who already have some experience with building sets.
The topic the set is based on
Each LEGO theme includes sets that cover a variety of topics. For example, sets from the City theme can be inspired by firefighters, police officers, or camper vans, and which one you should choose depends on your child's preferences.
Knowing which Star Wars or Marvel movie your child likes the best can make choosing a set from either of these LEGO themes much easier. Sets from the LEGO Classic theme don't have a specific topic, and they can be useful if you want to encourage your child to explore its interests.
Availability of spare parts
LEGO bricks and plates have a reputation for being indestructible, but the same cannot be said for all the parts you'll find in LEGO sets that cost under $20. LEGO produces replacement parts for all of its sets, including the retired models.
However, replacement parts aren't available for all old LEGO sets, and you need to check if the part you're looking for is listed on the Pick a Brick section of LEGO's website.
The Advantages of LEGO Sets Under $20
A great introduction to the world of LEGO sets
It isn't easy to know if your child will enjoy playing with LEGOs if they never owned a LEGO set. Getting a set that costs less than $20 can be a great way to introduce a child to the LEGO world and determine if they would appreciate owning a larger and more expensive set.
A wide variety of options
Each of LEGO's forty themes contains at least one and often many more sets that cost less than $20. This enables you to get a set that matches your child's interests and age.
Skill development
Learning how to read, excellent problem solving, collaboration, and creative thinking skills are some of the benefits of playing with LEGOs from an early age.
The Disadvantages of LEGO sets under $20
LEGO sets under $20 contain a limited number of pieces
Building a set that has fewer than 300 pieces doesn't take more than a few hours, so your children might get bored quickly with a set that is too easy to assemble.
Top 5 LEGO Sets Under $20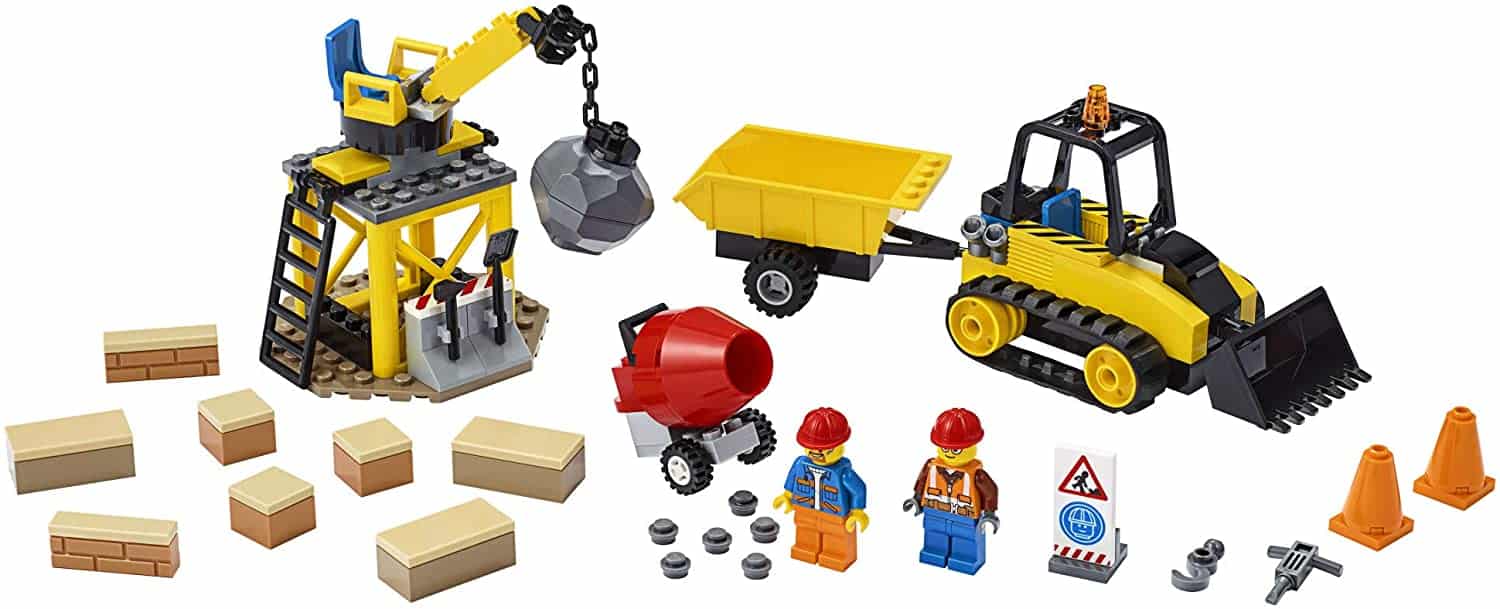 Children can invent endless play scenarios with the Construction Bulldozer 60252 set to create construction sites and even wall them off with traffic cones and signs.
Besides the bulldozer, this set also features a crane equipped with a wrecking ball, a cement mixer, and two construction worker mini-figures. Even though assembling the elements from this set is easy, the manufacturer included the building instructions that guide a child through the assembly process.
This set was launched in 2020, and it may go out of production soon because LEGO usually retires sets 18 to 24 months after the release.
Pros
Building this set is easy
It offers a broad spectrum of playing scenarios
Suitable for all children older than 4
All elements have multiple functions
Cons
This product might be discontinued soon
Small models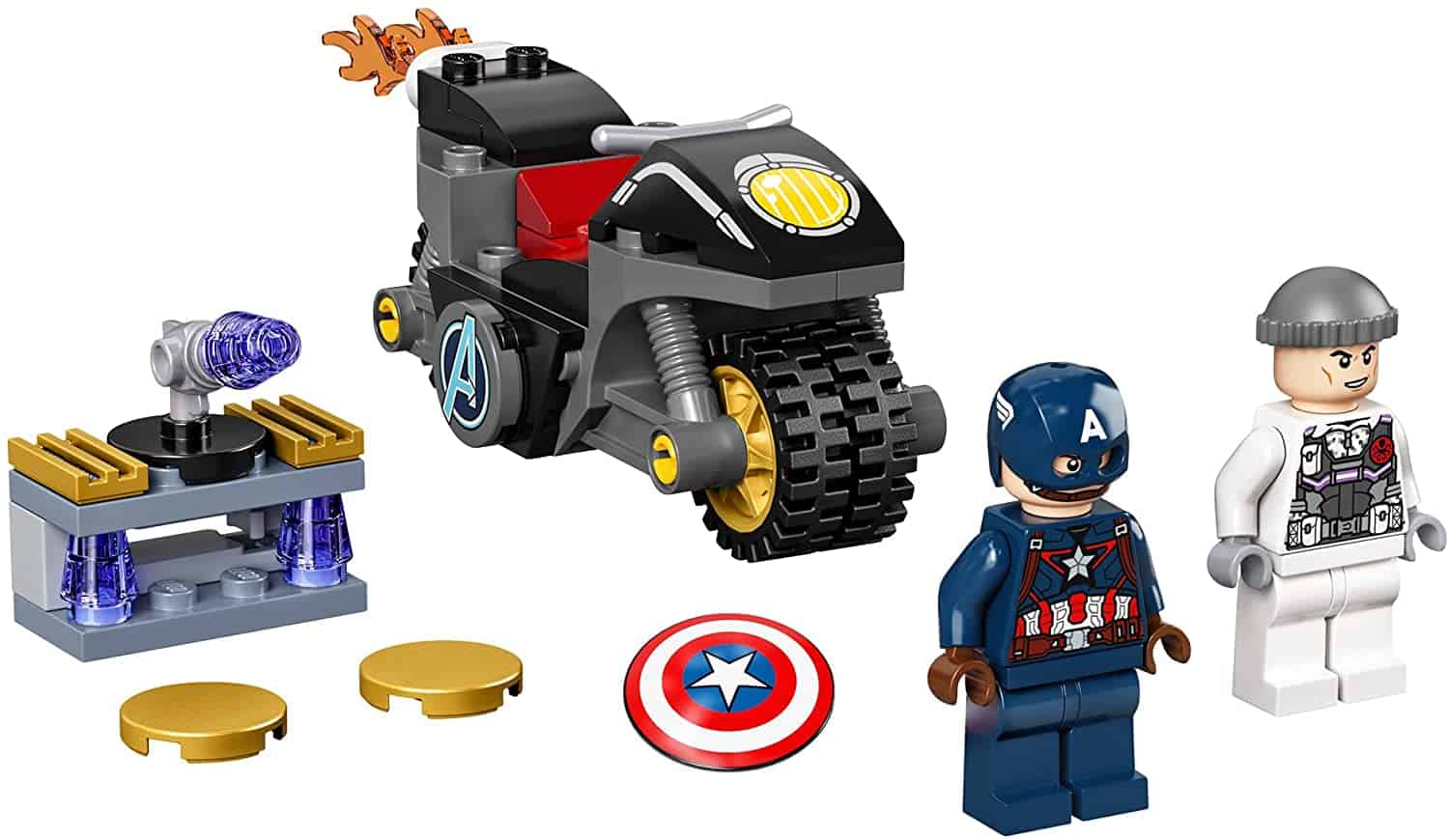 The Captain America and Hydra Face-Off Building Kit 76189 is based on Marvel's Age of Ultron movie. This set is a recent addition to LEGO's Marvel theme, so there's no reason to assume that it will be retired soon.
It features preassembled mini-figures of Captain America and a Hydra agent and buildable motorcycle and disc shooter models. In addition, the disc shooter is equipped with a detachable blaster weapon that is compatible with the Captain America mini-figure.
The set has only 49 pieces, and a four-year-old can assemble it in less than thirty minutes.
Pros
Children can recreate scenes from Captain America movies
The set includes Captain America's shield and other accessories
Concise building instructions
The motorcycle element has a lot of details
Cons
The set has only 49 pieces
It might be underwhelming for experienced LEGO set builders
Deep-Sea Creatures 31088 – The Best LEGO Set Under $20 for Children Who Like Sea Life

Besides allowing children to build fun toys, the Deep Sea Creatures 31088 set offers them a chance to learn more about sea life. This LEGO Creator 3-in-1 theme set comes with 230 pieces that enable children to build a shark, crab, anglerfish, and a squid.
The jaw and fins of the shark figure are adjustable, which ensures a more immersive playing experience. However, the Deep Sea Creatures set can be too difficult for children below seven, while children older than ten might find it uninteresting.
Pros
Excellent learning tool
Figures have adjustable parts
Encourages children to discover ways to design LEGO animal toys
You also can build a whale figure with this set
Cons
Buildable figures are relatively small
Assembling some figures can be challenging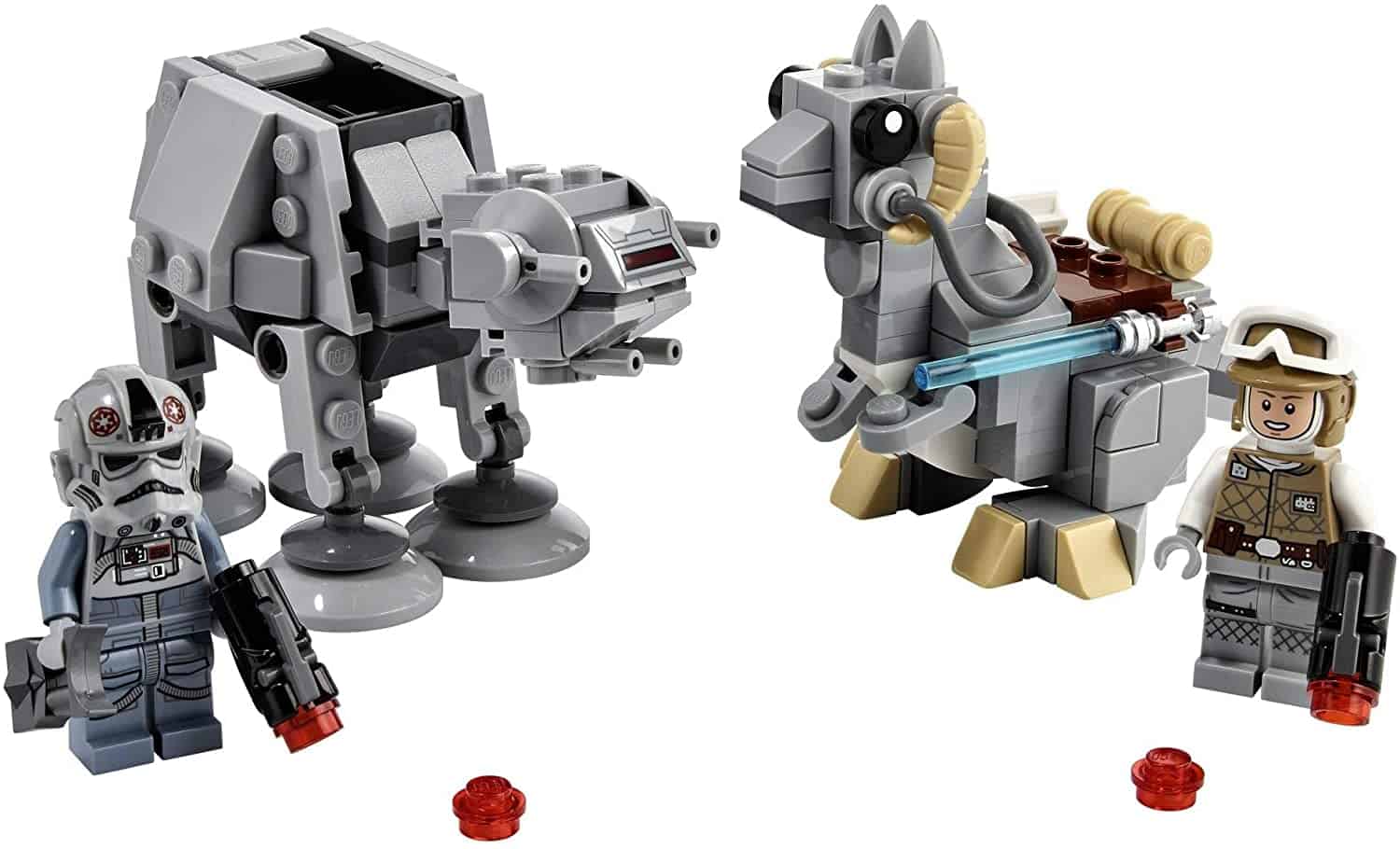 You can recreate the legendary battle Hoth from the Empire Strikes Back movie with the AT-AT VS Tauntaun Microfighters 75298 set. In addition, you can combine it with the Millennium Falcon Microfighter 75295 set and extend your child's range of play scenarios.
Besides AT-AT and Tauntaun figures, this set also features Luke Skywalker and stormtrooper mini-figures armed with stud shooters and a lightsaber. You can use these mini-figures independently or place them into the seats on top of the AT-AT and Tauntaun figures.
Pros
Great way to introduce a child to the Star Wars universe
Compatible with other LEGO's Microfighter sets
An excellent gift for children aged six or older
Quick and easy to build
Cons
AT-AT and Tauntaun figures are 2.5-inches tall
The set doesn't contain a lot of accessories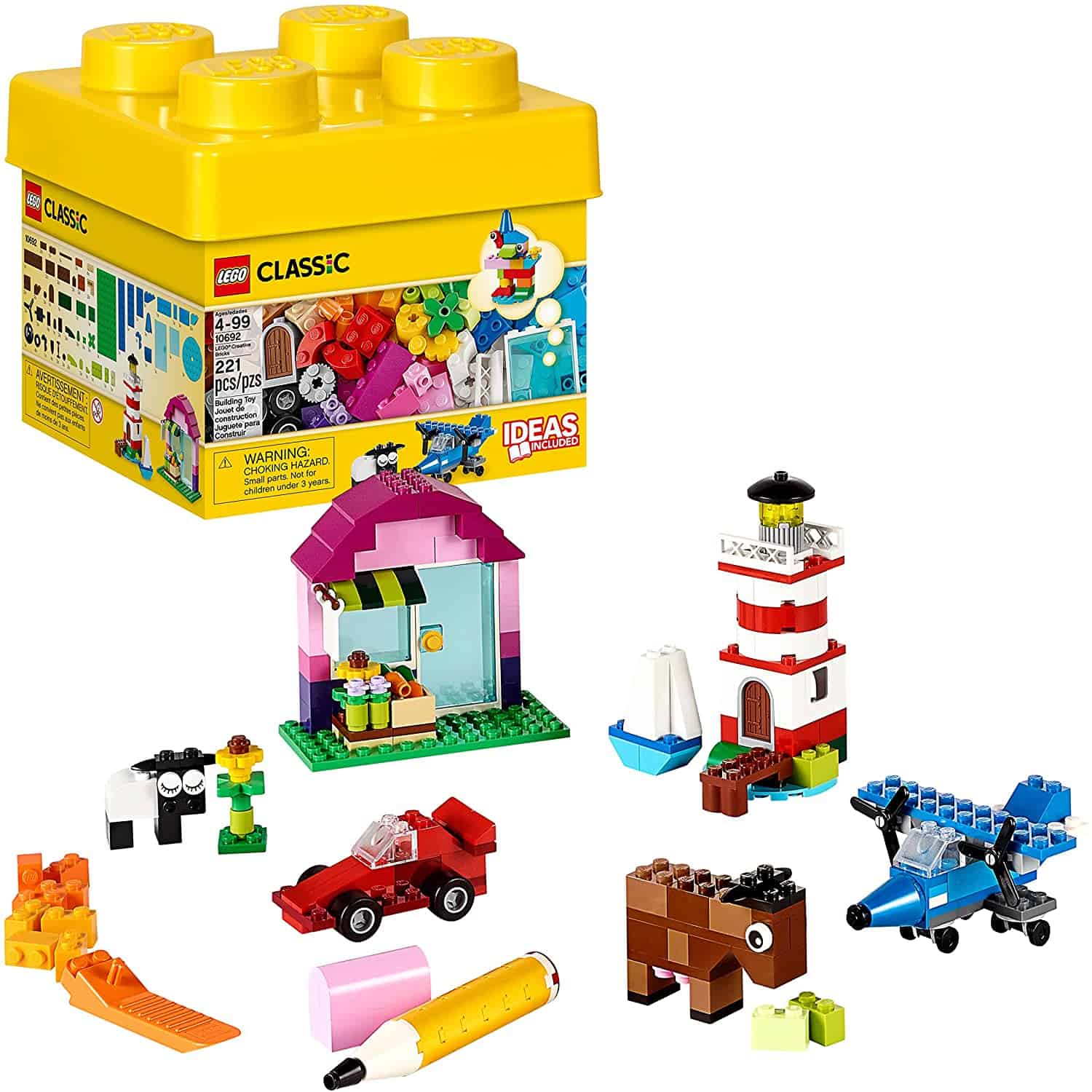 The fact that the Creative Bricks 10692 is still in production after more than six years on the market speaks volumes about the set's quality and popularity. Like all sets from the LEGO Classic theme, the Creative Bricks allows children to combine pieces in any way they see fit.
This set contains bricks in 29 different colors and special pieces that enable kids to design cars, houses, or boats. In addition, building instructions and ideas are included in the set so that children can use them whenever they lack inspiration for their next project.
Pros
The set ships with a storage box
Children can build multiple models simultaneously
Great for exploring DIY creative ideas
Suitable for LEGO fans of all ages
Cons
It contains only small bricks
Not an ideal set for large LEGO models
Frequently Asked Questions about LEGO Sets Under $20
Question: Can I return a LEGO set that costs less than $20?
Answer: Yes, you can return all LEGO sets within 90 days after the purchase.
Question: Do all LEGO sets under $20 have building instructions?
Question: What is the most popular LEGO set under $20?
Answer: It is difficult to say which LEGO set under $20 is most popular because so many models are in high demand.
Question: Can I combine two or more LEGO sets that cost less than $20?
Answer: Yes, as long as both sets are from the same LEGO theme.
My Verdict: Choosing the Best LEGO Set Under $20
LEGO offers a broad spectrum of affordable sets that cover topics from superhero movies to wildlife or space exploration. Hence, the easiest way to determine which LEGO set under $20 is the best choice for you is to know your children's interests and affinities.
I recommend getting the Creative Bricks 10692 set because it gives a child the freedom to build shapes and models based on their imagination.
A set like the AT-AT VS Tauntaun Microfighters 75298 or the Captain America and Hydra Face-Off Building Kit 76189 might be an excellent gift for children who are already familiar with the Marvel or Star Wars universes.
Which of the best LEGO sets under $20 are you going to choose? Leave a comment and let me know.
Recommended Reads: