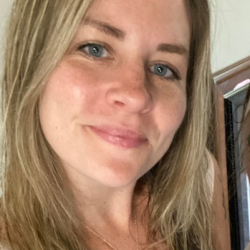 Latest posts by Thea Engst
(see all)
The marriage of the Marvel universe with LEGO was perhaps one of the best partnerships in LEGO building history. LEGO has turned out a multitude of Marvel-inspired sets for all ages and levels of expertise. From smaller sets like the Black Panther Dragon Flyer to the retired Attack on Avengers Tower, this theme delivers time and time again.
One of the most sought-after LEGO sets from the Marvel universe right now is the Daily Bugle from Spider-man. This is currently out of stock, with no signs of slowing down in sales, despite the holidays being over. And while it's a sight to behold, we always have to ask the question: is it worth the price tag and the time to construct?
I'm here to answer those questions for you, so buckle in, and let's talk about this LEGO set!
The History of the Daily Bugle
Why create the Daily Bugle? Well, the Daily Bugle as a building is iconic in the Spider-man storyline. The Daily Bugle newspaper is written and printed for the public in this building.
This building is where Peter Parker makes his bread and butter by selling photographs of the illusive Spider-man. It's where J. Jonah James, owner and editor in chief of the Daily Bugle, and boss of Peter Parker, famously barks orders at his employees.
Without The Daily Bugle, there is no way for Peter Parker to make an income while simultaneously fighting bad guys. For this reason, it makes perfect sense for LEGO to utilize this building for yet another one of their incredible builds.
The Nuts and Bolts of the Daily Bugle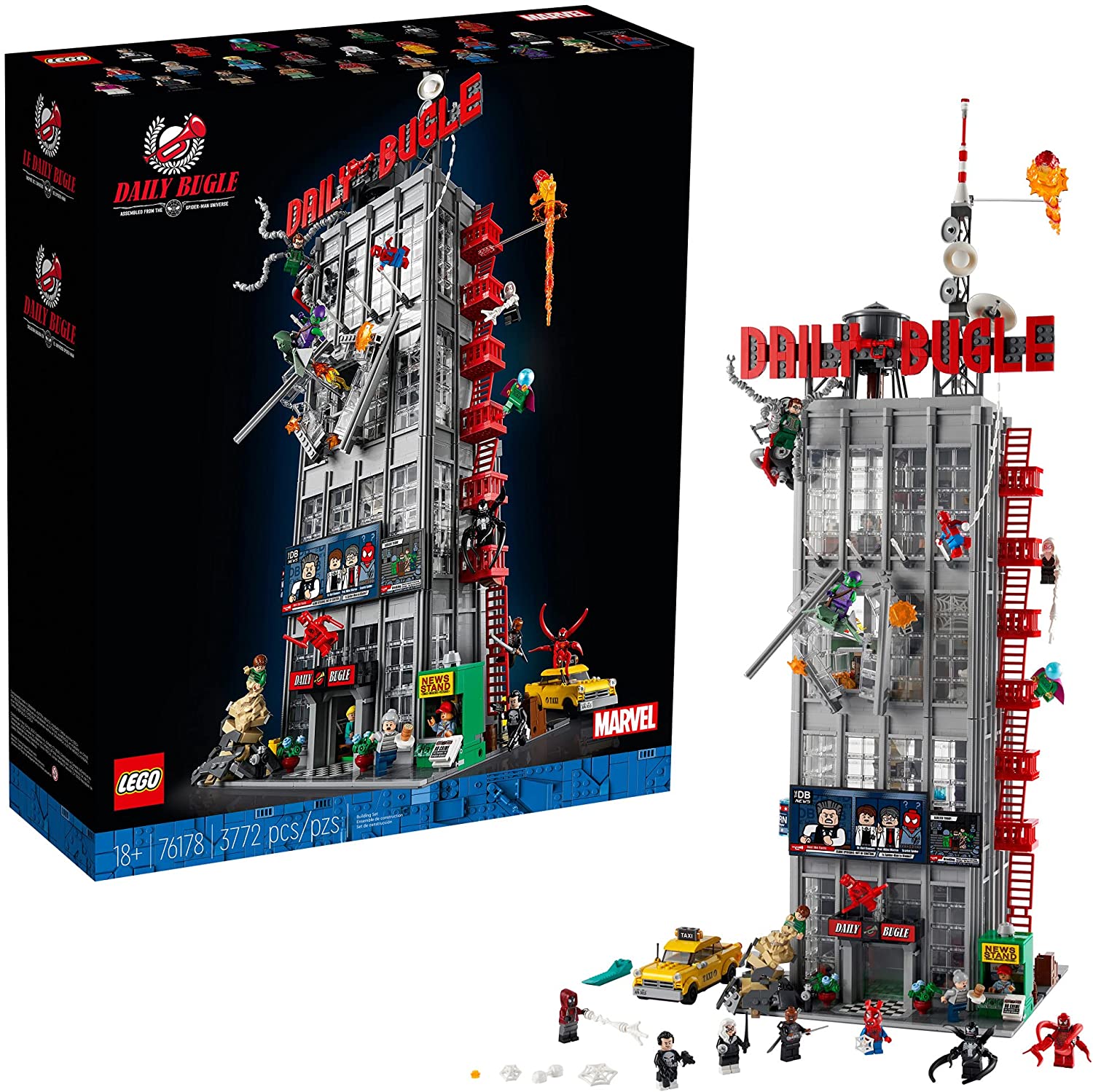 The Daily Bugle LEGO set does not focus on one specific movie, moment, or villain for Spider-man to battle. It doesn't even focus on one Spider-man! LEGO instead taps into their storytelling abilities to put together a set that can be switched and played with using various characters from throughout the Spider-man anthology. We'll talk more about the Minifigures later though!
This set is 3,772 pieces for ages eighteen and up. LEGO categorizes it as a build-to-display model, but I'd argue this is also great for playing. With twenty-five Minifigs included and moveable pieces, it's hard to keep from playing with this set! Check out the best LEGO Display Cases here!
Once constructed, this is a four-story LEGO building, that measures just over thirty-two inches high, ten and a half inches wide, and ten and a half inches deep. Each floor has a removable facade, which you can peer through and see what's going on inside the building, or take off to move characters around. And while the top three floors have been reported as being easy to remove for viewing and playing, the bottom floor has had the complaint that it is difficult to remove. While you can open the back door to the building, you can't exactly access anything inside that way. The best way to rearrange or play with scenes and Minifigs on the bottom floor is to remove the three floors on top of it.
And each floor themselves can also come apart. With just a gentle pull, each story becomes its own building. You can now put all four floors side by side, for a different perspective and playscape!
One of my favorite parts of this set is that you actually make a scene where the Green Goblin is bursting from the building. But again, this being a build-to-display set, I do think it will be difficult for children to see this and not want to play. I believe that if LEGO had chosen to focus this set on a particular movie or book about Spider-man, or even a specific nemesis, it may be less appealing to children who wouldn't be able to put together the set alone. Fun fact: if you don't want it to look like the Green Goblin has just burst from the Daily Bugle, you can remove some parts and make the facade one solid piece again!
Overall the construction of this set is difficult, but not impossible. There are no LEGO Technic pieces, which I believe could be changed, but that makes the construction more straightforward. While the tiled floors of each story of the building look great, I am confused about this choice by LEGO. No studs on the floor make it difficult for Minifigs to stand, and these little guys fall over easily. Even if you're not playing with this set and have it only for display, you'd experience problems with the Minifigs inside the building standing on their own. Regardless, I would still recommend this piece for an older, more experienced LEGO enthusiast.
Floor by Floor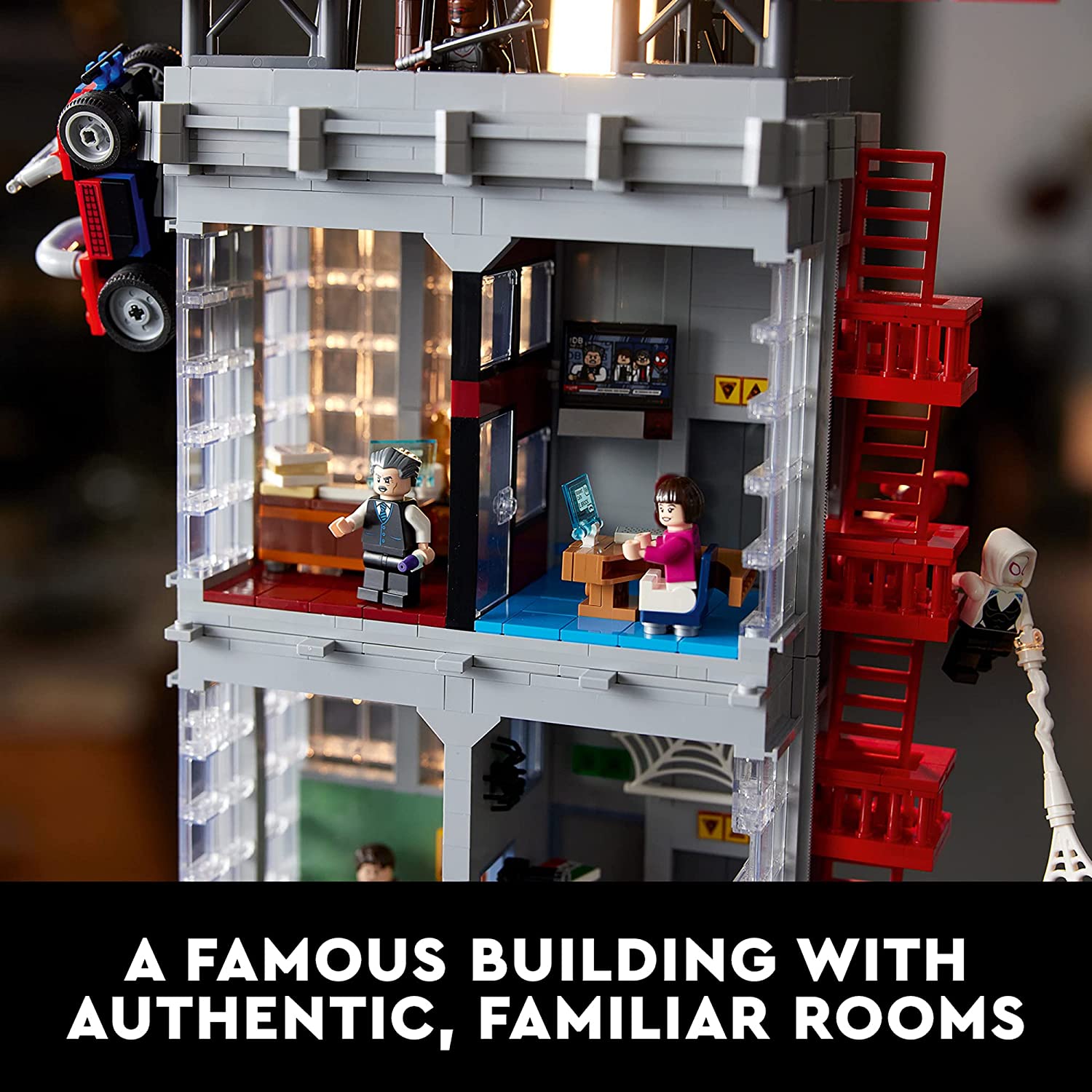 Since there are four unique floors in this set, let's talk about what each offers. First, each floor has different colored tile floors which, as I said before, strangely enough, do not have studs in them to support Minifigs. This creates an issue when staging any scenes as the Minifigs tend to fall over. But overall, each floor is unique and tells its own story, and does so well. So let's talk about what each floor looks like.
The bottom floor is a reception area, complete with a vending machine, a golden Minifig award, and an elevator. The elevator is a little disappointing because it doesn't go anywhere. However, adding an elevator to this set would not only raise the price tag but would also raise the challenge by adding LEGO Technic, without exactly making it a more desirable set. There is a waiting room area with newspapers for those waiting and the back door, which opens.
The bullpen is covered in cute details like coffee mugs for the employees, televisions with news stories on them, computers, and piles of newspapers on the floor and walls. The computers have stickers for screens with desktops, one even has a resting desktop screen with folders visible. I love the water cooler detail in this scene and of course, there is the elevator doors for the elevator that goes nowhere and does not open.
On the third level is a split of  Peter Parker's office with a door out to what seems to either be more of his office or the copy room. That room that might be a copy room has the elevator to nowhere in it, Peter Parker's camera, and strangely enough two brown boxes and a filing cabinet which block Peter Parker's door to and from his desk area. I've thought about this a lot and I can't quite figure it out. It just doesn't seem like LEGO thought that one through very much, I can't wrap my head around why they made that choice. The copy machine itself lifts up to scan papers, which is a great and classic LEGO detail, and there is a spiderweb and spider on the ceiling and wall. I love that Peter Parker's office has a sneaky self-portrait behind him, which is Spider-man, of course!
On the top floor is J. Jonah Jameson's penthouse office, and his assistant's office outside the door. She has a desk, computer, and chair and of course, a swivel television for her to view the news. The elevator door to nowhere is in front of the assistant. J. Jonah Jameson's office has a desk piled with newspapers, his fancy computer, and awards behind him. He has what looks like a geode as well, this must be a Spider-man reference that went over my head. J. Jonah Jameson himself is holding a giant pen, ready to shout orders to the next unlucky employee who dares enter.
As always LEGO succeeds in telling a story with the set. While they leave it open for interpretation with the multitude of included Minifigs, they lay the groundwork for intricate, and detail-oriented storytelling. This is why I love LEGO!
Outside the Daily Bugle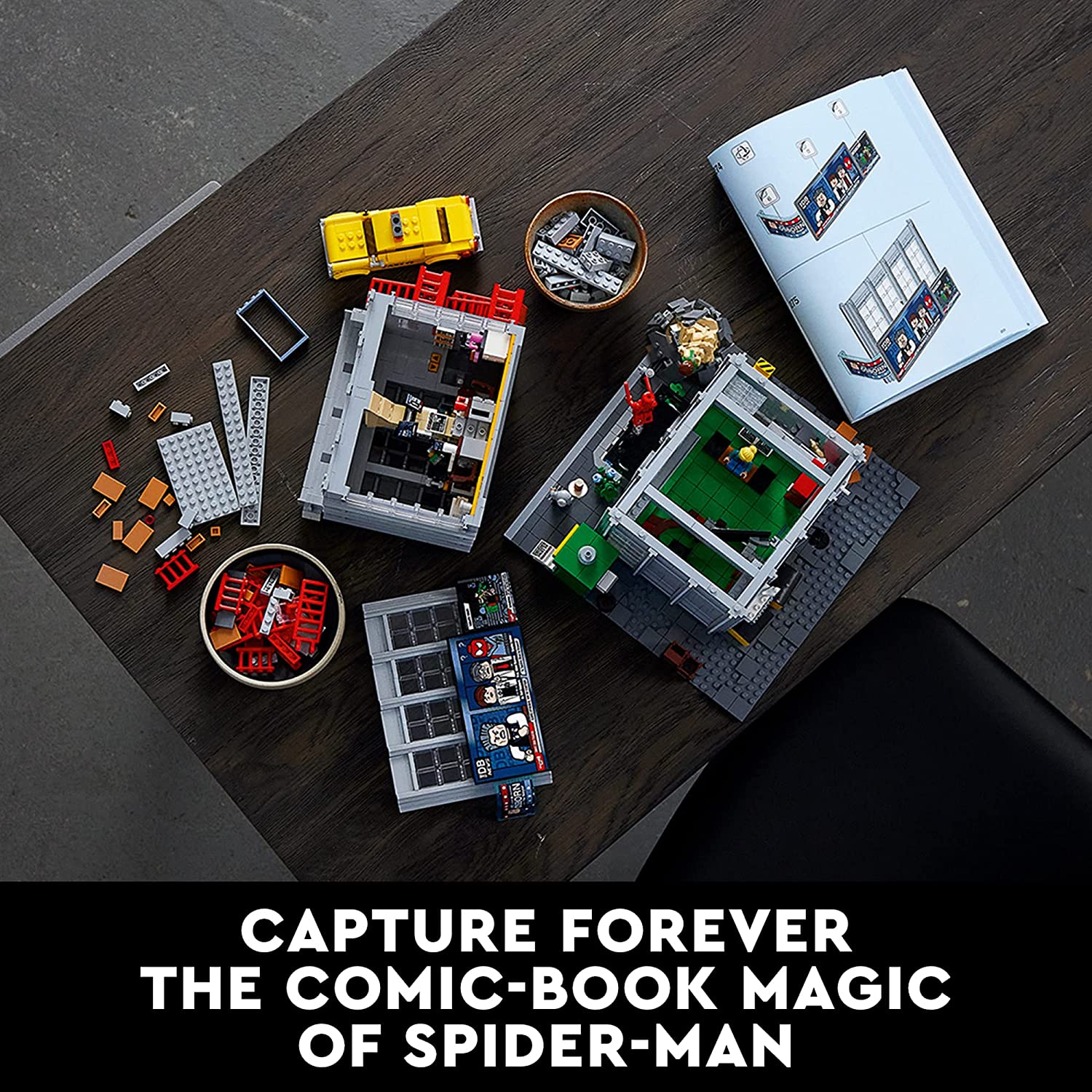 Outside the building, the fun doesn't stop. In classic LEGO fashion, the building doesn't end with the literal building of the Daily Bugle.
Parked outside the structure is your classic New York City yellow taxi, which is also buildable (and iconic in the Spider-man universe.) You can remove the top to put up to two Minifigs at a time. Outside there is also has a fire hydrant and potted flowers outside the black and white checkered entryway, which has a sliding glass door.
On the left side of the building, you have a space to put Sandman if you want (more on him later) and on the other is a newsstand selling (you guessed it) copies of the Daily Bugle. There's even a breakaway portion on the left wall, for the villain of your choice to burst through. If you lift the newsstand, it reveals more fun surprises: New York City stickers and a copy of a business magazine with none other than the Kingpin himself on the cover.
Above the newsstand, on the right side of the building is a fire escape, with foldable ladders. And up the building, there's a balcony with an entrance, a cute little pigeon nest on top of an AC grate.
Around the building, there are even black and yellow dumpsters behind the Daily Bugle, with old fruit, a moldy hotdog, and different colored cans (probably from the vending machine in the reception area) inside! In the back there are more fun details like stickers of graffiti for you to put on the rear entrance door, letting you know that 'Eddie (Venom) was here'. But I love the detail of one of Peter Parker's backpacks, hidden in a little hold up the wall of the building, behind a spiderweb which you can move up and down.
There are plenty of opportunities to hang Minifigs around the roof and down the sides of the building, with details like a giant sign with a picture of J. Jonah Jameson on it, and even a scrolling newscast of J. Jonah Jameson interviewing scientists. The newscast does not actually scroll, which I feel is a lost opportunity. Imagine if you can turn a wheel and scroll through talking heads! But, you can, mount Spider-man's buggy on the side of the building if you want. How cool is that?
The top of the building has the words "Daily Bugle" in red font with a red bugle between the words. Behind the signs is a satellite pole complete with satellite dishes, which Firestar attaches to in suspension. The roof also has a water tower with more graffiti. Like the facades down the side of the building, the roof is removable, to add to the setting and building fun.
Check out the best 1500 piece LEGO sets here!
Minifigures of the Daily Bugle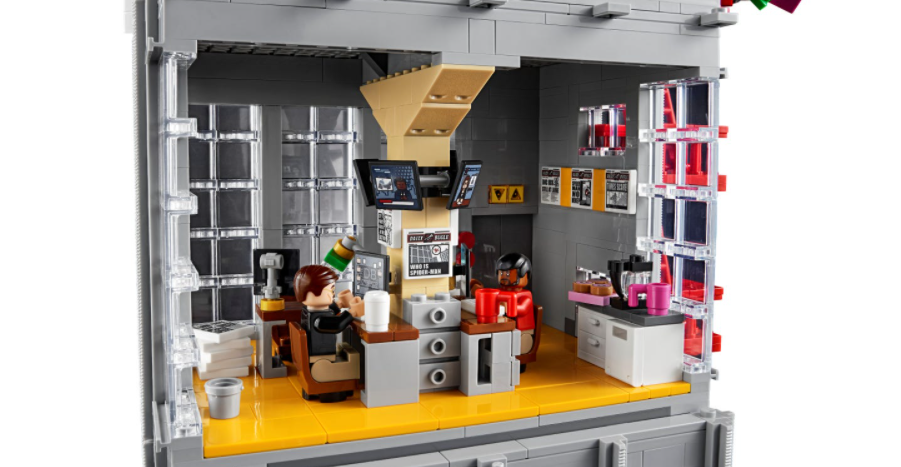 The Minifigs included in the Daily Bugle LEGO set deserve a section all their own. Why? Well for starters, there are twenty-five Minifigs included in this set. That's a lot, even for LEGO.
And the number isn't the only impressive detail about these little guys, five of them are new to LEGO in this set. Those five are J. Jonah Jameson, Punisher, Blade (the vampire hunter), Black Cat, and Daredevil. You can't get them in any other LEGO set, so that's super cool!
More Minifigs include, but are not limited to, both Peter Parker and Spider-man, Mysterio, Sandman, Doctor Octopus, Venom, Spider-Ham, Green Goblin, and Spider-Gwen. The Minifigs themselves have wonderful details, for example, many of them have two facial expressions to choose from. And characters like Venom have tendrils that are removable with the backpacks they wear. Doctor Octopus also has removable tentacles, which you assemble and are long and moveable. But Sandman has to be one of my favorite Minifigs of all time. Instead of legs, he stands on a sand tornado, which can be attached to an additional base making it appear as though he's bursting up from the earth! He even has one arm human and one arm made of sand. I'm sure by now you're really starting to see how much you can play with the different scenes both inside and outside this structure once completed.
Because LEGO decided to not reference a specific book, movie, or villain when designing this LEGO set, it really opens the world up for different possibilities once the set is constructed. You can really have the freedom to make the Daily Bugle your own. You can change the setup daily, you can even remove all the Minifigs entirely if you want! The Bugle is your oyster, as they say!
Check out the best LEGO Porsche Sets here!
Reviews of the Daily Bugle
I did some digging on the internet to see what people thought about the Daily Bugle LEGO set. This is what I found.
Overall the reviews of this set are enormously positive. While one reviewer said they believed this is a great set for comic book fans, not necessarily the movie fans of Marvel and Spider-man in particular. They believed that only someone who has read the comic books will fully understand all the intricate details and references in the set. Another reviewer said the set contains references that cross both the movies and the books, making it more appealing to both fans. In short, this is a great gift for a Spider-man fan. They will appreciate it. For me, I think that even if you've never read a Spider-man comic, you will get joy from this set. It's intricate, fun, and challenging.
More reviews said that the glass from the Green Goblin bursting out of the building is very fragile and easily falls when bumped which honestly makes a lot of sense. Of course, as I said before, you can make that into a solid window pane if it gets too annoying. But that small problem combined with the lack of studs on the ground for Minifigs makes this set tough to play with.
More fans found this set challenging with no surprises, and appropriately aged for older audiences. Many people enjoyed the subtle references.
Check out the best Deadpool LEGO Sets here!
Pros and Cons of the Daily Bugle LEGO Set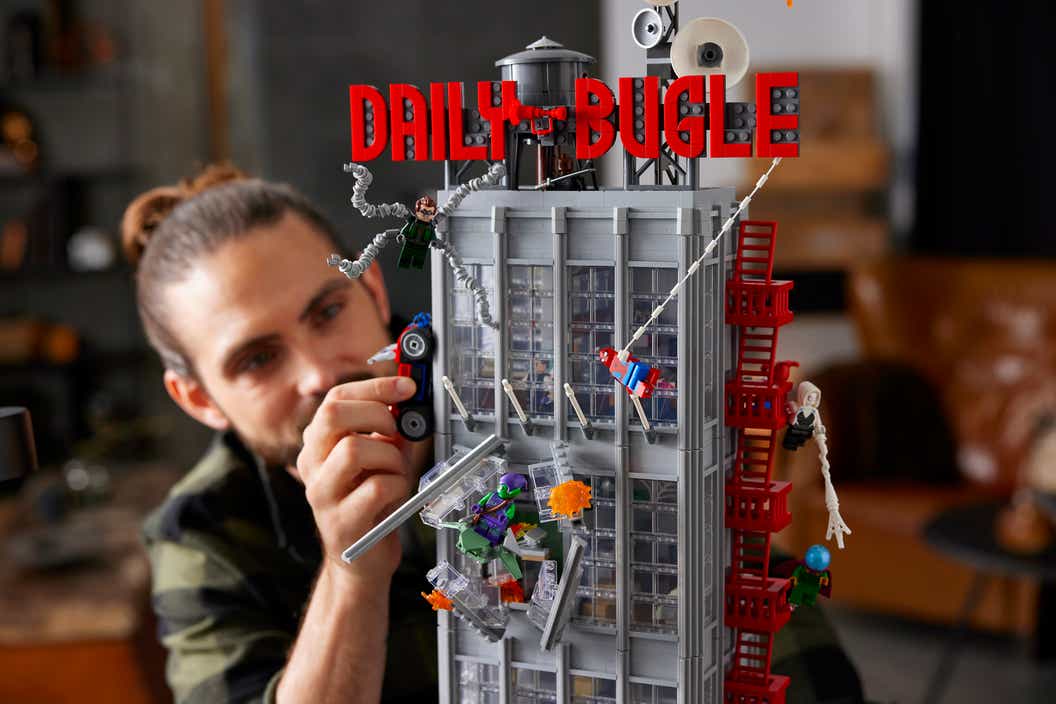 Pros:
Price. This is $300 which is a lot of money, but for what you're getting it makes a lot of sense. It's a lot of pieces and a ton of Minifigs. This is also aimed at adults, who (hopefully) won't lose or break pieces.
Twenty-five Minifigs makes this versatile for storytelling.
Contains five exclusive Minifigs that are only found in this set.
Four stories with removable facades for looking into the different floors.
Each floor has unique and detailed decor and details.
Very straightforward, not difficult to assemble.
Cons:
Currently out of stock, and with the demand being so high for this piece, I don't see it becoming easier to come by anytime soon.
This is made for adults but with a huge amount of Minifigs, which may send the wrong message to children.
Not terribly challenging, very straightforward.
Because the floors of each story are flat tiles, there are no studs to lock in Minifigs. For this reason, the Minifigs fall over easily.
The Green Goblin bursting from the building is fragile and easily falls apart.
Has elevator doors that go nowhere.
Could benefit from some LEGO Technic for items like the elevator and scrolling televisions.
Large for display in the home. (This measures just over thirty-two inches high, ten and a half inches wide, and ten and a half inches deep.)
FAQs about the Daily Bugle LEGO Set
Question: Is this set worth the price tag?
Answer: In my opinion yes. This is a huge set with a lot of fun challenges. If you're looking for something you can continue to work with even after it's 'complete' this is the set for you. If you're looking for something more stationery and more for display only, I'd suggest another LEGO set.
Question: How challenging is this set to put together?
Answer: I wouldn't get this set for children under eighteen unless they're excelled LEGO builders or you plan to help them along the way. If you're a first-time LEGO builder, you will definitely face your own challenges in this one. I don't think it's impossible, but it is challenging.
Question: If I bought this and put it together for my kids, would it hold up?
Answer: I absolutely think that kids would have a blast playing with this set. I do think it has fragile aspects, like the Green Goblin's portion of the building for example, so you might have to swoop in to do periodic repairs. Still, this building is literal layers of fun for kids of all ages!
Question: Do you need to be a Spider-man fan to enjoy this set?
Answer: I don't believe so. If you remove Spider-man, this is is still a fun set to construct and play with.
Question: Would you buy this for yourself or a friend?
Answer: I would absolutely buy this set if I were able to find it. (I don't know where I'd put it, but I'd figure that out later!)
Question: My friend is a huge Spider-man fan but not into LEGOs, would you recommend this set?
Answer: I would recommend this set. Any Spider-man fan is going to love the attention to detail and references in the Daily Bugle LEGO. It's also pretty cool that they will have five Minifigs only available through this set!
Final Thoughts on the Daily Bugle LEGO Set
Overall this set is just plain really cool. It has amazing attention to detail and references both the Spider-man comics and the movies as it tells the story of this corner in the Marvel universe. I love that this set has so many Minifigs, so you can constantly be resetting the stage for your own storyline. I also love the crazy amazing attention to detail, from the rat behind the building to the headlines on the television screens and newspapers.
While there are a few minor drawbacks to this set, I would still recommend it if you can find it. Any set has room for improvement if you sit down and think about it, this is no different.
In the end, you don't need to be a Spider-man fan to really enjoy the puzzle aspect of constructing a LEGO. This set is full of characters, stories, book and movie references, and just overall creativity. So whether you're building it for display or to play, you're going to enjoy this Daily Bugle LEGO set!
Recommended Reads: