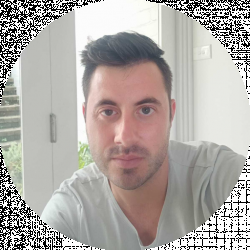 Latest posts by David Borgogni
(see all)
After a brief period of immense popularity, the best LEGO Thanos sets are no longer at the center of the attention of LEGO builders. The fact that LEGO has just a few active sets based on this Marvel superhero reflects the drop in demand for these sets.
The final sequel of The Avengers franchise premiered almost three years ago, and it doesn't seem likely we're going to see more Avengers movies in the next few years. Consequently, none of the Marvel sets scheduled for release in the first half of 2022 feature this character.
In this guide, I'll supply you with the information you need to choose the best LEGO Thanos set, and I'll recommend several models that could be the right option for you. Our guide to the best LEGO Marvel sets can help you discover the best models within this theme.
At a Glance – The 9 Best LEGO Thanos Sets
Bottom Line Up Front
In my opinion, the Infinity Gauntlet 76191 is the best Thanos set because it provides LEGO builders with a challenging construction experience and allows them to create a display model of the most powerful weapon in the Marvel universe.
Selection Criteria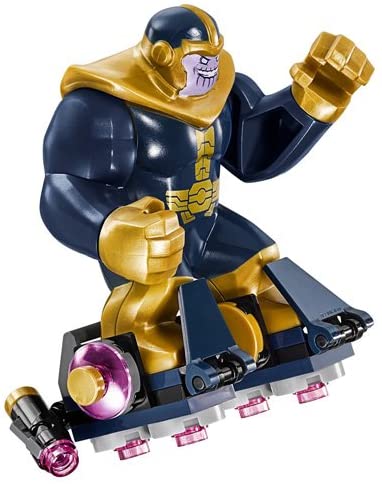 Even though LEGO introduced the Thanos Minifigure a few years ago, this villain is one of the most popular characters in the LEGO Marvel theme. However, The Avengers sets aren't in high demand as they once were, so as a result, only a handful of sets featuring a Thanos Minifigure are still in production.
That's why choosing the models you'll find in this article wasn't a difficult task, but I still had to use different parameters to determine which LEGO Thanos sets are the best. Here are some of the essential criteria I utilized during the selection process.
Set Size
LEGO Thanos sets don't have high piece counts, but constructing a set with 600 pieces is far more challenging than building a set with a hundred pieces. This criterion allowed me to choose sets with different sizes suitable for novice and experienced LEGO builders.
Age Group
My goal during the selection process was to include sets designed for all age groups. Hence, the final selection includes models made for LEGO fans of all ages.
You can read our guide to the best LEGO Captain America sets if you want to find out which models from the Marvel theme are based on this superhero.
The Avengers LEGO Sets
The launch of four The Avengers sets in 2012 marked the introduction of the Marvel theme to the LEGO product lineup. Captain America's Avenging Cycle 6865 and Quinjet Aerial Battle 6869 were among the first sets published within the Marvel theme based on The Avengers movies.
However, none of these early Marvel sets featured a Thanos Minifigure. Instead, they focused on Wolverine, Hulk, Loki, and other superheroes that became less common in the subsequent years.
The Thanos Minifigure also doesn't appear in sets based on the Guardians of The Galaxy movie published in 2014. So, models like The Milano Spaceship Rescue 76021 or Knowhere Escape Mission 76020 don't feature the Minifigure of this Marvel villain.
Black Widow, Captain America, Thor, and Iron Man are some of the most common Avengers you can find in early LEGO Marvel sets. Please read our guide to the biggest LEGO sets for more information about Marvel models with high piece counts.
A Brief Overview of LEGO Thanos Sets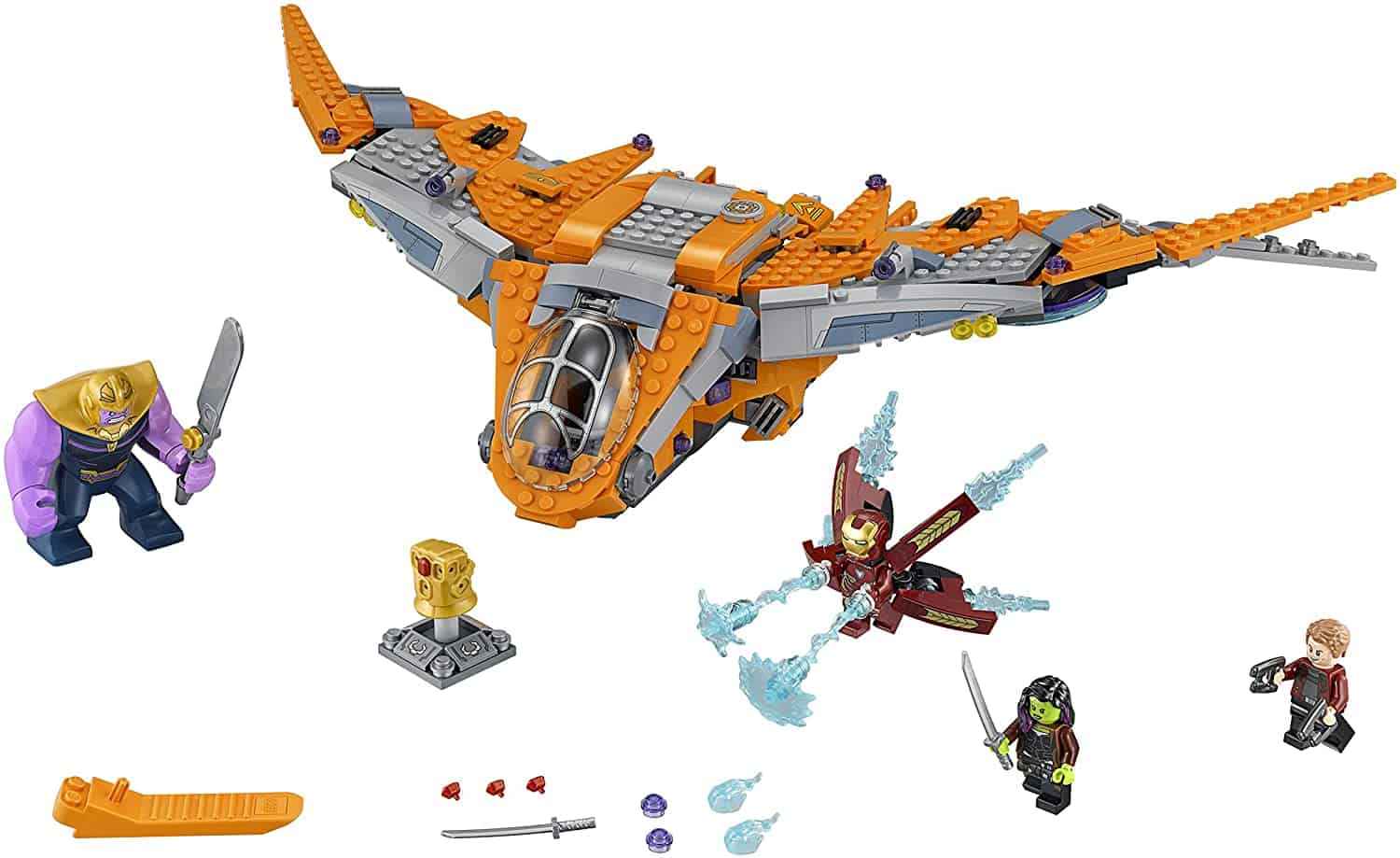 The Avenjet Space Mission 76049 was the first LEGO set featuring a Thanos Minifigure. It was released in 2016, and it had just 523 pieces. The following year LEGO published the Infinity War Thanos: Ultimate Battle 76107 set, the first LEGO Marvel set that featured the villain's name in its title.
The release of this set coincided with the premiere of The Avengers: Infinity War movie. It also indicated the toymaker's intention to make Thanos one of the most prominent characters in the Marvel theme. Nonetheless, LEGO published less than ten sets with a Thanos Minifigure in the subsequent years.
Moreover, the brand also released several Thanos-themed display sets that allowed builders to construct models of the character's figure or weapon.
LEGO hasn't released new sets featuring a Thanos Minifigure in 2022, and it remains unclear if the company intends to publish sets with this character by the end of the year. Our guide to the best LEGO sets under $30 can help you find an affordable and fun LEGO set.
Retired LEGO Thanos Sets
At the moment, only a few active sets in the Marvel theme feature a Thanos Minifigure, while most models based on this character are discontinued. Also, this villain isn't included in all active Marvel sets inspired by the Guardians of The Galaxy or The Avengers movies.
Most LEGO Thanos sets released in 2017, 2018, and 2019 are retired, while only several models published in 2020 and 2021 are still active. Here are some of the best retired LEGO Thanos sets.
It's also worth noting that the Infinity Gauntlet, Thanos' weapon, appears in several sets that don't contain the character's Minifigure.
Retired Thanos sets are relatively easy to find since most online retailers still have them in stock, but their prices can be several times higher than the prices of active sets inspired by this Marvel villain. Check out our guide to the best Harry Potter sets to learn more about the latest sets in this theme.
Building a LEGO Thanos Set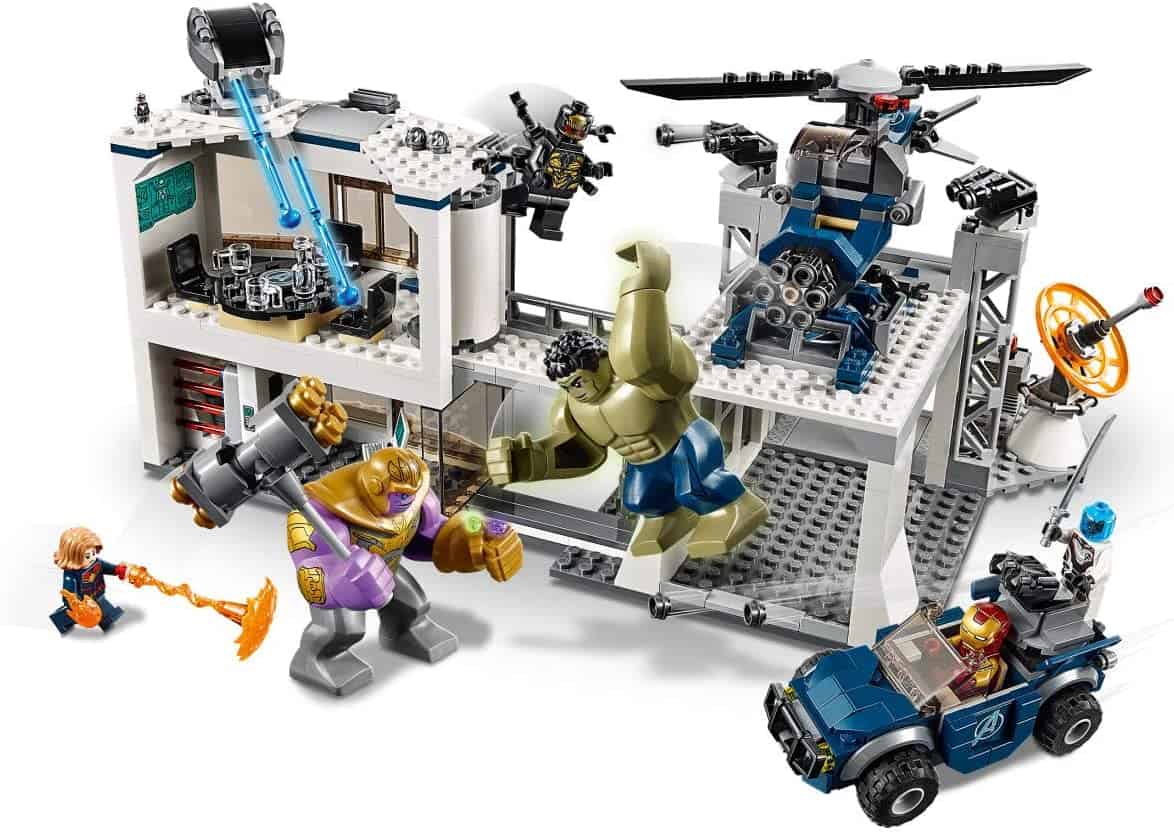 The Infinity Gauntlet 76191 is the only LEGO Thanos set designed for adult Marvel fans, but even this model doesn't have a high piece count. Most LEGO sets based on this character have fewer than 500 pieces, while none of the Thanos sets LEGO released to date had more than a thousand pieces.
Hence, building these sets doesn't require a lot of experience, and even children aged seven or older can assemble them without assistance. Also, Thanos sets often feature the Minifigures of different Marvel superheroes, and they contain models of buildings, cars, helicopters, and other elements.
Playsets usually offer a wide range of playing options so that kids can recreate scenes from The Avengers movies or develop alternative play scenarios. On the other hand, display models don't contain Minifigures or accessories.
Please browse through our guide to the best LEGO Deadpool sets for more information about sets featuring this Marvel superhero.
The Key Factors to Consider while Choosing a LEGO Thanos Set
Thanos is one of the main characters in The Avengers and Guardians of The Galaxy movies, but his Minifigure is included in less than ten LEGO sets inspired by these films.
Nonetheless, you'll still have to pay attention to the following factors to identify the model that meets your requirements:
Release date and availability
The complexity of the construction process 
Accessories and Minifigures
Piece count and age group
Price range
Top 9 LEGO Thanos Sets
Infinity Gauntlet 76191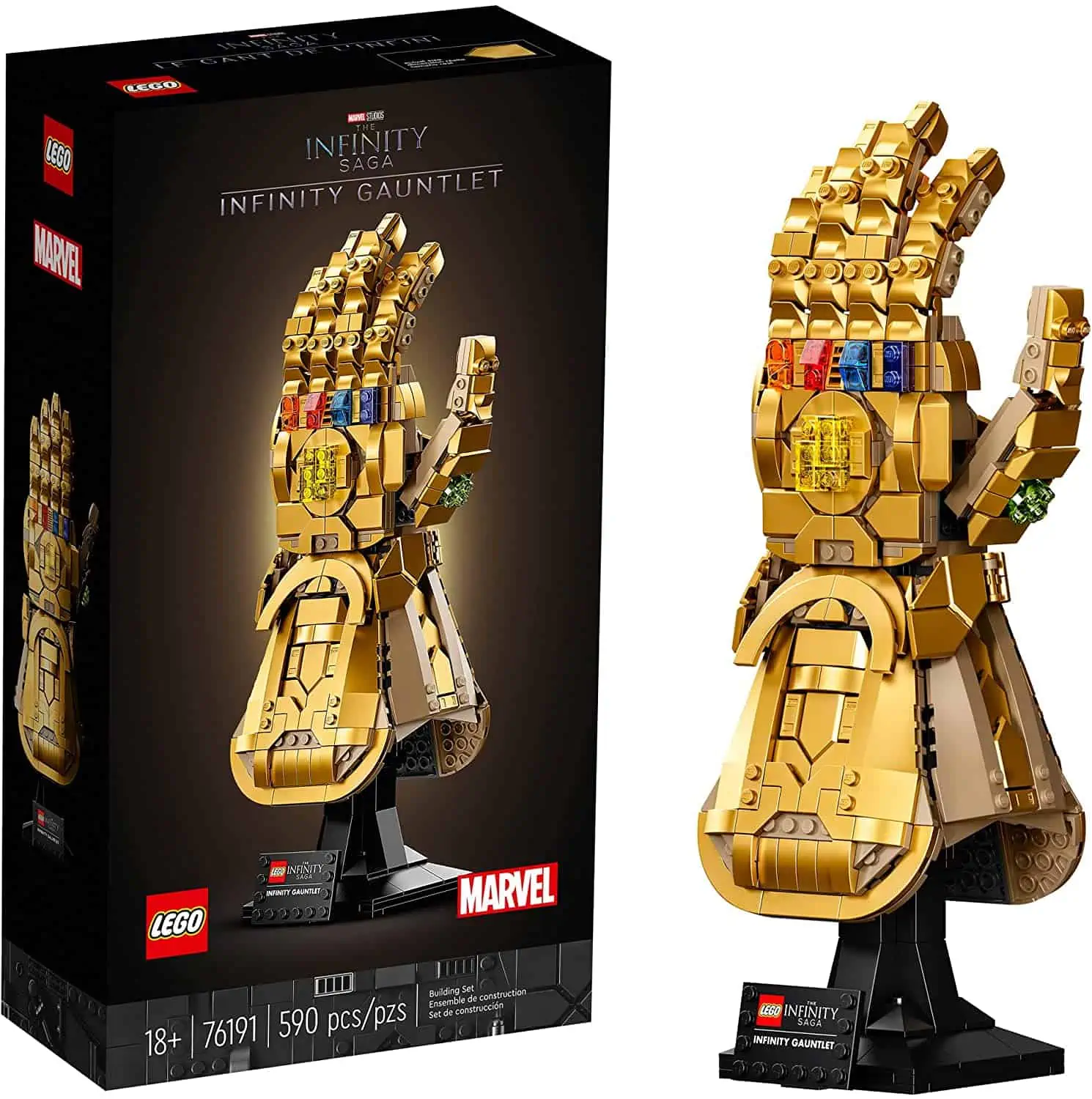 In addition to being one of the biggest Thanos sets ever released, the Infinity Gauntlet 76191 set is also among the most challenging Marvel sets to build. Assembling the replica of the Infinity Gauntlet can take several hours, and the construction process takes place in several stages.
The gauntlet has posable fingers, Infinity Stones, and other details that give it a realistic look. This set also contains the parts you need to build a display stand and a plaque that features the weapon's name.
Pros
The challenging and rewarding assembly process
The model's fingers are adjustable
Compatible with other LEGO Marvel display pieces
The Infinity Gauntlet replica is more than 12-inches tall
Cons
The Thanos Minifigure isn't included in the set
The assembled model is fragile
Sanctuary II: Endgame Battle 76327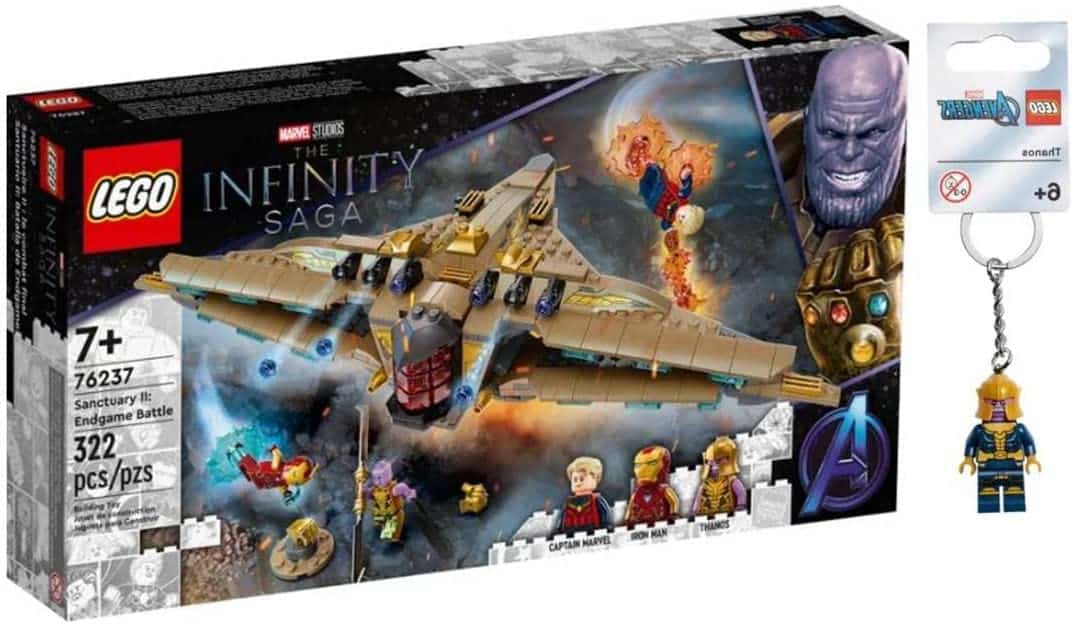 Even though it has just 322 pieces, the Sanctuary II: Endgame Battle 76327 is still an entertaining set that offers plenty of playing options. The replica of Thanos' spaceship Sanctuary II has four wings and is equipped with six stud shooters.
Its cabin features a pilot seat for the Thanos Minifigure and the instrument panel the villain uses to control the ship. The set features Iron Man and Captain Marvel Minifigures besides the Thanos Minifigure armed with a double-bladed sword.
Pros
This set has a lot of accessories
The spaceship's cargo room features the Infinity Gauntlet
It encourages imaginative and active play
The set has three Minifigures
Cons
The spaceship toy is small
Some LEGO fans think that this set is overpriced
Avengers: Endgame Final Battle 76192
In addition to the Thanos figure equipped with the double-bladed sword, The Avengers: Endgame Final Battle 76192 set also features Black Panther, Thor, Scarlet Witch, Iron Man, Captain America, Chitauri warrior Minifigures, and Ant-Man Microfigure.
The model of The Avengers compound is 12 inches wide and 6 inches tall. It has a leisure area, a laboratory, and a prison cell for the Thanos figure, while a rotating canon is attached to one of its sides. The Ant-Man's truck toy has a time-travel machine.
Pros
LEGO published this set recently
It has eight Marvel characters
It's less expensive than most Thanos sets
The set offers lots of playing options
Cons
Adult LEGO fans may find this set uninteresting
It contains tiny pieces that are easy to misplace
Infinity War Thanos: Ultimate Battle 76107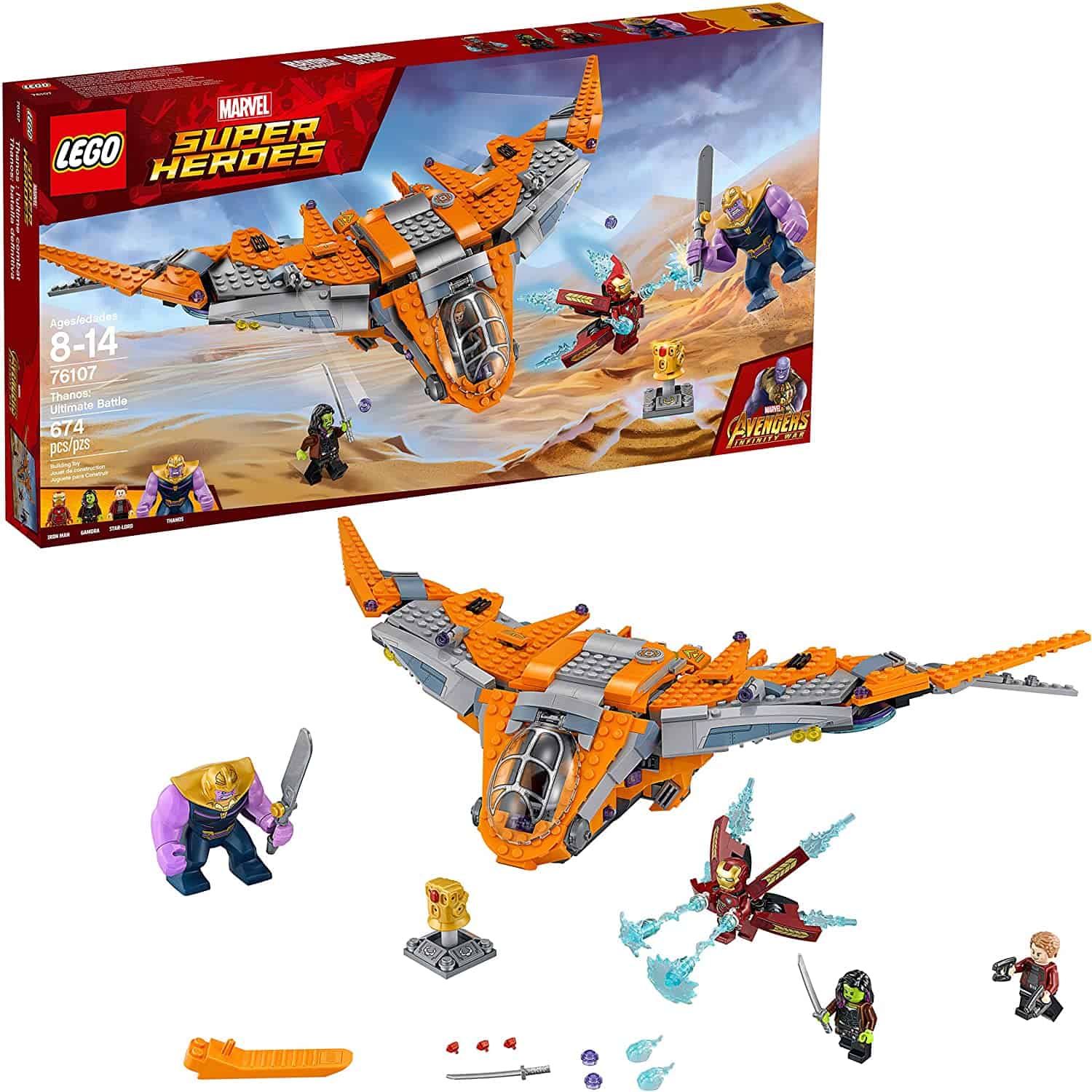 The Infinity War Thanos: Ultimate Battle 76107 was one of the first sets in the LEGO Marvel theme that featured the figure of this character. It also contained collectible Infinity Stones, the Infinity Gauntlet, and sword accessories for the Thanos figure.
The model of the Bentar spaceship has adjustable wings, an opening cargo section that contains different accessories, and an opening cockpit that can accommodate a single Minifigure. This set comes with Star-Lord, Gamora, and Iron Man Minifigures.
Pros
Each Minifigure has multiple accessories
The Infinity Gauntlet comes with a display stand
It has a space scooter
The Bentar spaceship has stud shooters
Cons
This set was retired years ago
It's hard to find
Thanos 41605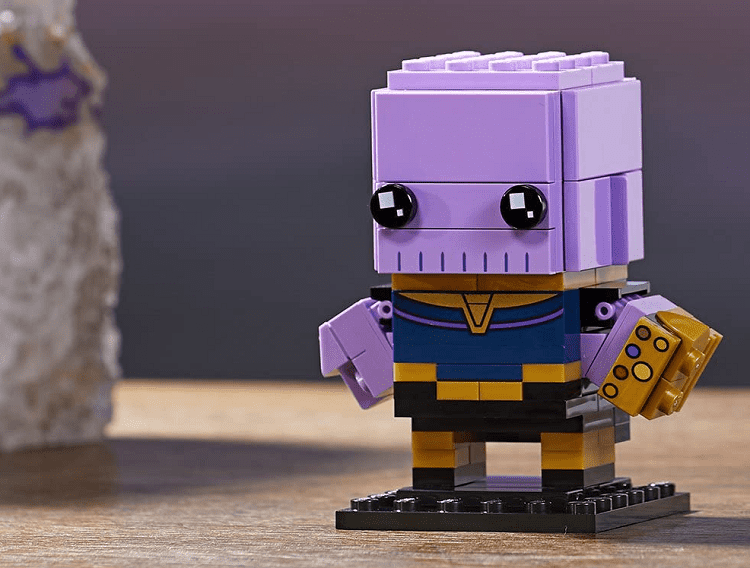 Fans of the LEGO BrickHeadz theme will enjoy building the Thanos 41606 set inspired by The Avengers: Infinity War movie. The set has 105 pieces you can use to build a 2-inch tall Thanos model with purple skin and chest decorations.
The model has the Infinity Gauntlet decorated with the Infinity Stone on its left hand, but the set doesn't contain Minifigures or accessories. A 1-inch tall buildable baseplate is included in the set.
Pros
The Thanos model is nicely decorated
A simple assembly process
Compatible with other Marvel BrickHeadz sets
The Thanos figure has the Infinity Gauntlet
Cons
The Thanos figure is tiny
This set is discontinued
Avengers Compound Battle 76131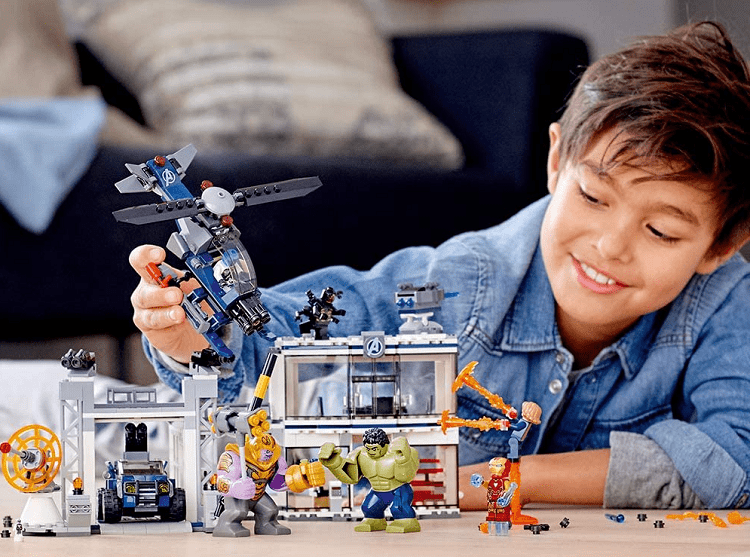 The variety of Minifigures and accessories the Avengers Compound Battle 76131 set offers ensures that young Marvel fans won't run out of playing options quickly. This set features a two-level model of the Avengers Compound that has a meeting room, garage, and a laser-beam safe.
The helipad, rotating radar, spring-loaded shooter, and stud shooter elements are located compound's roof. The set comes with helicopter and off-roader toys equipped with stud and dud shooters.
Aside from Hulk and Thanos figures, Captain Marvel, Nebula, Outrider, and Iron Man Minifigures are also included in this set.
Pros
A wide range of playing scenarios
Thanos figure has the double-sided battle axe
The Avengers Compound model is equipped with different weapons
Kids can carry helicopter and off-roader toys wherever they go
Cons
The set doesn't contain Minifigures of all Avengers
It's more expensive than active Thanos sets
Avenjet Space Mission 76049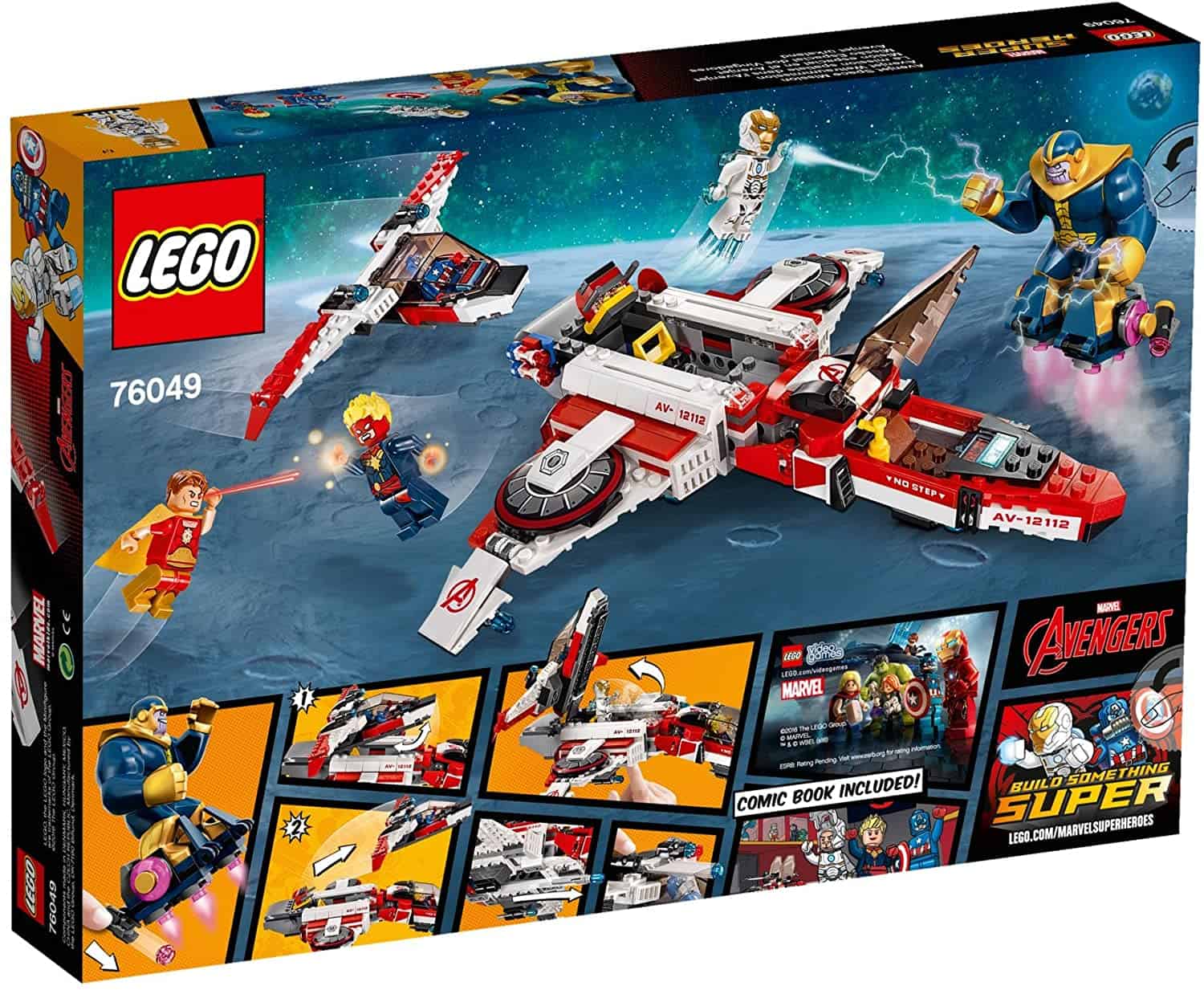 Even though LEGO discontinued the Avenjet Space Mission 76049 more than five years ago, this model is still one of the best Thanos sets. The Avenjet toy has numerous fun features like an opening hatch, flick missiles, and cabin for Minifigures.
In addition, the mini-jet toy can be used as a part of the Avenjet or separately, allowing kids to imagine a broad spectrum of play scenarios. This set features the Thanos figure, as well as Space Captain America, Hyperion, Space Iron Man, and Captain Marvel Minifigures.
Pros
This set comes with a comic book
The Thanos figure has stud shooters on its boots
Avenjet toy is ten inches long
It contains collectible Minifigures
Cons
This set was retired in 2016
Teenage or adult LEGO builders may find this set uninteresting
Iron Man Vs Thanos 76170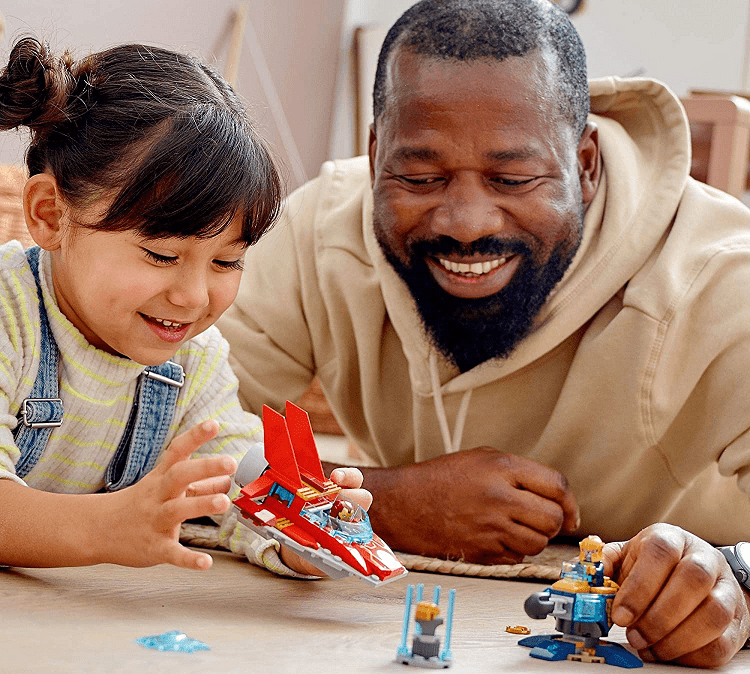 All toys included in the Iron Man Vs. Thanos 76170 set are composed of Starter Bricks that simplify the building process. Moreover, the jet toy arrives partially assembled, while the gun tower and energy stand elements can be constructed in just a few easy steps.
Thanos and Iron Man Minifigures aren't equipped with weapons or other accessories kids can use while playing with this set. In addition, all toys included in the set are small, so preschoolers won't have too much trouble keeping their grasp on them.
Pros
The set encourages active play and helps kids improve dexterity
All toys are comprised of Starter Bricks
Detailed building instructions
The set is affordable
Cons
Low piece count
This set has just two Minifigures
Thanos Mech 76141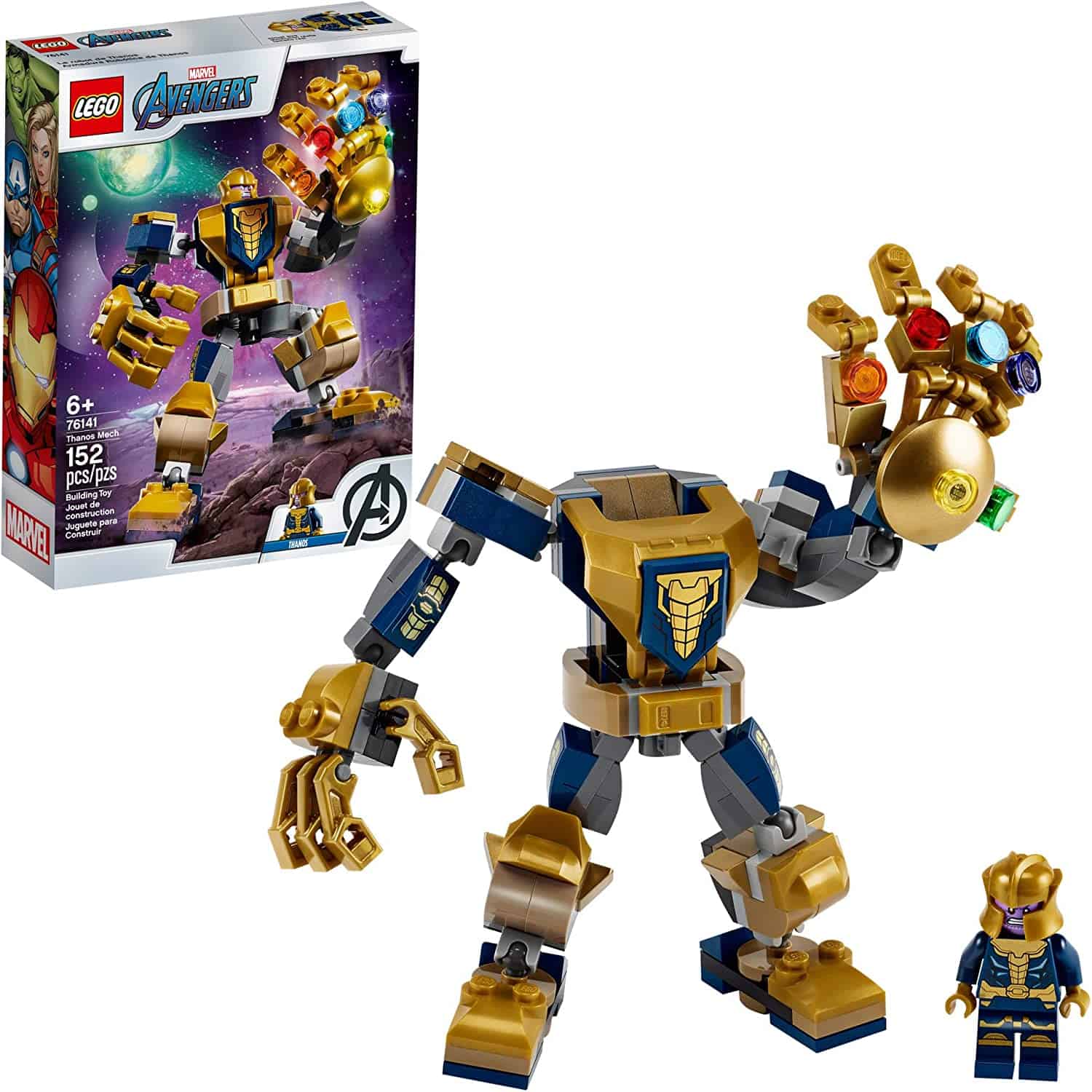 LEGO retired The Thanos Mech 76141 set a few months ago, which means that most online retailers still have this model in stock. Unlike some discontinued LEGO sets, The Thanos Mech is inexpensive, and you can purchase it for less than $20.
The posable Mech figure is equipped with Infinity Gauntlet featuring all six infinity stones, and it has an opening cockpit that can accommodate the unique Thanos pilot Minifigure. This set is compatible with other LEGO Marvel Mech sets.
Pros
A fun action toy and a beautiful display model
The Thanos Minifigure is unique
Mech's arms and legs are posable
This set is easy to find even though it's retired
Cons
It offers limited playing options
The set contains fragile parts
Frequently Asked Questions about LEGO Thanos Sets
Question: How Tall is the LEGO Thanos Figure?
Answer: LEGO Thanos figures are bigger than Minifigures of Marvel characters, and they can be up to four inches tall.
Question: Where Can I Find Replacement Pieces for LEGO Thanos Sets?
Answer: Spare parts for all active Thanos sets are available on the LEGO website. You should look for replacement pieces for retired Thanos sets at online LEGO marketplaces.
Question: Are LEGO Thanos Minifigures Valuable?
Answer: Yes, they are, and some models can cost more than $200.
Question: Do All LEGO Thanos Sets Feature Collectible Infinity Stones?
Answer: Collectible Infinity Stones aren't included in all LEGO Thanos sets.
My Verdict: Deciding which LEGO Thanos Set to Choose
You won't have a lot of options at your disposal while searching for a LEGO Thanos set because, at the moment, only a few sets in the Marvel theme are based on this character.
Moreover, most sets featuring the Minifigure of this villain are retired, and you can't purchase them directly from the manufacturer. That's why I recommend getting an active set like the Infinity Gauntlet 76191 that will provide you with a rewarding construction experience.
If this model exceeds your set-building capabilities, you should consider getting playsets like The Avengers: Endgame Final Battle 76192 or Sanctuary II: Endgame Battle 76327 that offer a wide array of playing options. Which LEGO Thanos set are you going to choose?
Let me know in the comments, or continue reading our guide to the best LEGO Speed Champions sets if you'd like to learn more about the most sought-after sets in this theme.
Recommended Reads: