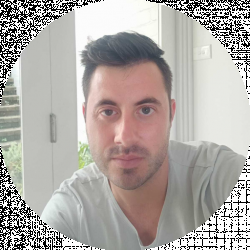 Latest posts by David Borgogni
(see all)
It's impossible to imagine any Star Wars movie or TV show without the iconic Imperial soldiers. Hence, it is hardly surprising that the best LEGO Stormtrooper sets are some of the most popular models in the Star Wars theme.
These sets aren't a recent addition to LEGO's product lineup since the company released the first Star Wars set that featured a stormtrooper more than twenty years ago.
Since the turn of the century, LEGO introduced numerous sets based solely on Stormtroopers, and currently, the Star Wars theme offers an excellent selection of models inspired by these soldiers.
In this guide, I will provide you with the information you need to find the best LEGO Stormtrooper set and recommend several active models you might like. Please read our guide to the best Yoda sets to learn more about LEGO sets inspired by this Star Wars character.
At a Glance – The 5 Best LEGO Stormtrooper Sets
Bottom Line Up Front
In my opinion, the Stormtrooper Helmet 75276 is the best active display stormtrooper set for experienced LEGO builders, while the Snowtrooper Battle Pack 75320 is the best playset for young LEGO and Star Wars fans.
Selection criteria
Star Wars sets often contain stormtrooper minifigures, even though their topic isn't directly related to these characters. Moreover, this LEGO theme features several sets inspired solely by stormtroopers, clone troopers, scout troopers, or dark troopers.
That's why I had to use several parameters to shortlist all Star Wars sets that feature stormtroopers and pick the best models. Here are a few essential criteria I utilized to select the Stormtrooper sets for this article.
Set's topic – This parameter has enabled me to eliminate all sets that feature stormtrooper minifigures but explore different topics from the final selection. Hence, all sets you'll find in this article are inspired by different variants of stormtroopers
Required set-building skills – My aim was to include stormtrooper sets suitable for novice and experienced LEGO builders. That's why I used this parameter to identify sets that require different levels of set-building skills.
Check out our guide to the best LEGO lightsaber sets to find out more about the models that let you build these Jedi weapons.
Overview of the Star Wars theme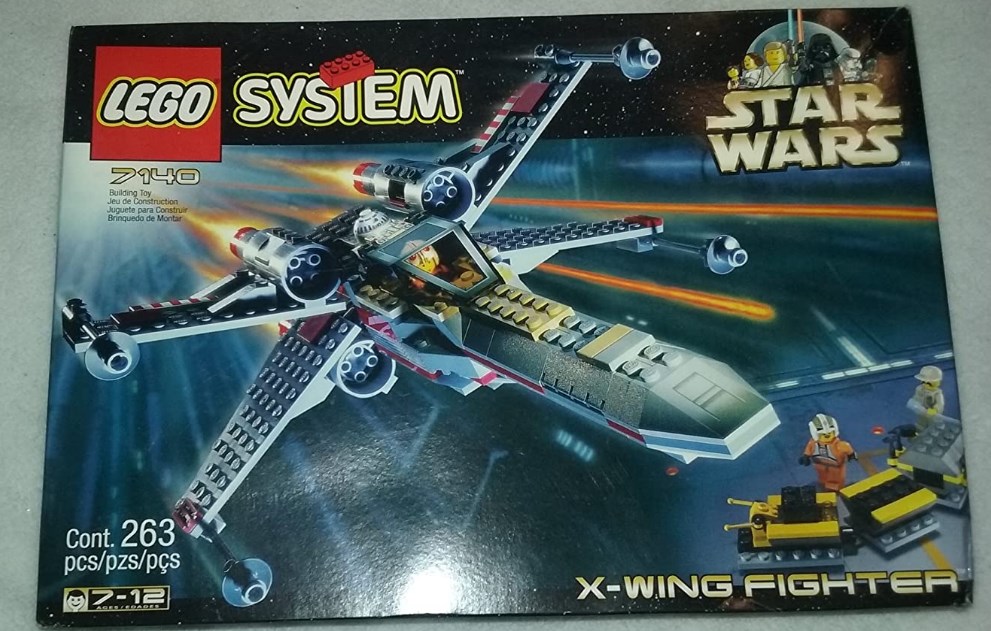 The collaboration between Lucas Film and LEGO started in 1999 with the release of the X-Wing Fighter 7140 set. LEGO published the Speeder Bikes 7128 that same year, the first set that featured a pair of scout trooper minifigures.
In the following years, the company released several sets that featured stormtrooper minifigures, but none of these models were based exclusively on stormtroopers.
The Technic Stormtrooper 8008, released in 2001, was the first LEGO set containing an Imperial soldier's model equipped with a missile launcher. The design of stormtrooper minifigures didn't change much over the last two decades, and currently, there are just five variations of the minifigure's helmet.
Moreover, these minifigures are usually accompanied by the following weapons.
Blaster
Old gun
Rifle
Large old gun
It's worth adding that stormtroopers appear in LEGO Star Wars movies and video games. They also served as inspiration for keychains and various other merchandise. Please browse through our guide to the best LEGO merch to discover different LEGO-themed products.
Stormtroopers Inactive and Upcoming Sets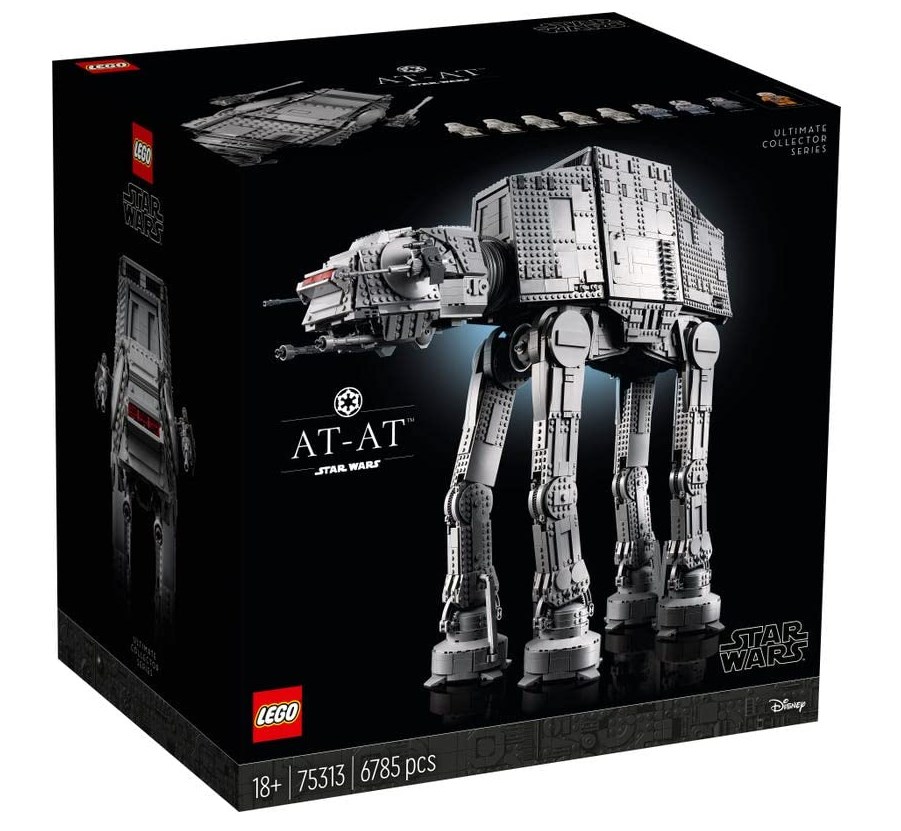 The AT-AT 75313 is one of the largest active Star Wars sets that also features the stormtrooper commander and four stormtrooper minifigures. Let's take a look at a few more active Star Wars sets that feature variations of these foot soldiers.
LEGO has released several stormtrooper sets since the start of 2022 and announced the arrival of more models by the end of the year. Here are some of the most recent additions to the Star Wars theme.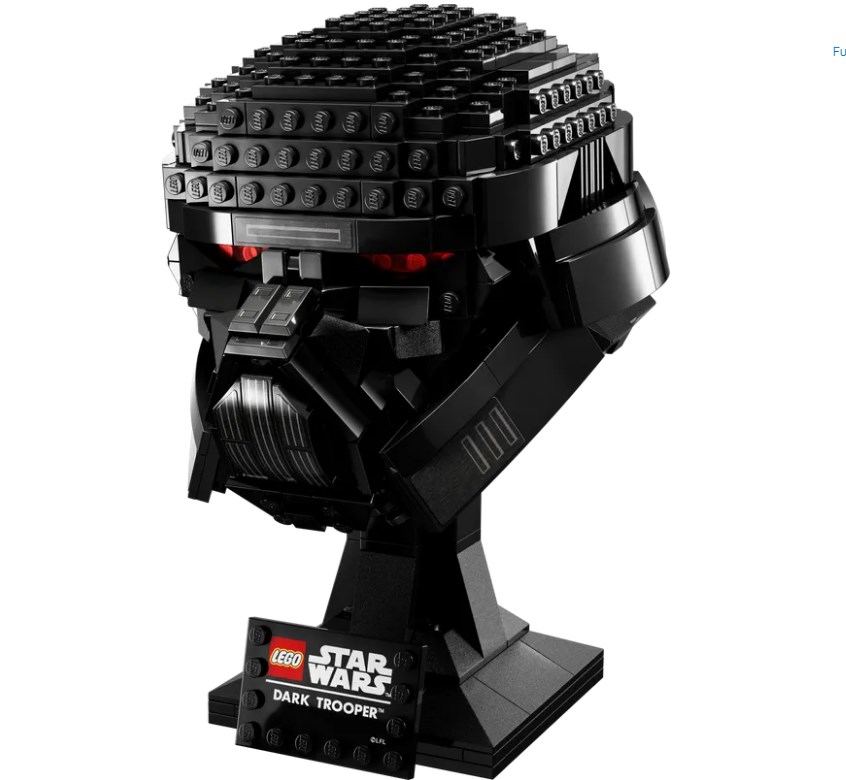 These sets are currently available for pre-order, and you can't find them at LEGO-certified stores or purchase them from online retailers. Check out our guide to the best Amazon LEGO sets to learn more about the Star Wars sets you can find on this E-commerce platform.
Choosing a retired Stormtrooper set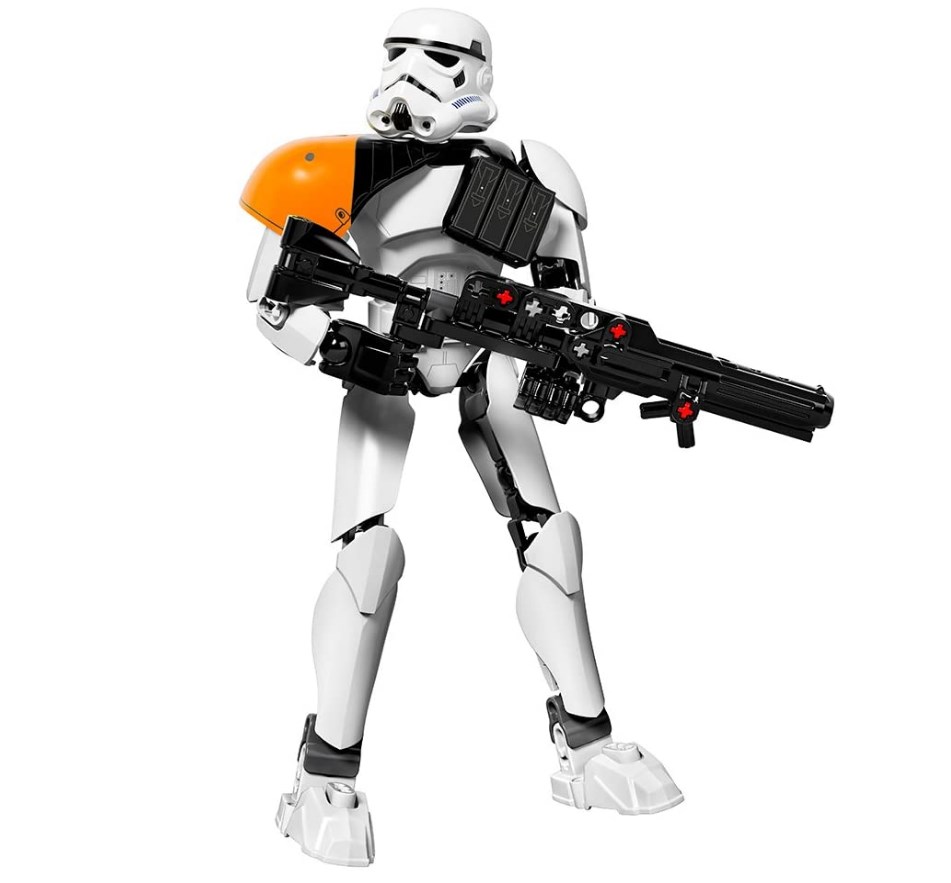 The average shelf life of sets from the Star Wars theme is two years, but despite this, discontinued models remain available in stores long after they're retired. Furthermore, some online retailers still offer stormtrooper sets retired more than ten years ago.
Here are a few retired Stormtrooper sets you might stumble upon online.
These sets aren't available in all LEGO-certified stores, so finding a specific model can be an arduous task. Moreover, some online retailers offer used retired sets that are no longer in their original packaging or lack crucial pieces.
That's why determining the retailer's credibility is paramount while shopping for retired stormtrooper sets online. It's also advisable to check the availability of spare pieces since you may not be able to replace a broken or misplaced part of a retired Stormtrooper set.
Please go through our guide to the best Marvel LEGO sets to discover the most popular sets from this theme.
Building a Stormtrooper set
None of the active Stormtrooper sets has more than a thousand pieces. Most of these models don't have a complicated assembly process, and they're suitable for inexperienced LEGO builders.
Nonetheless, a low piece count can sometimes be misleading because some of these sets can take hours, if not days, to assemble. The dimensions of buildable toys featured in stormtrooper sets also vary, but their size doesn't exceed 10 inches in most cases.
Stormtrooper minifigures are approximately 2-inches tall, and they're easy to assemble. However, accessories like blasters or rifles don't arrive pre-assembled, and you'll have to look at the building instructions to put them together.
Please read our guide to critical LEGO pieces to find out which parts are featured frequently in LEGO sets.
The key factors to consider while choosing a LEGO Stormtrooper set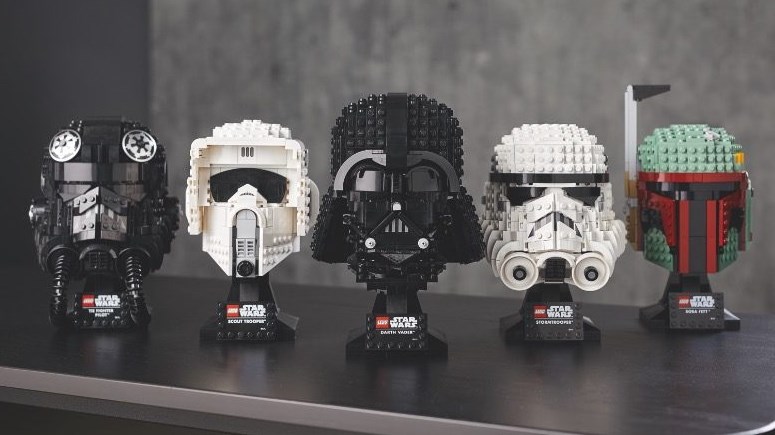 Star Wars theme has more than sixty sets, and many of the models come with at least one stormtrooper minifigure. Even so, finding a Stormtrooper set that fits your criteria shouldn't be too difficult, especially if you're searching for a set based entirely on different variants of these foot soldiers.
I selected several vital factors that can assist you in finding the right stormtrooper set for you, so let's take a quick look at them.
Set size and age group
As I already pointed out, most stormtrooper sets don't have a high piece count, although these minifigures appear in large Star Wars sets. However, most models have between 100 and 700 pieces, and they usually contain accessories or elements like speeder bikes or battle droids.
Display stormtrooper sets are designed for adult LEGO fans, while playsets that contain different versions of stormtroopers are suitable for all Start Wars and LEGO fans aged six or older.
Check out our guide on the best Harry Potter LEGO minifigures here.
The complexity of the assembly process
Considering this factor can be necessary if you're interested in one of the models made for builders older than 18. These stormtrooper sets don't have high piece counts, but assembling them can be overwhelming without previous set-building experience.
On the other hand, stormtrooper sets aimed at young LEGO fans are easy to build, and they can be an excellent gift for kids who never owned a LEGO set before.
The range of playing options
Sets that let you build models of stormtrooper helmets have a limited range of playing options because they don't contain accessories or minifigures.
Models that feature multiple stormtrooper minifigures are your best option if you're searching for a set that will allow you to recreate scenes from Star Wars movies.
In addition, these sets are compatible with most LEGO Star Wars sets, and you can combine them to extend the playing scenarios you can develop with them.
Set's availability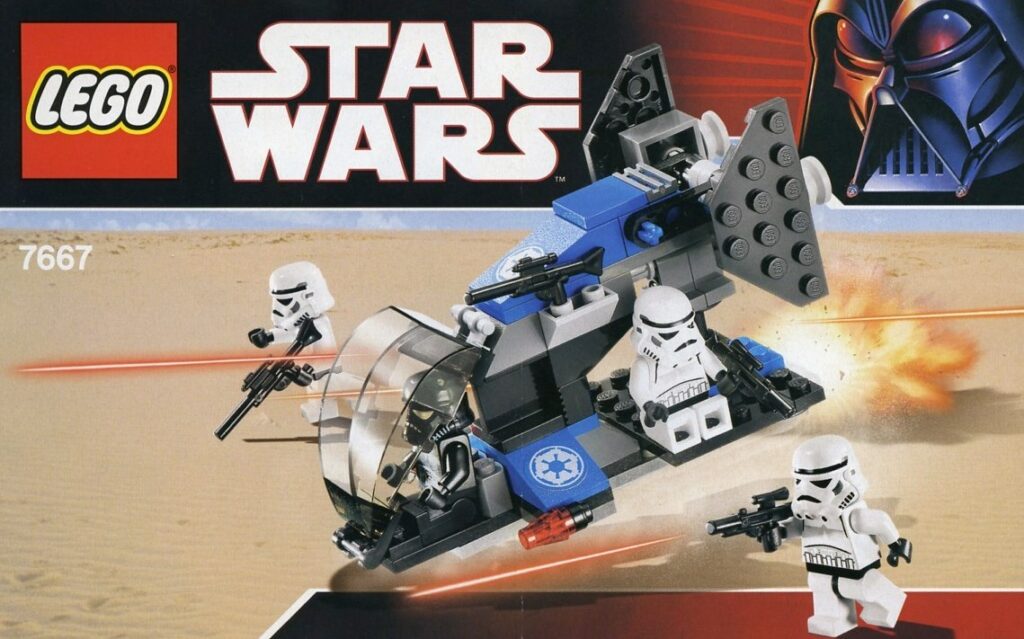 Stormtrooper sets are in high demand, and even active models can be hard to find. These sets run out of stock quickly, and you may not be able to get them at LEGO's website. Also, none of the retired models are available on the manufacturer's website.
Luckily, most online retailers offer a versatile selection of active and discontinued Stormtrooper sets. That's why the fastest way to find a LEGO Stormtrooper set is to look for it in different E-stores.
Knowing the release date of the set you'd like to get can sometimes be helpful, but it is far from a prerequisite for finding a model you like.
Price range
Stormtrooper minifigures appear in just two active Star Wars sets that cost more than $100. Moreover, none of the models based entirely on different variants of Stormtroopers are priced above $60, and you'll have to spend between $20 and $60 to get an active Stormtrooper set.
Retired models are considerably more expensive than the active ones, and sets discontinued years ago can cost hundreds of dollars. The prices of active and retired stormtrooper sets often vary from one retailer to another, and comparing prices different retailers offer can help you find the most affordable option.
The advantages of LEGO Stormtrooper sets
Suitable for LEGO fans of all ages
Adult and young LEGO builders can find LEGO stormtrooper sets suitable for their age group and set-building experience.
Compatible with other Star Wars sets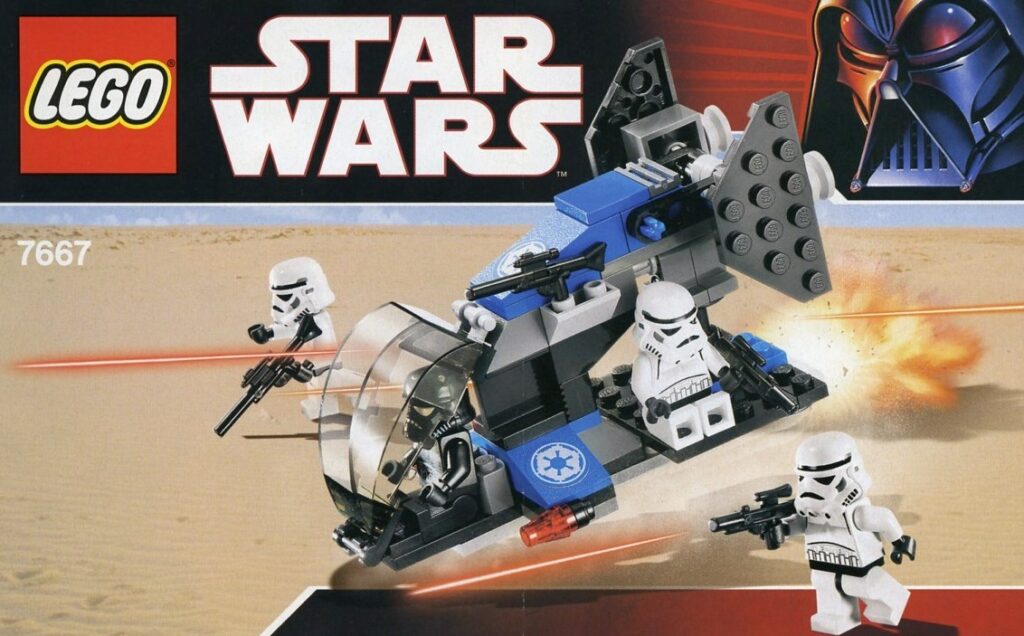 You can choose to use stormtrooper sets independently or combine them with other sets from the Star Wars theme to widen the range of playing options they offer.
Affordable prices
Stormtrooper sets are inexpensive, and you won't have to spend more than $60 to get any of the active models. These sets can be more expensive if you'd like to get one of the retired models.
The disadvantages of LEGO Stormtrooper sets
Low piece count
A skilled LEGO builder can assemble any of the active stormtrooper sets effortlessly since none of the available models have more than 700 pieces.
Top 5 LEGO Stormtrooper sets
Snowtrooper Battle Pack 75320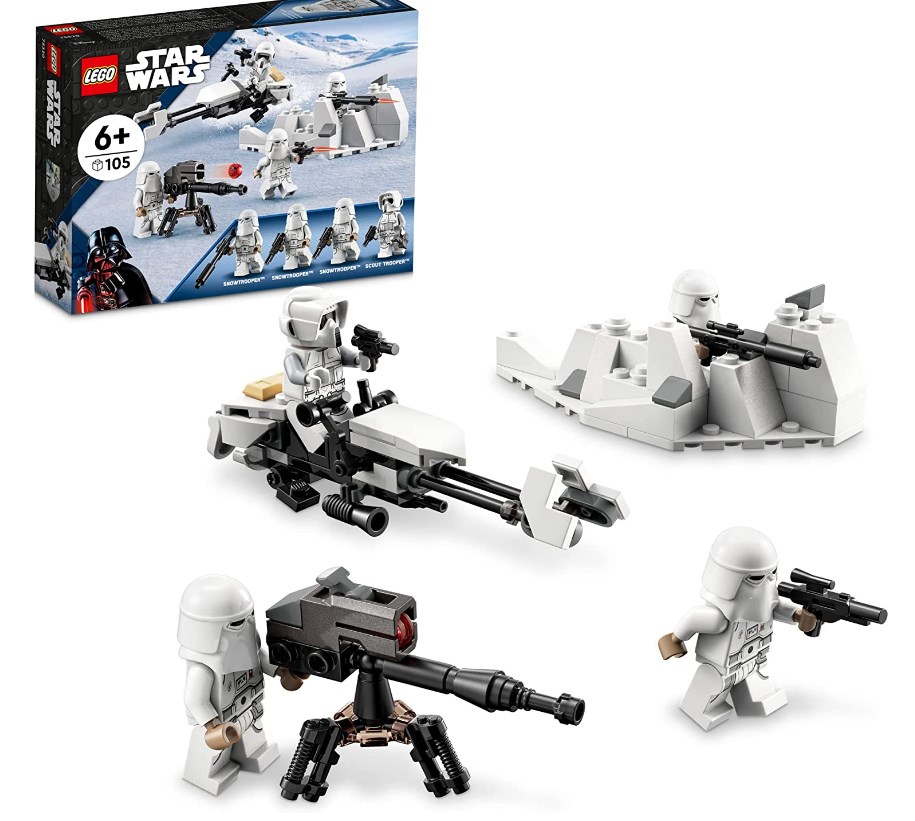 The Snowtrooper Battle Pack 75320 is one of the most recent additions to the Star Wars theme. This set has 105 pieces, including the Hoth Scout Trouper and three Snowtrooper minifigures with recognizable white helmets.
You can build an Imperial Hoth speeder bike, a snow trench, and a blaster with stud-shooting functionality from the pieces in this set. These elements are only a few inches long, but the assembly process is easy, and six-year-olds can complete it in less than thirty minutes.
Pros
This set is easily portable, and it encourages collaborative play
The Imperial Hoth speeder bike is compatible with other Star Wars sets
The set has more minifigures than most small Star Wars sets
It helps LEGO collectors extend their collection of stormtrooper minifigures
Cons
Snow trench and blaster elements are just a few inches long
It's not ideal for experienced LEGO builders
Stormtrooper Helmet 75276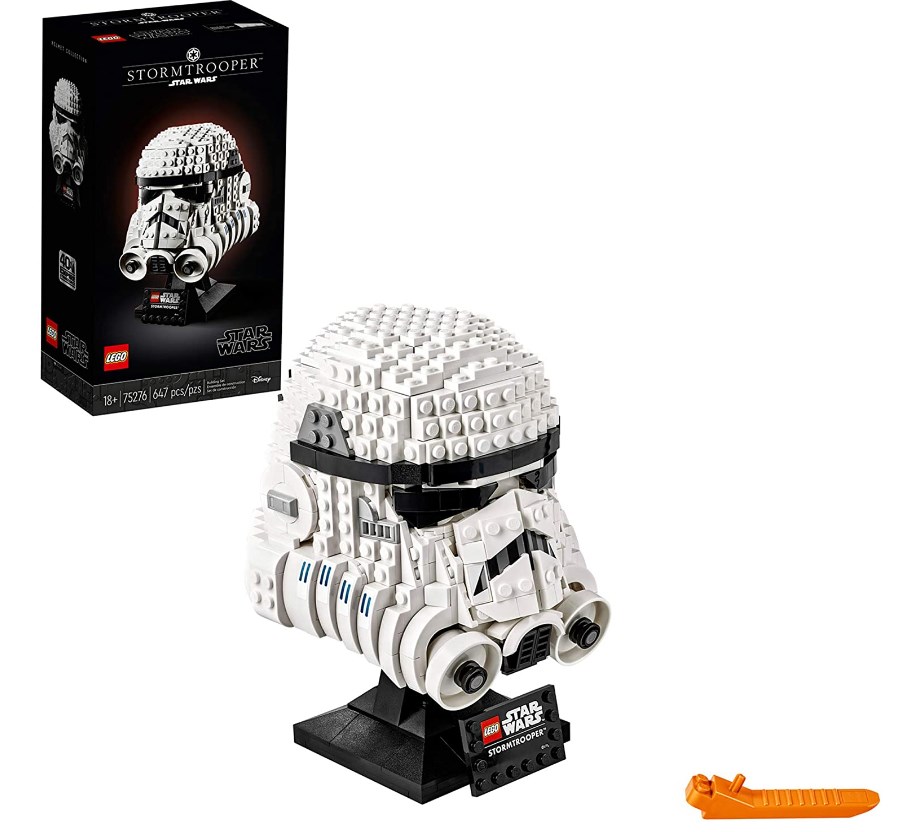 Even though it is recommended for adult LEGO fans, the Stormtrooper Helmet 75276 isn't difficult to build, and children with excellent set-building skills can assemble it in a few hours.
This set is one of the collectible Star Wars model sets, and you can combine it with Darth Vader Helmet 75304 or TIE Fighter Helmet 75274 to create a collection of Star Wars-theme display pieces. The Stormtrooper Helmet comes with a display stand and a plaque that features the character's name.
Pros
Fun and challenging assembly process
The model contains a lot of details
It is compatible with other Star Wars display sets
This set is collectible
Cons
The display model is just 7-inches tall
This set is in high demand, and it can be difficult to find
Scout Trooper Helmet 75305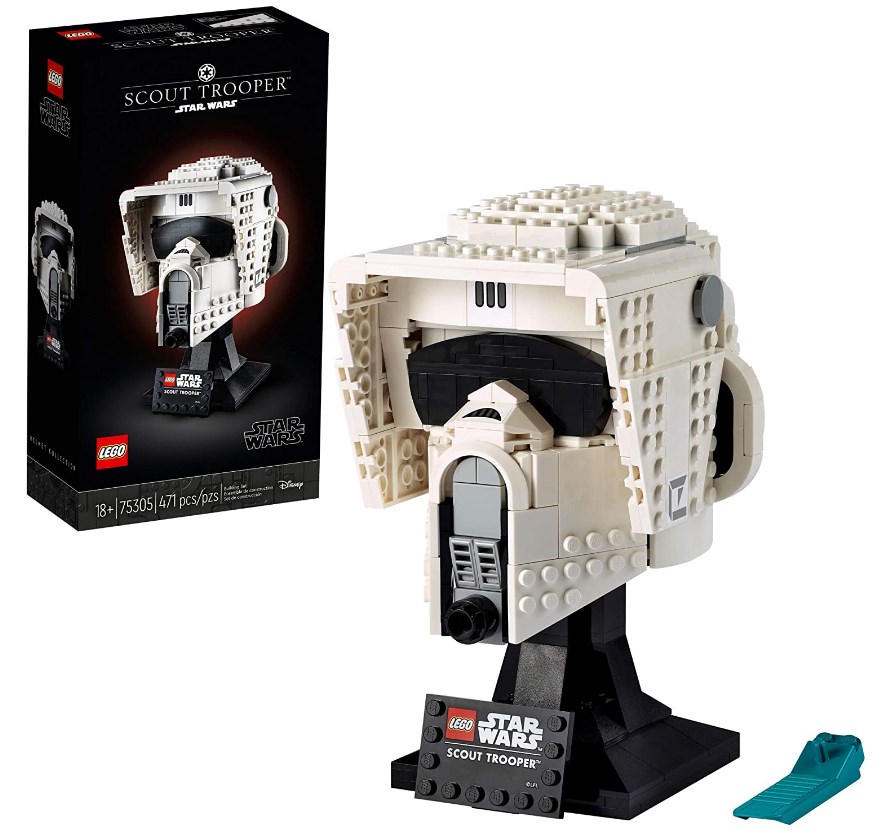 Even though it has just 417 pieces, the Scout Trooper Helmet 75305 can still test your set-building abilities. This set is inspired by Imperial Scout Troopers or biker scouts, specially trained Stormtrooper reconnaissance units.
Like the Stormtrooper Helmet, this set is a part of the build-to-display helmet series, and you can pair it with the Boba Fett Helmet 75277 to create a small collection of Star Wars villains. The nameplate and display stand are included in the set.
Pros
A highly detailed replica of a scout trooper's helmet
The building instructions are easy to follow
It's easy to build
Excellent addition to a LEGO Star Wars collection
Cons
The nameplate doesn't include a lot of information
Low piece count
First Order Stormtrooper 40391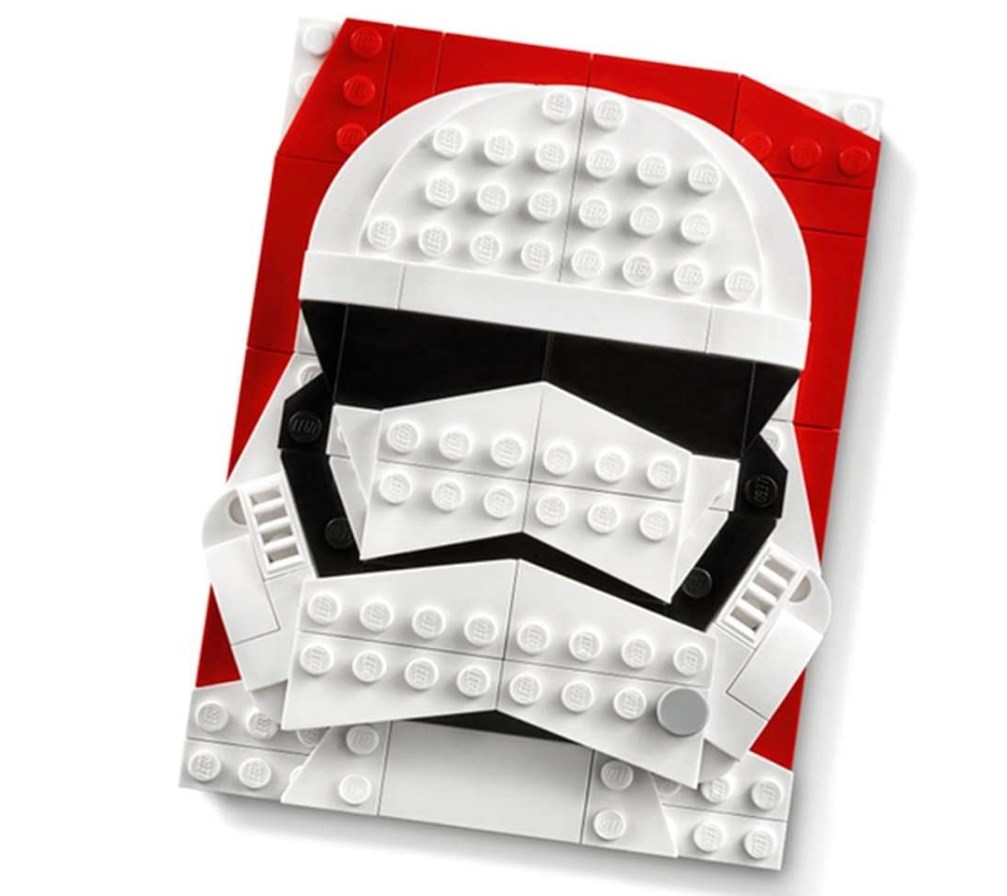 Assembling the First Order Stormtrooper 40391 set doesn't take long because the set has just 151 pieces. Like all models from the BrickSketches theme, this set lets you create an illustration on a 12 x 16-inch baseplate.
You can choose to hang the sketch on the wall or display it on a desk once you complete the assembly process. This set doesn't include minifigures or accessories, and it can be difficult to pair it with other Stormtrooper sets.
Pros
A nice decorative piece
The quick and easy assembly process
An excellent gift for LEGO BrickSketches collectors
It doesn't occupy a lot of space
Cons
This set can be hard to find
It doesn't offer a lot of playing options
501st Legion Clone Troopers 75280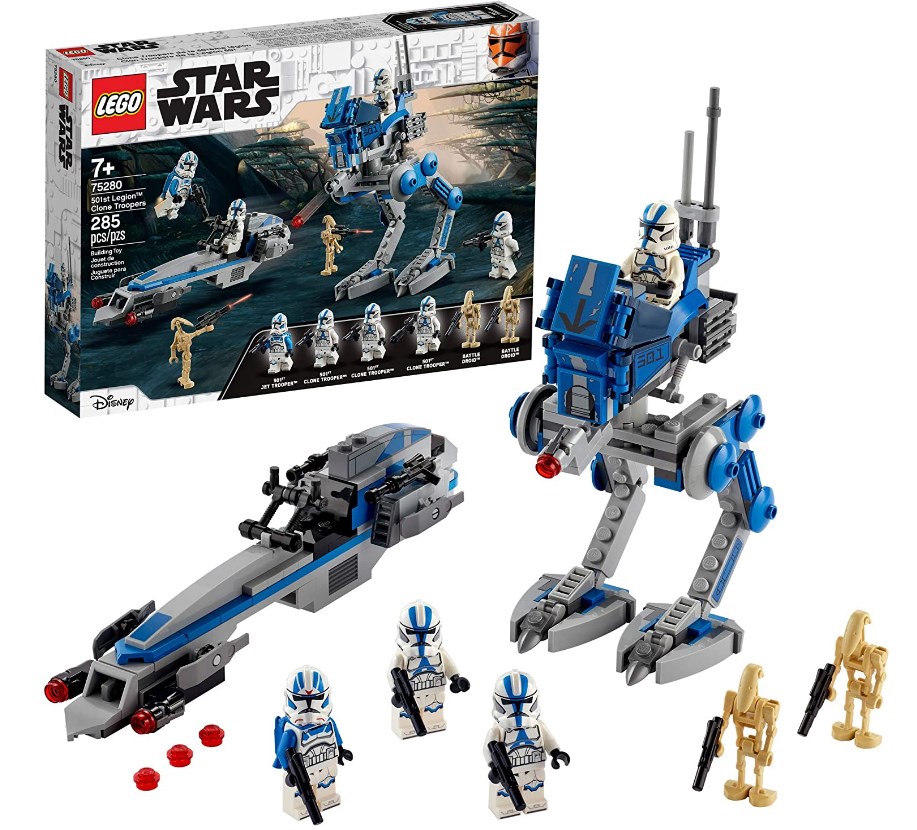 Fans of the Star Wars: Clone Wars animated series are going to enjoy playing with the 501st Legion Clone Troopers 75280 set. It features the AT-RT Walker figure with adjustable legs, attachments for blaster weapons, and a cockpit for a Clone Trooper.
The BARC Speeder toy also features a cockpit for one of the four Clone Trooper minifigures and a pair of stud shooters. This set includes two battle-droid figures and a variety of weapons for each character.
Pros
It encourages active play
The set contains a lot of accessories
It's less expensive than most Stormtrooper sets
It's great for novice LEGO builders
Cons
Both vehicles measure less than 10 inches
Frequently asked questions about LEGO Stormtrooper sets
Question: Are LEGO Stormtrooper sets easy to find?
Answer: These sets are in high demand, and you may not be able to find them in LEGO-certified stores.
Question: Does LEGO release new Stormtrooper sets often?
Answer: LEGO adds new Stormtrooper sets to the Star Wars theme every year.
Question: Where can I find replacement pieces for retired Stormtrooper sets?
Answer: You should look for spare parts at online LEGO marketplaces if you cannot find the model you're looking for on LEGO's website.
Question: Are all stormtrooper minifigures the same?
Answer: Over the years, LEGO released multiple versions of these minifigures with different costumes or helmets.
My Verdict: Which LEGO Stormtrooper set has the most to offer?
Stormtroopers are some of the most recognizable Star Wars characters, so it's hardly surprising that LEGO sets inspired by Imperial soldiers are so popular. These sets can help young LEGO builders improve their set building skills and develop different play scenarios.
On the other hand, they provide adult Star Wars and LEGO fans with beautiful display models they can exhibit at their homes or offices. I recommend the Stormtrooper Helmet 75276 to an experienced LEGO builder who enjoys assembling Star Wars-themed display models.
Playsets like the Snowtrooper Battle Pack 75320 and 501st Legion Clone Troopers 75280 are excellent for young LEGO fans because they are easy to build and highly portable.
Which LEGO Stormtrooper set are you going to choose? Let me know in the comments or continue reading our guide to the best LEGO City sets to discover the latest models in this theme.
Recommended Reads: