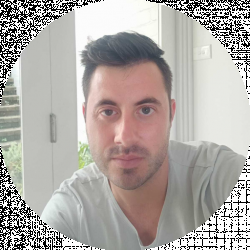 Latest posts by David Borgogni
(see all)
Tony Stark aka Iron Man is one of the most prominent characters in the Marvel Cinematic Universe that served as inspiration for countless LEGO sets. Iron Man LEGO sets are based on movies from The Avengers and Iron Man franchises, but all models have similar characteristics.
The character's Minifigure appears in sets that don't have its name in the title. In addition, LEGO publishes sets based on this superhero in Art, BrickSketches, and other themes that aren't directly related to the Marvel theme.
Hence, finding the best Iron Man LEGO sets requires quite a bit of research since there are so many models to consider. In this article, we're going to go through some of the essential aspects of choosing an Iron Man LEGO set and take a look at some of the most popular models.
Our guide to the best LEGO Captain America sets can help you discover sets inspired by this Marvel superhero.
At a Glance – The 9 Best Iron Man LEGO Sets
Bottom Line Up Front:
In my opinion, the Iron Man 31199 is the best choice for adult Marvel fans looking for a set that offers a rewarding and challenging set construction experience. The Iron Man Mech Armor 76203 set is an excellent option for inexperienced LEGO builders.
Selection Criteria
Marvel is one of the trendiest LEGO themes, and it's no wonder that so many online retailers and LEGO-certified stores offer sets based on different Marvel characters. The Danish toymaker has released a staggering amount of Iron Man sets since 2012.
Even with the strict selection parameters, shortlisting Iron Man LEGO sets for this article was time-consuming. Here are a few vital criteria I used to guide me through the selection process.
Model's price – This parameter has enabled me to identify affordable and pricy Iron Man sets so that you can choose the model that fits your budget.
Release date – Most models you'll find in this article are still in production, but I also considered several retired sets that might attract the attention of LEGO Marvel collectors.
Set's complexity– I utilized this criterion to select Iron Man sets suitable for LEGO builders with different experience levels.
Please read our guide to the best LEGO Black Panther sets if you're interested in sets based on this character.
Overview of Iron Man LEGO sets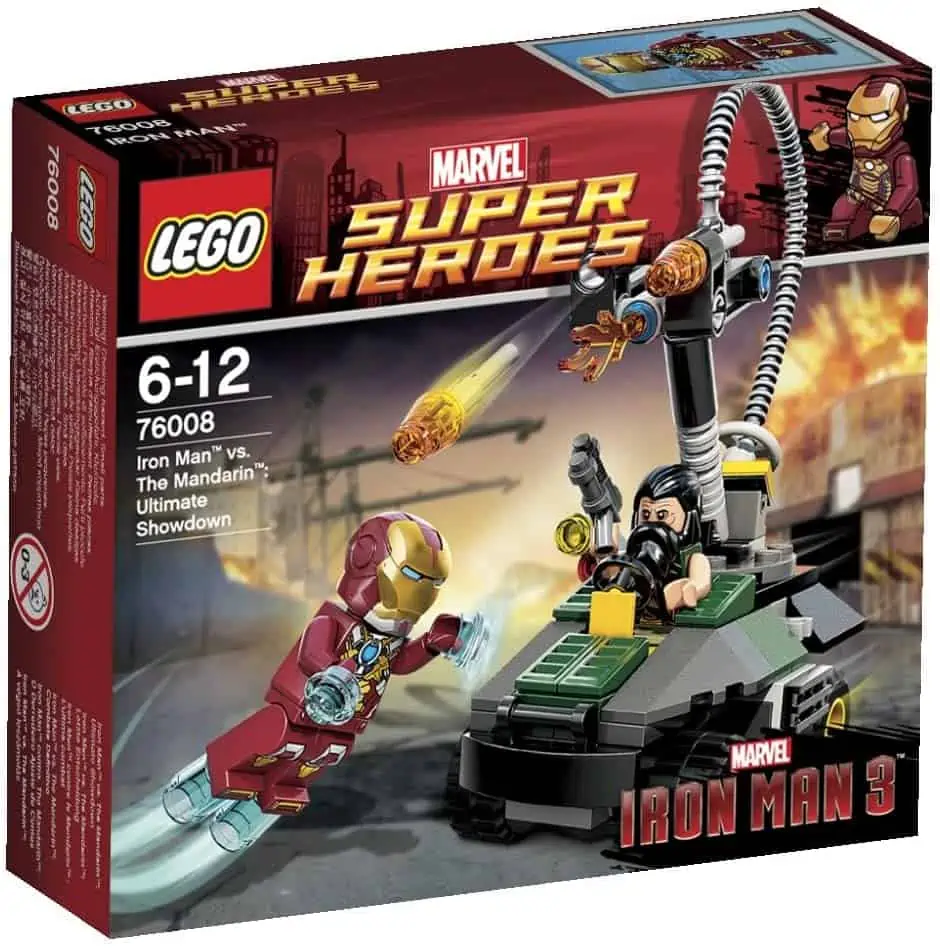 Some of the first Marvel sets LEGO ever released were based on The Avengers movie, and Loki's Cosmic Cube Escape 6867 and Quinjet Aerial Battle 6869 were the first LEGO sets to feature the Iron Man Minifigure.
A year after introducing the Marvel theme into its product lineup LEGO published the Iron Man Vs. Fighting Drone 30167 promotional polybag set. The company released the following sets based on this superhero that same year.
These models had the key characteristics of Iron Man sets LEGO released in the subsequent years. Each model contained multiple Minifigures of characters from the Iron Man movies. These sets also included toy vehicles, weapons, and other accessories.
Models released after 2013 had similar elements to those included in these early Iron Man sets. Check out our guide to the best LEGO Marvel Minifigures to learn more about the most valuable Minifigures of Marvel superheroes.
LEGO sets based on The Avengers and Iron Man movies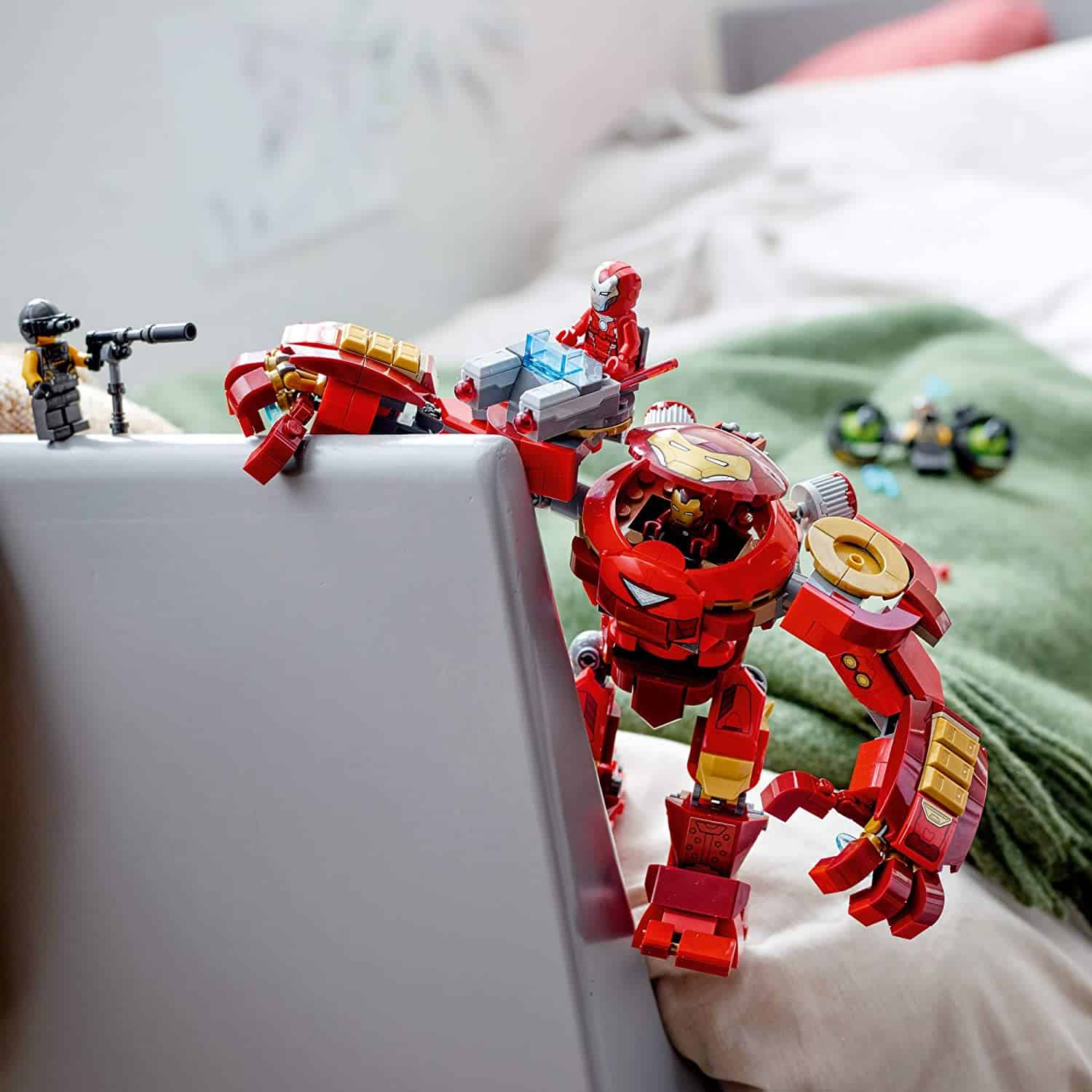 The third and final sequel of the Iron Man movie premiered in 2013. On the other hand, Marvel Studios released four sequels of The Avengers since LEGO added the Marvel theme to its product lineup. Consequently, most LEGO sets that feature an Iron Man Minifigure is based on one of The Avengers movies.
Hence, finding an active LEGO set that has other characters from the Iron Man movies besides Tony Stark isn't easy. The Iron Man Hulkbuster Versus A.I.M Agent 76164 is one of the rare active LEGO Marvel sets based on the Iron Man 3 movie.
On the other hand, this LEGO theme offers a wide range of Iron Man sets like the Iron Man Armory 76167 or Wrath of Loki 76152 based on one of The Avengers movies. Our LEGO Daily Bugle review can help you learn more about the biggest active set in the LEGO Marvel theme.
Retired Iron Man sets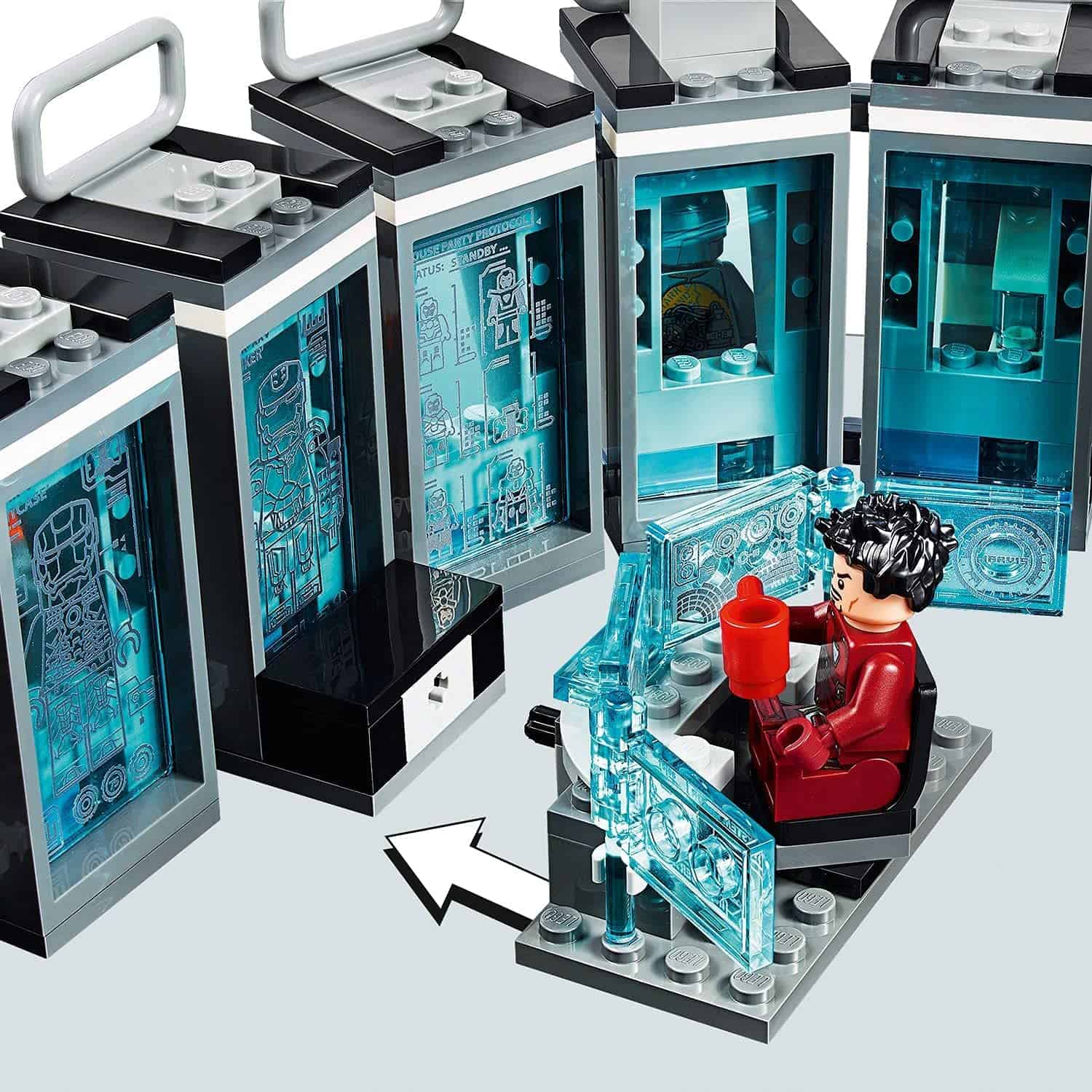 A brief online search will reveal a large number of discontinued Iron Man sets. Most retailers have these models in stock, so finding models released in 2017 or earlier won't require much effort. Retired Iron Man sets are several times more expensive than active models.
Some online retailers offer used Iron Man sets that don't have all pieces, and obtaining spare parts for a retired set can be difficult. That's why you should make sure that the set is in good condition before you purchase it. Here are some of the best retired Iron Man LEGO sets you can find online.
Some of these sets are in high demand, and you may have to spend hundreds of dollars to get them. Also, the prices of these sets may not be the same in all online stores. Check out our guide to the best LEGO Harry Potter sets for more information about models you can find in this LEGO theme.
Building an Iron Man LEGO set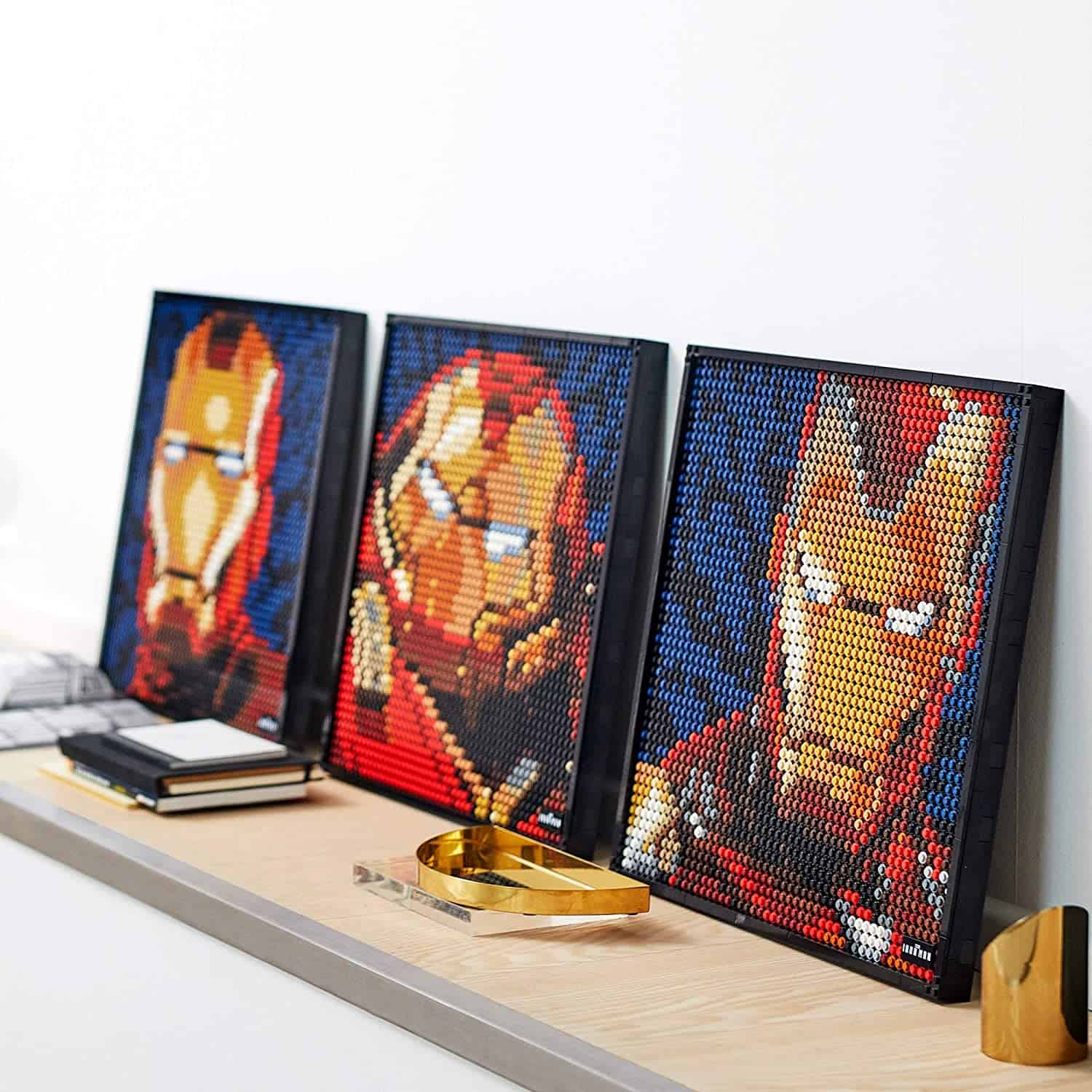 Only a handful of Iron Man sets LEGO released in the last ten years had more than 1,000 pieces. The Iron Man 31199 is the largest active set designed for adult LEGO and Marvel fans you can get. This set doesn't contain Minifigures or accessories, and it can only be used as a display model.
However, you won't have a lot of options if you'd like to get an Iron Man set with a high piece count since most models have fewer than 500 pieces. These sets are easy to assemble, and children won't need a lot of experience to put them together.
Models aimed at preschoolers either have Starter or Duplo bricks that simplify the assembly process and keep children safe. Please browse through our guide to the best LEGO Deadpool sets for more information about LEGO products inspired by this Marvel superhero.
The key factors to consider while choosing an Iron Man LEGO set
Let's go through some aspects that can make the selection process easier.
Set size: The easiest way to determine how difficult it is to build a LEGO set is to check its pieces count. An Iron Man model with a low piece count is usually the best option for a first-time LEGO builder.
Accessories and Minifigures: Besides the Iron Man Minifigure, these sets include Minifigures of different characters from The Avengers or Iron Man movies. They also feature accessories kids can use to recreate scenes from these movies.
Retailer's reliability: Buying a LEGO set from a reliable source will ensure that the set you'd like to get won't arrive damaged or without key pieces. Taking the time to read the customer reviews will give you an insight into the experiences other customers had with that retailer.
Price range: Only a handful of active Iron Man sets cost more than $100, while most models are priced at $40 or less. Choosing a price range will help you narrow your options to sets that fit your budget.
Top 9 Iron Man LEGO sets
Iron Man 31199
The challenging construction experience the Iron Man 31199 set offers will keep you occupied for days. The pieces included in the set let you create portraits of MARK III, the HULKBUSTER MARK I, and MARK LXXXV Iron Man armors, although not simultaneously.
The set comes with a signature plate, nine wall décor plates, and the elements you need to create a frame. The detailed instructions guide you through the assembly process, and you can listen to the soundtrack included in the set while assembling the picture.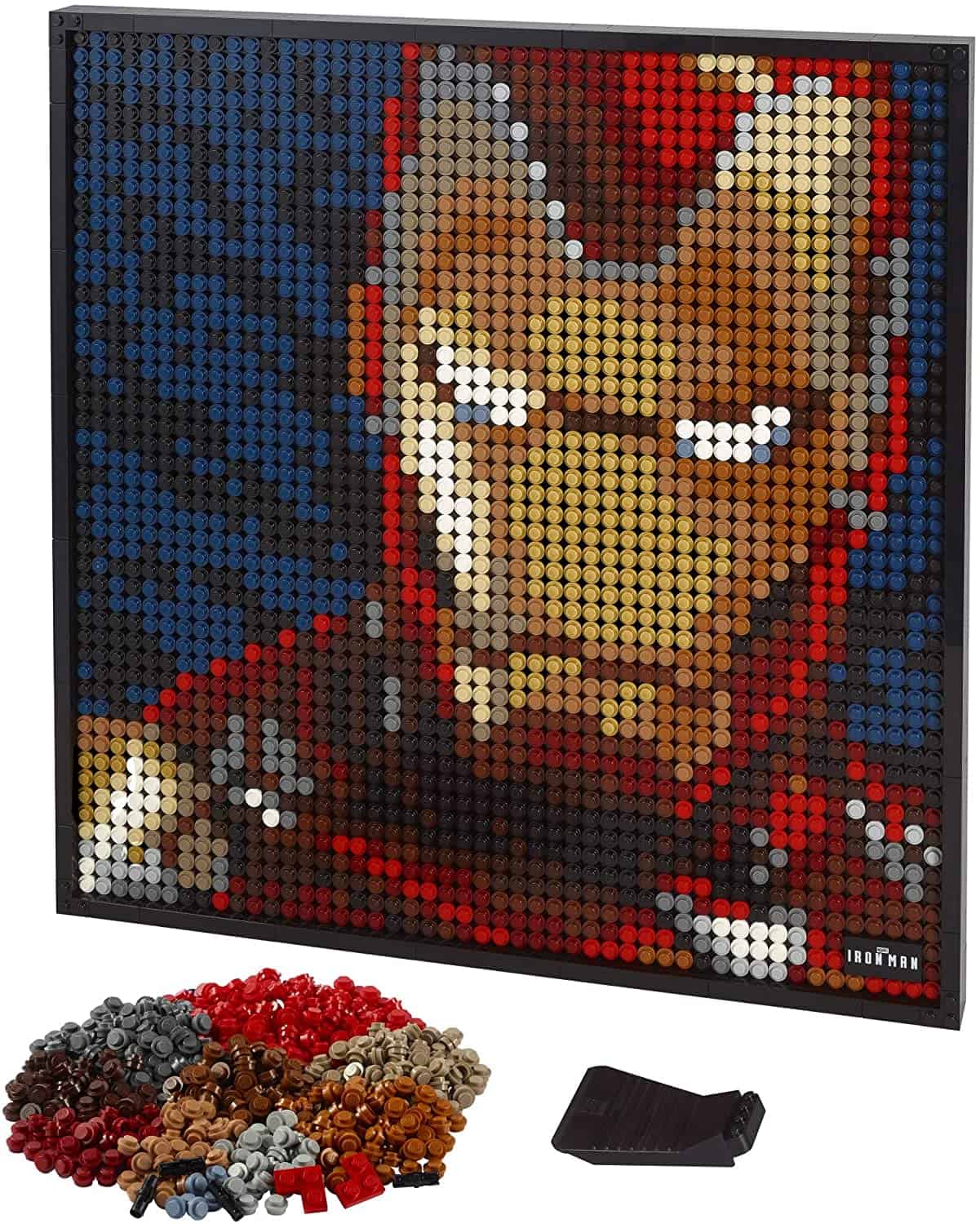 Pros
LEGO builders can create three different Iron Man portraits
The image can be placed on a table or hung on a wall
The set featured nine decorative plates
The soundtrack is made exclusively for this set
Cons
It's more expensive than most Iron Man LEGO sets
This set doesn't contain Minifigures
Iron Man Figure 76206
Children without previous set-building experience might struggle to assemble the Iron Man Figure 76206 set, despite a relatively low piece count. The set is inspired by the Iron Man's armor from The Avengers: Age of Ultron movie.
The figure's arms and legs are fully adjustable, and kids can change their position during play. The Light Brick that replicates the arc reactor is located on the figure's chest, and kids can illuminate it with a push of a button. The set has a display plaque that contains detailed information about this Iron Man armor.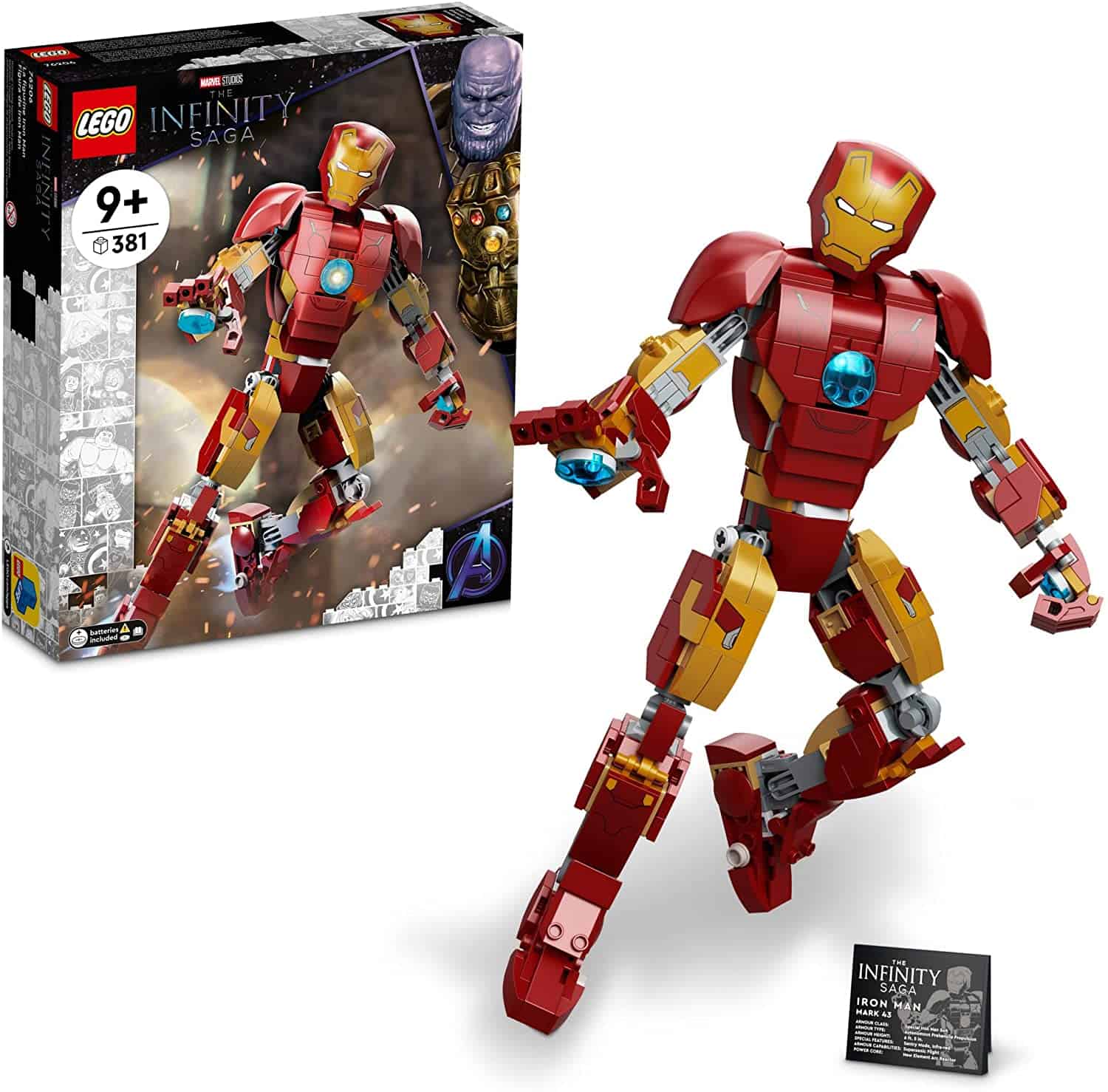 Pros
The toy is 9-inches tall and easily portable
It helps children improve their set-building skills
Kids can view the figure's 33D model in the LEGO® Building Instructions app
An informative display plaque
Cons
It doesn't include accessories
Iron Man: Iron Monger Mayhem 76190
Children aged nine or older can use the Iron Man: Iron Monger Mayhem 76190 set to recreate the scenes from the first Iron Man movie. Besides the Iron Monger Mech, the set also includes the Pepper Pots, Obadiah Stane, and Iron Man Minifigures.
The Mech figure has a six-stud shooter on its right arm, a three-stud shooter on its left arm, and an arc reactor piece on its chest that glows in the dark. The Iron Man Minifigure is equipped with power blasters.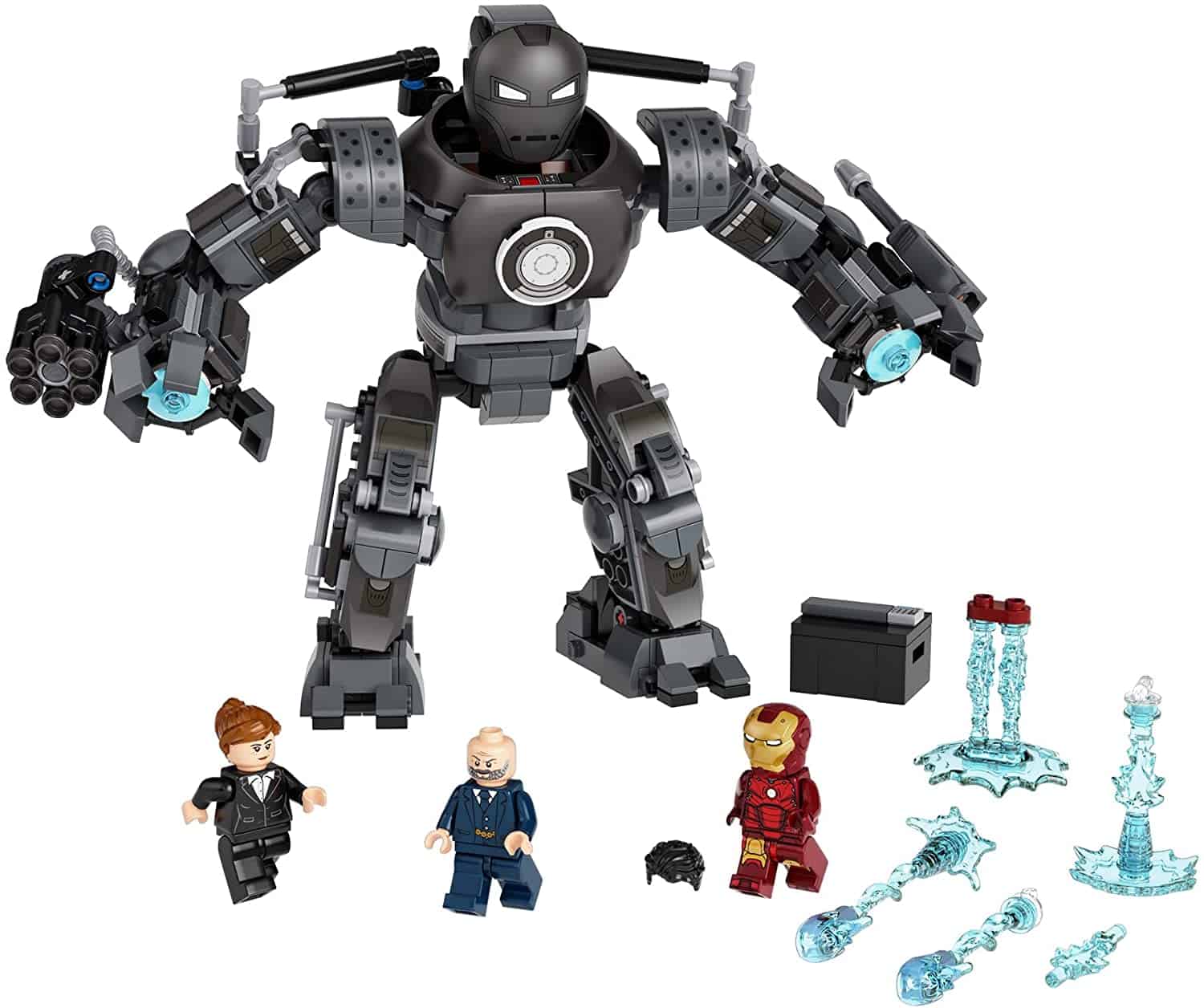 Pros
Obadiah Stane Minifigure fits in the Mech's cockpit
Realistic movement of Iron Monger figure's arms and legs
Excellent value for money
Compatible with other LEGO Marvel sets
Cons
The assembly process can be tricky
Iron Man Armory 76167
Besides the Iron Man Minifigure, the Iron Man Armory 76167 set features Tony Stark, an Iron Man prototype, and two A.I.M Minifigures. The 3-inch tall armory segment has a variety of fun accessories that provide children with endless play options.
The hot rod toy is equipped with a pair of stud shooters, while its cabin can accommodate the Tony Stark Minifigure. In addition, both A.I.M Minifigures have gun accessories that encourage active play.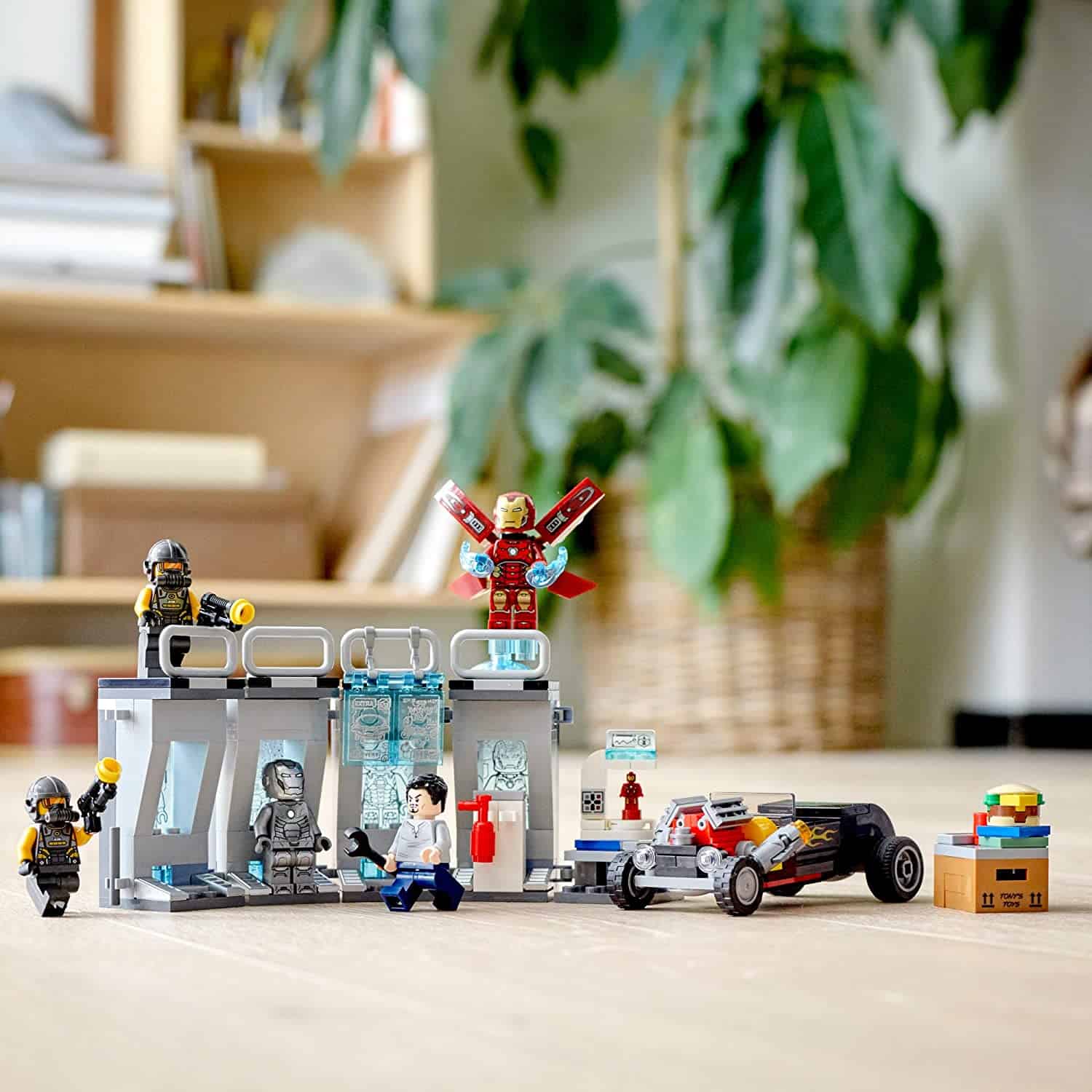 Pros
Simple assembly process
An excellent selection of Minifigures
This set is inexpensive
Fun hot rod toy
Cons
Low piece count
Children with previous set-building experience may find this set underwhelming
Tony Stark's Sakaarian Iron Man 76194
Tony Stark's Sakaarian Iron Man 76194 set is based on the Marvel Studios' 'What If' animated series. This set features the buildable Mech figure of Hulkbuster Iron Man armor, but kids can rebuild it into a toy car. Tony Stark, The Watcher, and Valkyrie Minifigures are included in the set.
Only a handful of accessories come with this model, which limits the range of play scenarios kids can develop. Also, the Mech figure doesn't have stud shooters or Light Bricks.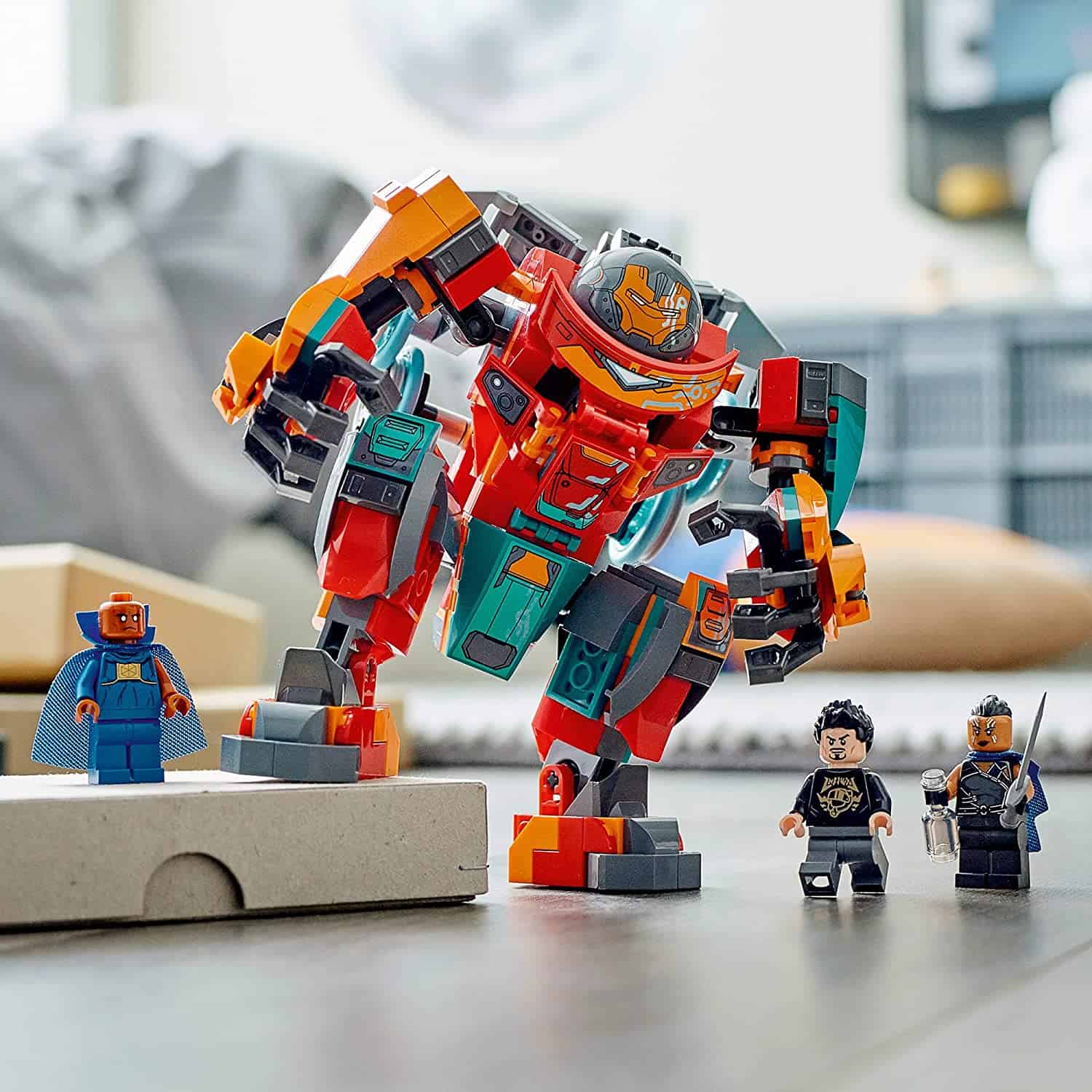 Pros
The Iron Man figure has adjustable legs and arms
Kids can build two toys from pieces in this set
Building instructions are easy to follow
LEGO won't retire this set soon
Cons
It doesn't offer a lot of play options
The set comes with just three Minifigures
Iron Man Hulkbuster Versus A.I.M Agent 76164
The Iron Man Hulkbuster Versus A.I.M Agent 76164 encourages active play by providing children with everything they need to stage battles between good and evil. The Hulkbuster figure has an opening cabin that can hold the Iron Man Minifigure.
It also features a shooting turret that can accommodate the Rescue Minifigure. Two A.I.M Agents are equipped with weapons and other accessories they can use to attack the Hulkbuster figure. The Hulkbuster Mech is six inches tall, so kids can carry it wherever they go.
Pros
It features a variety of accessories
The revolving turret element can fire missiles
The Hulkbuster figure is posable
 It's easy to build
Cons
The Iron Man Minifigure's helmet isn't removable
The Hulkbuster figure is fragile
Iron Man Mech Armor 76203
The Iron Man Mech Armor 76203 is a recent addition to the LEGO Mech Armor collection that already features models inspired by several Marvel characters. The Mech figure is 4.5 inches tall, and it has a cockpit for the Iron Man Minifigure.
Its limbs are posable so that kids can adjust their position, use the energy shield to protect the Mech from the attack, or use the stud shooter to defeat the enemy. This set doesn't include accessories or Minifigures of other Marvel characters.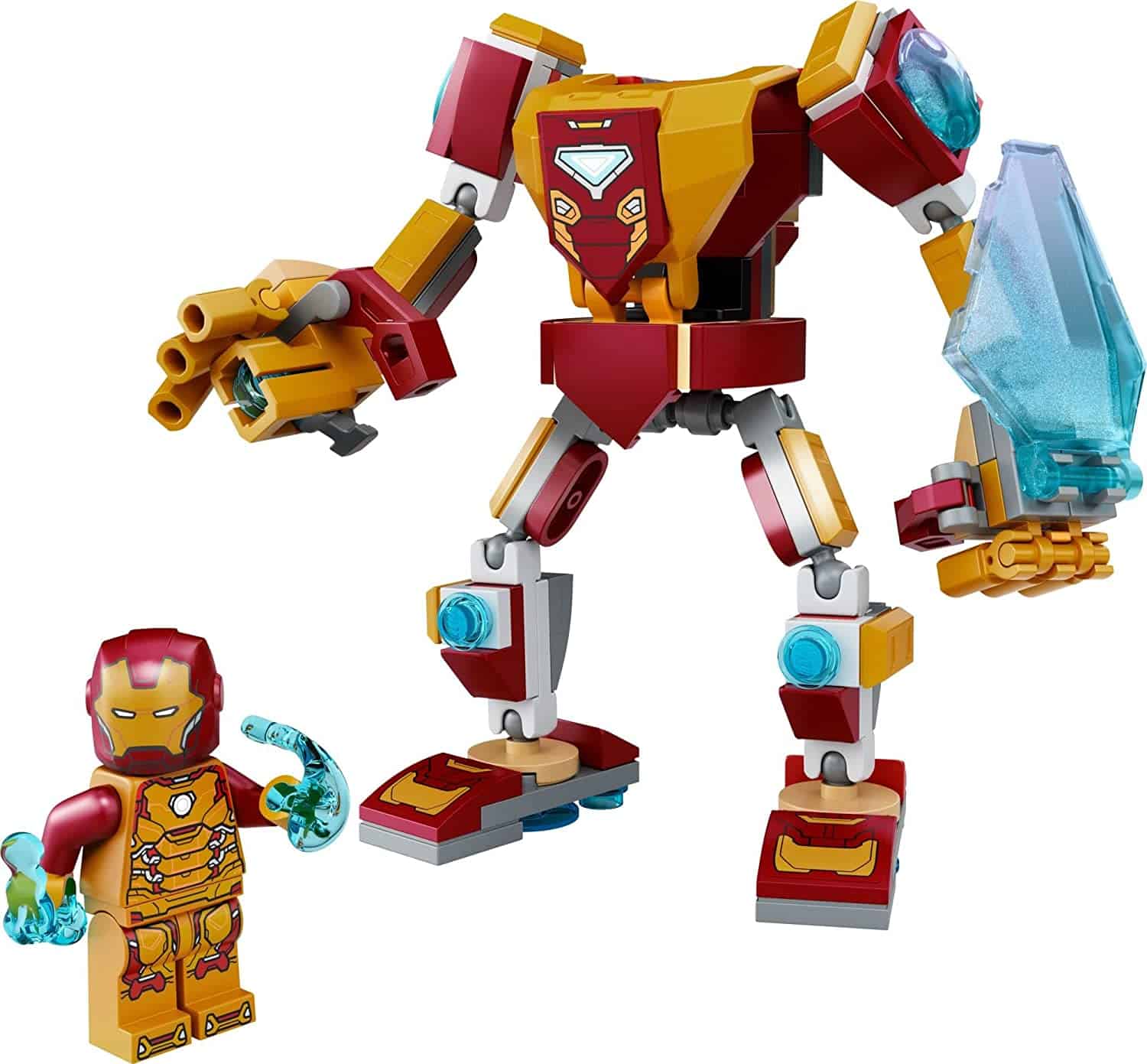 Pros
Compatible with other Mech Armor sets
The Mech figure is equipped with a shield and stud shooter
This set is collectible
Affordable price
Cons
It has just 130 pieces
It doesn't offer a lot of play options
Wrath of Loki 76152
A set like the Wrath of Loki 76152 is an excellent gift for young Marvel fans who never owned a LEGO set before. The Avengers Tower, Quinjet, and Loki's glider elements are composed of Starter Bricks that make the assembly process easier.
This set features Iron Man, Thor, Captain Marvel, and Hulk Minifigures equipped with different accessories. Also, The Avengers Tower element features the Iron Man's lab that contains a computer screen, coffee mug, and similar accessories.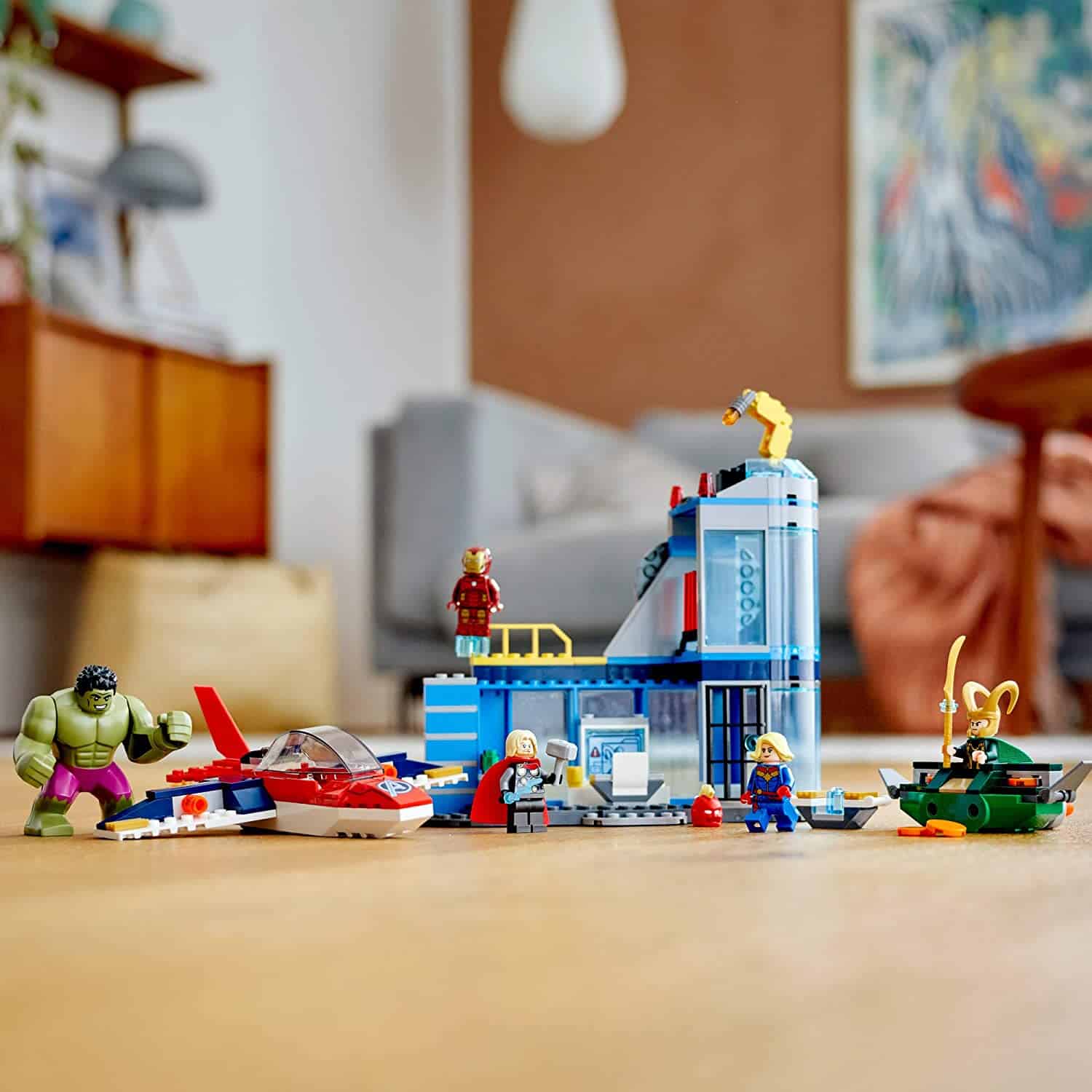 Pros
It helps children learn to build LEGO sets
Quinjet's cockpit can accommodate a Minifigure
The set has a lot of accessories
The Avengers Tower has a prison room for the Loki Minifigure
Cons
This set is retiring soon
It's not budget-friendly
Super Heroes Lab 10921
Children aged two or older can learn how to build LEGO sets with the Super Heroes Lab 10921. This Duplo model can also be an excellent introduction to Marvel superheroes because it features Spider-Man, Iron Man, and Captain America Minifigures.
The laboratory segment has a spinning turntable, moving crane, control panel, and a wrench that enable kids to conduct experiments or repair Captain America's motorcycle. All elements of this set measure just a few inches.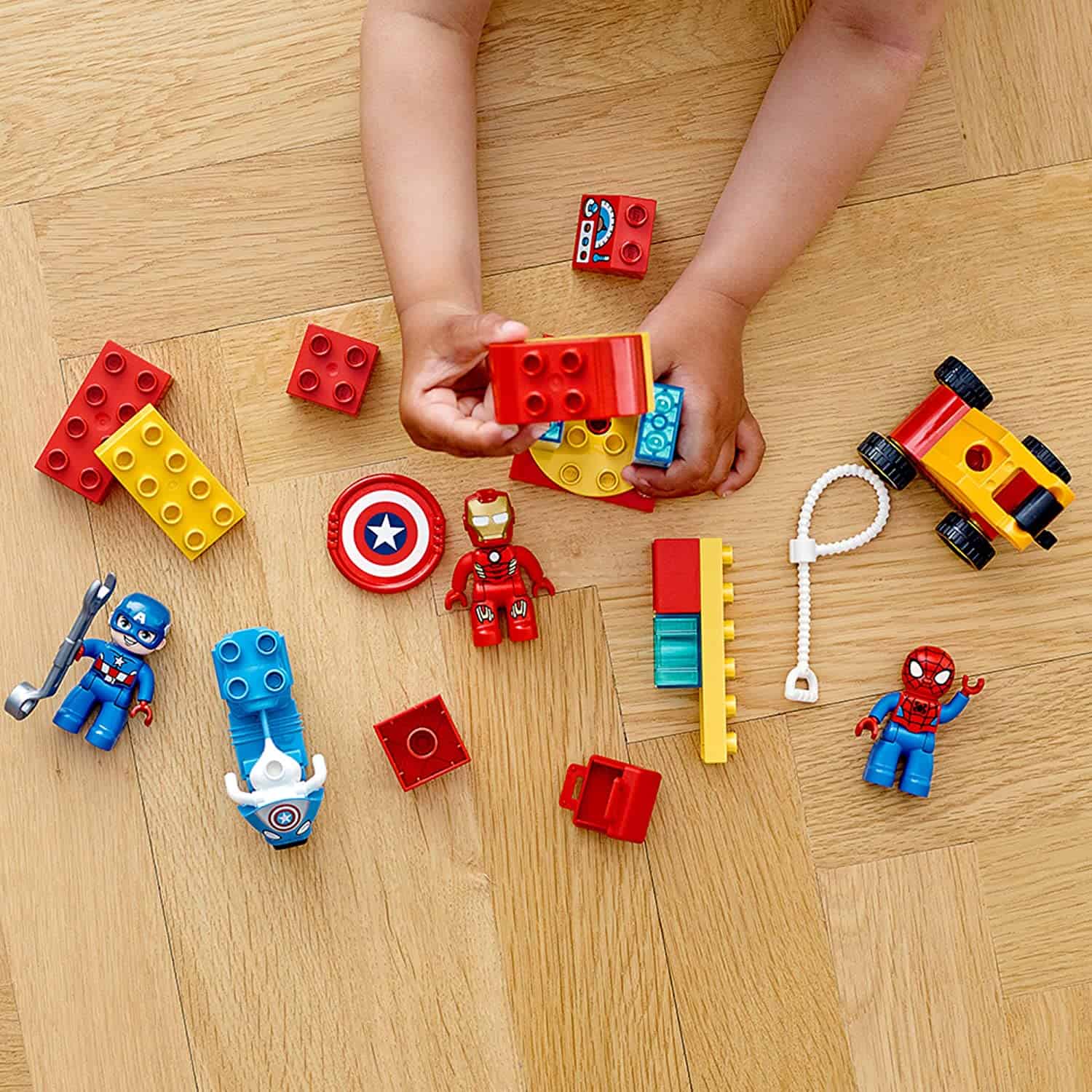 Pros
Duplo bricks are safe for children of all ages
The Captain America Minifigure has the shield accessory
Fun and versatile play experience
It can keep children occupied during long rides
Cons
This set has just thirty pieces
Frequently asked questions about Iron Man LEGO sets
Question: When is the Iron Man 40535 set coming out?
Answer: This set will be published within the BrickSketches theme, and it should become available in April 2022.
Question: Are Iron Man LEGO sets valuable?
Answer: Yes, these sets become more valuable after they're retired, and their price can reach several hundred dollars.
Question: Do all Iron Man LEGO sets feature Minifigures?
Answer: Minifigures aren't included in all Iron Man sets. Moreover, some sets include only the Iron Man Minifigure.
Question: What to do if an Iron Man LEGO set doesn't have all pieces?
Answer: You should contact the manufacturer as soon as you determine that some pieces are missing from the set, and LEGO will send you a replacement.
My verdict: How to know which Iron Man LEGO set is the best
A broad spectrum of factors can affect your decision to choose one Iron Man LEGO set over another. The model's price, piece count, or the play options it offers are just a few among countless factors that will ultimately determine which set is the right option for you.
I recommend getting the Iron Man 31199 set if you'd like to build a beautiful display model of this Marvel superhero.
However, this set is expensive and difficult to assemble, so models like the Iron Man Mech Armor 76203 or Iron Man Armory 76167 are a better choice if you're looking for an affordable set that offers plenty of play options. Which Iron Man LEGO set are you going to choose?
Let me know in the comments or continue reading our LEGO Botanical Collection review to learn more about the sets from this collection.
Recommended Reads: