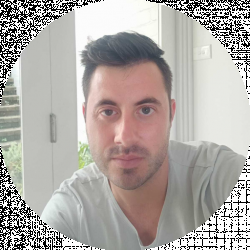 Latest posts by David Borgogni
(see all)
Single-pilot vehicles carried by battle stations and Star Destroyers are a symbol of the Imperial Starfleet and the Star Wars universe. In this LEGO TIE Fighter review, I will take a closer look at the most recent LEGO set inspired by these emblematic starfighters.
The Imperial TIE Fighter 75300 model isn't the largest or most detailed LEGO building kit inspired by Imperial Fleet's starfighters. Still, it is currently the only active Star Wars set to feature this toy.
LEGO published this set together with the Luke Skywalker's X-Wing Fighter 753001, and when combined, these models offer hours of playtime.
Bottom Line Up Front
Building the Imperial TIE Fighter 75300 set doesn't require previous experience, which makes it an excellent option for young Star Wars fans who'd like to learn to construct LEGO sets. On the other hand, this set doesn't have much to offer to LEGO builders with intermediate or advanced set-building skills.
See also: The best LEGO R2-D2 Guide
The Ins and Outs of the LEGO Imperial TIE Fighter 75300 Set
Basic info:
Release date: January 1, 2021
Piece count: 432
Age group: 8+
Price range: $$
Even though the design of LEGO TIE fighters has evolved through the years, the key characteristics of these toys have remained the same. The first version of the LEGO TIE fighter released two years after the launch of the Star Wars theme had just 169 pieces.
Subsequent models also had low piece counts, with the only exception being the TIE Fighter 75095 set, which had 1,685 pieces.
Here are some of the most popular TIE Fighter sets LEGO published in the last two decades:
The most recent version of the LEGO TIE Fighter combines the features of several earlier models, and its appearance and color patterns are similar to those used on models published in 2018 and 2012. The Imperial TIE Fighter 75300 is approaching its exit date, as the set won't remain in production beyond 2022.
See also: The best LEGO Yoda sets
Packaging and Building Instructions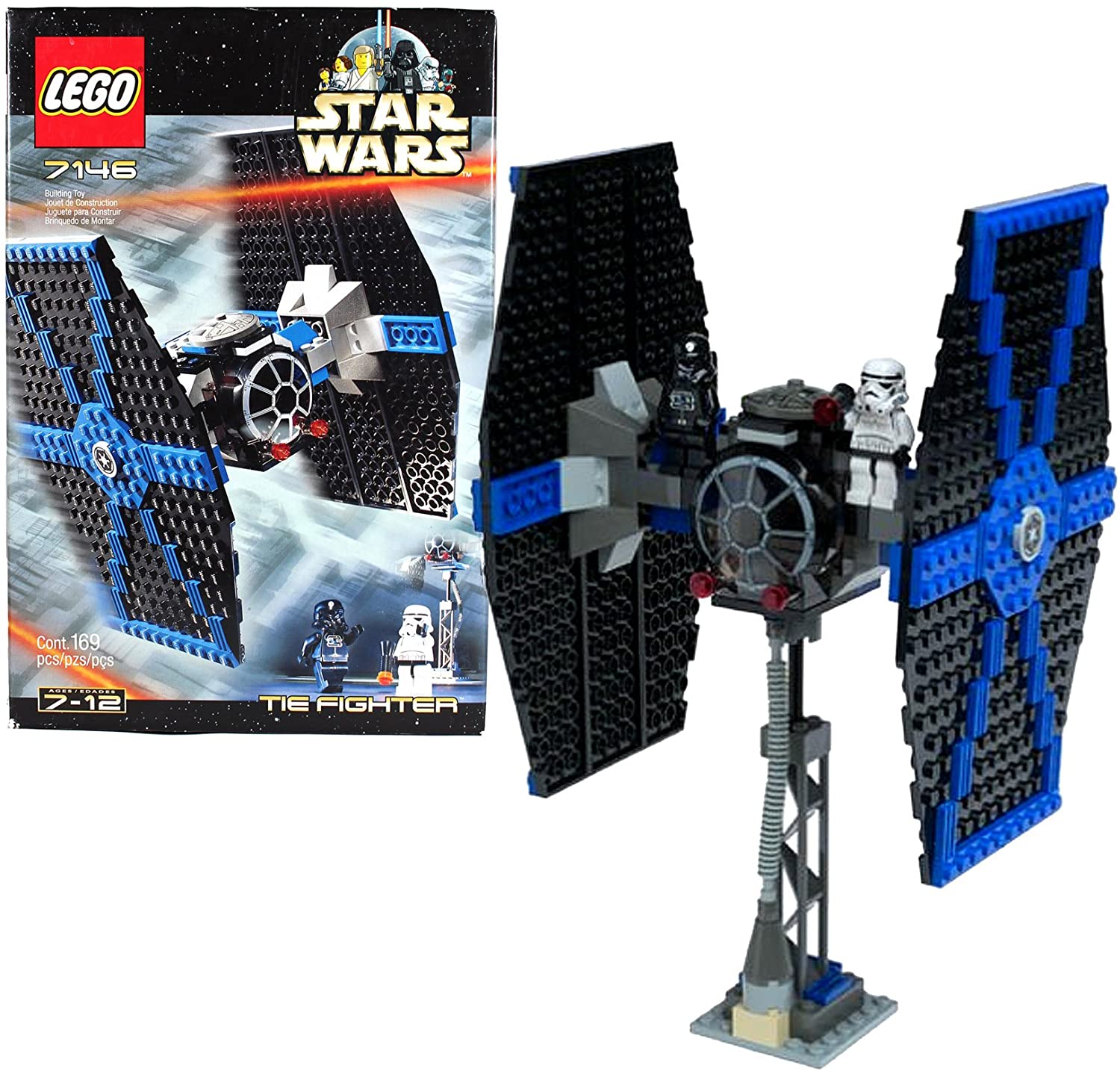 Basic info:
The set's box retains the key design elements used on earlier LEGO TIE fighter models, although these elements are arranged differently. The front cover image depicts the toy engaged in battle with explosions around it and firing spring-loaded shooters.
The basic information about the set is located in the upper left corner, while the images of the set's Minifigures are in the lower right corner. The box's underside features the picture of the TIE fighter with an open cockpit and a close-up of the spring-loaded shooter element.
The box's contents include three bags of pieces and a building instructions booklet. This set doesn't come with a sticker sheet because all decorative elements are printed directly onto bricks. The set's manual has 88 pages, and it doesn't include general information about Imperial TIE Fighters.
Top tip: The age group recommendation is only a guideline, and children under eight can also play with this set. 
An Overview of the Set's Pieces and Minifigures
The set's part list fits on a single page, and it doesn't feature new molds or parts in unique colors. The two modified 6×6 panels with five LEGO Technic pin holes is the set's only piece that stands out. These elements serve as a connection point between the cockpit and solar panels that double as starfighter's wings.
The set's color pattern is primarily gray, black, and white, with only a handful of parts in other colors. TIE Fighter Pilot and NI-L8 Minifigures are unique, while the Stormtrooper Minifigure has the same design as Minifigures in other active sets from this theme.
Tie Fighter Pilot comes with a beautifully molded removable helmet, and it has printed decorations on its torso and legs.
Stormtrooper has a dual-molded helmet that is true to its source. The Minifigure also has a printed thermal detonator on its back and decorations on its torso and legs.
The NI-L8 Minifigure has the head element first introduced in 2014, while its legs and torso have metallic decorative elements that resemble those featured on the version of this Minifigure included in the 2016 Death Star 75159 set.
The Imperial TIE Fighter 75300 set doesn't have other accessories except for two blaster pistols for Stormtrooper and Fighter Pilot Minifigures.
See also: The best LEGO stormtrooper sets
Construction Process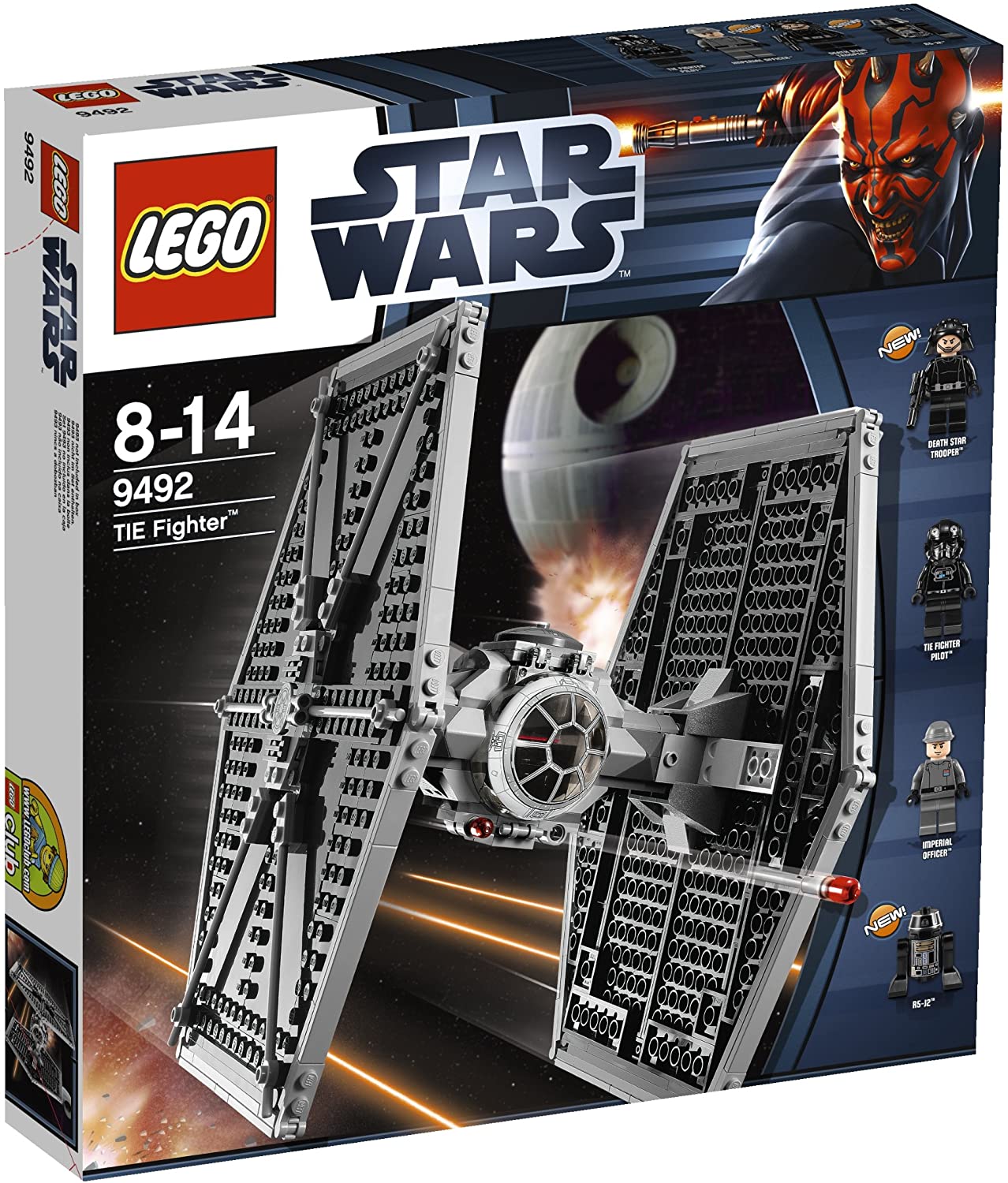 The TIE Fighter toy is assembled in three stages, and the pieces you need to complete each stage of the construction process are divided into separate bags. The first bag contains the pieces you'll need to build the toy's cockpit, and you'll have to go through sixty steps to assemble this element.
The cockpit contains several Technic pieces that ensure stability and allow the builder to attach it to the solar panel wings. Two spring-loaded stud shooters are located underneath the cockpit's viewport with printed decorations.
Top tip: Make sure that each piece is positioned correctly before moving on to the next step. 
The access hatch also has printed elements, and it is surrounded by 2×2 wedge slopes on both sides. The build becomes repetitive once you open the second bag because the two solar panel elements are identical.
The hexagonal solar arrays are composed mostly of 6×10 plates and smooth gray bars that extend from the centrally positioned power converters. These elements feature a combination of 2×2 round tiles, 1×2 round plates, and 1×1 round plates with bars.
The inner side of each solar array features a 6×6 panel with Technic pin holes that enable you to attach them to the cockpit. Once you have both solar panels attached to the cockpit, you have to place the transparent green arrows into the spring-loaded shooters to complete the construction process.
See also: The best LEGO Boba Fett sets
A Look at the Completed Model
A quick comparison of the latest LEGO TIE Fighter to its previous versions reveals that the toy's design hasn't changed significantly. The predominantly gray cockpit features a decorated viewport and access hatch elements that open easily to reveal the cockpit's interior.
A 4×4 and 2×2 dishes, along with the red 1×1 round plates located next to them, recreate the cockpit's rear viewport and thrust nacelles. Two green missiles are visible from behind, which ruins the otherwise pleasing design of this toy's section.
Top tip: Handle the LEGO TIE Fighter carefully because some of its pieces might come off if you apply too much pressure. 
The toy doesn't have landing gear, and its two solar panels enable you to place it on a flat surface. Rotating or adjusting these elements isn't an option because they're held firmly by Technic pins.
The assembled TIE Fighter model measures 6.5 inches tall, 6 inches wide, and 5.5 inches long, but the toy isn't easily portable due to its relatively fragile construction.
Set's Playability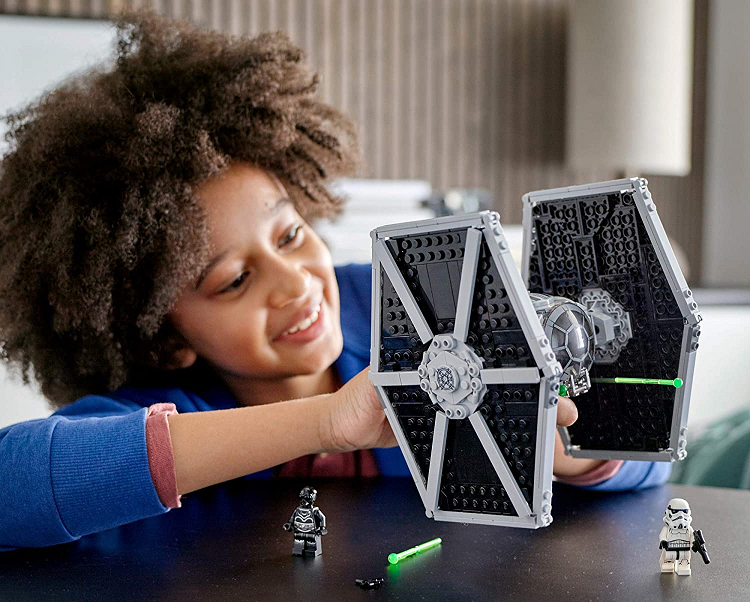 Four spring-loaded shooters and an opening cockpit are the only functions the most recent version of the LEGO Toy fighter has to offer. This set has just three Minifigures and a very limited selection of accessories. The set's range of play options is further limited by the lack of flight and landing modes.
However, combing this Star Wars model with the Luke Skywalker's X-Wing Fighter 75301 will improve its playability and enable kids to stage battles between the Rebels and Imperial forces.
You can also try pairing the Imperial TIE Fighter 75300 with the following sets:
As a stand-alone set, the Imperial TIE Fighter 75300 doesn't have much to offer to Star Wars fans, and it is best used as a source of complimentary toys for other Star Wars sets. In addition, the construction process is straightforward and repetitive, so kids with previous experience are likely to find it underwhelming.
See also: LEGO Clone Trooper review
Price and Value
Most Star Wars sets with fewer than 500 pieces cost less than $50, and the Imperial TIE Fighter 75300 isn't an exception. This model costs around $40, and there are currently just two sets in the same price range with similar or lower piece counts than the Imperial TIE Fighter model.
Top tip: Joining the LEGO VIP program and purchasing this set through the company's website will bring you 260 points you can use to get more expensive Star Wars sets at a lower price. 
This set isn't collectible, so its value is unlikely to increase by much once LEGO retires it. However, the model's price is expected to rise to $55 a few months after its production stops, and it could grow over $100 by 2024. The value of unique TIE Fighter Pilot and NI-L8 Minifigures is also expected to increase over time.
Pros and Cons of the LEGO Imperial TIE Fighter 75300 Set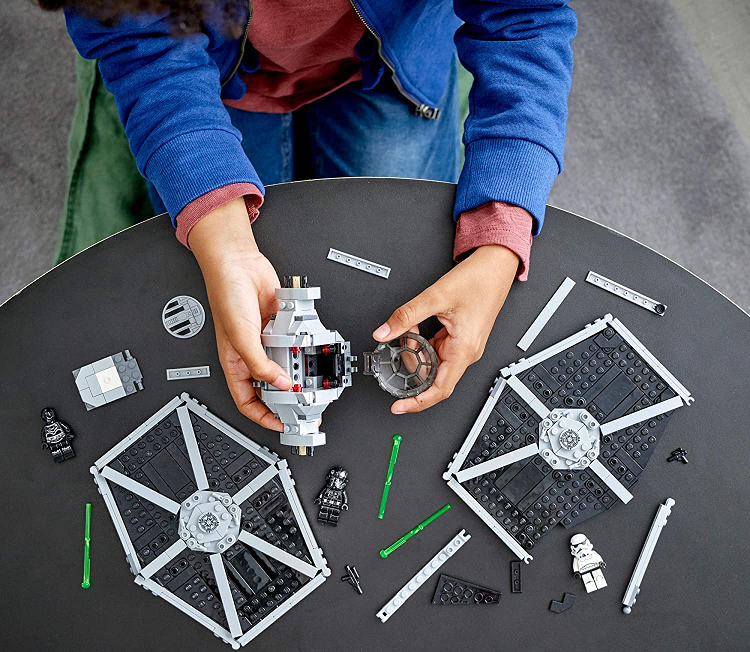 Pros
Building the Imperial TIE Fighter toy doesn't require previous experience
The set contains two unique Minifigures
Toy's cockpit is easy to access
It offers good value for money
It's compatible with other LEGO Star Wars sets
Cons
This set doesn't provide a lot of play options
Two blaster pistols are the set's only accessories
LEGO will retire this set soon
The Best Alternatives to the LEGO Imperial TIE Fighter 75300
The value of retired Imperial TIE Fighter 75211 and TIE Fighter 75095 has ballooned over $100 a while ago, and these sets aren't a budget-friendly alternative to the 2021 version of LEGO TIE Fighter.
Moreover, none of the active sets in the Star Wars theme feature this toy, making it difficult to find a suitable replacement for the Imperial TIE Fighter 75300 model.
I selected several Star Wars sets you can consider if you're looking for a substitute for the most recent LEGO TIE Fighter, so let's take a quick look at them.
Republic Fighter Tank 75342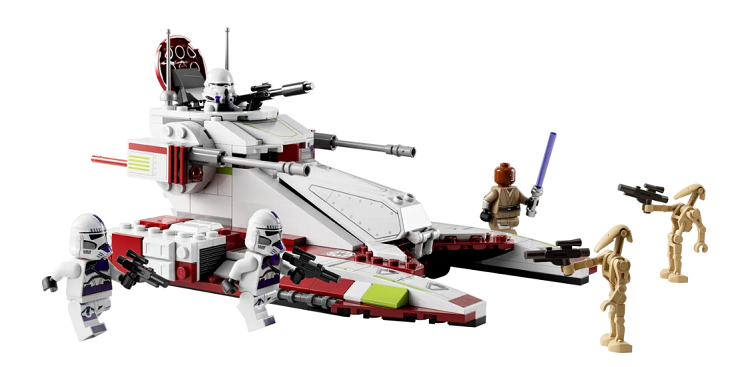 Piece count: 262
Age group: 7+
Price range: $$
The recently released Republic Fighter Tank 75342 set is inspired by the Star Wars: Clone Wars animated series. It is the first LEGO model to feature the 187th Legion Clone Trooper Minifigures. The fighter tank toy has hidden wheels at its bottom that create the hovering effect.
The toy also has a pair of adjustable spring-loaded shooters and a one-Minifigure cockpit. All Minifigures are equipped with lightsaber or blaster pistol accessories that add to the set's playability. However, its price is a bit steep for a set with fewer than 300 pieces.
Hoth AT-ST 75322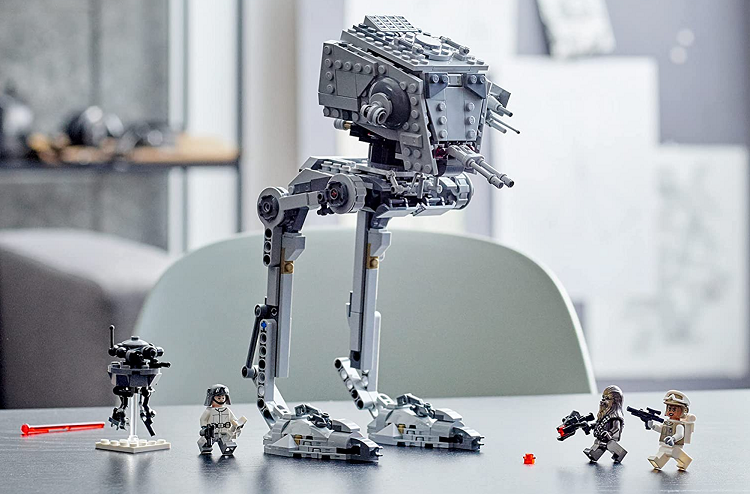 Piece count: 586
Age group: 9+
Price range: $$
Fans of the original Star Wars trilogy shouldn't miss out on the Hoth AT-ST 75322, which features the first buildable model of AT-ST. This toy has posable legs, a wheel-operated head, multiple non-firing cannons, and a pair of spring-loaded shooters.
Its cockpit with an opening roof and hatch is spacious enough to fit the Hoth AT-ST pilot Minifigure armed with a blaster pistol. Imperial Droid Probe figure, Chewbacca, and Hoth Rebel Trooper Minifigures are also included in the set. The only downside is that the set doesn't have a lot of accessories.
501st Legion Clone Troopers 75280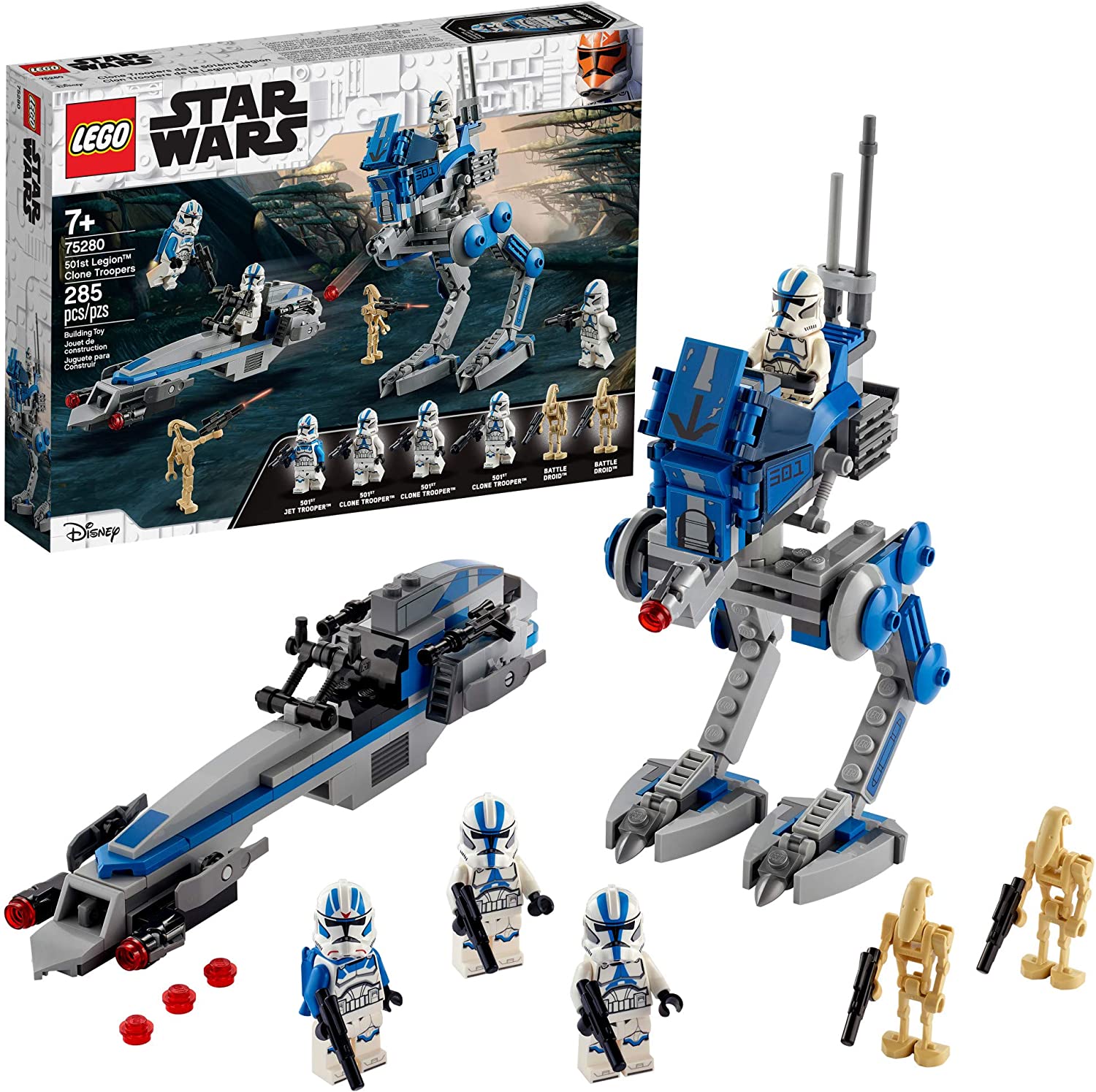 Piece count: 285
Age group: 7+
Price range: $
Combining the Imperial TIE Fighter 75300 and 501st Legion Clone Troopers 75280 set can unlock a wide range of play options. BARC Speeder and AT-RT Walker toys have simple designs, and building them won't require much time.
Both toys have single-Minifigure cabins and stud shooter elements, while the AT-RT Walker model has adjustable legs.
This set comes with weapons for each Minifigure, allowing builders to engage in heroic battles between Clone Troopers and Battle Droids. However, it doesn't include other accessories kids can use to develop play scenarios.
Notable Mentions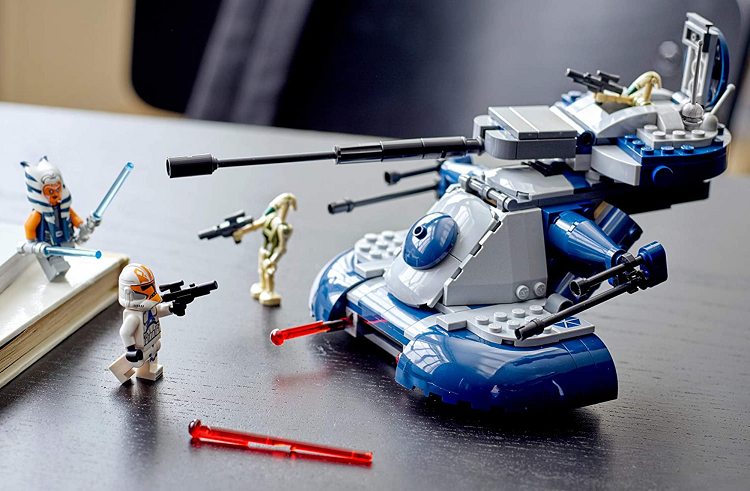 Frequently Asked Questions about the Imperial TIE Fighter 75300 Set
Question: How Long does it Take to Build the TIE Fighter 75300 Set?
Answer: The construction process takes around one hour or even less if you have previous set-building experience.
Question: Is the Imperial TIE Fighter 75300 Set in High Demand?
Answer: This set is one of the most popular LEGO models based on the original Star Wars trilogy, but it isn't hard to find.
Question: What is the Current Market Value of Minifigures from the Imperial TIE Fighter 75300 Set?
Answer: The value of these Minifigures is around $4, and it could increase after LEGO discontinues this set.
Question: Is LEGO Planning to Release a New TIE Fighter Set?
Answer: The release of a new TIE Fighter set by the end of 2022 seems unlikely since LEGO hasn't made plans to publish a new version of this toy public.
Final Thoughts
The most recent LEGO TIE Fighter is a scaled-down version of the 2018 model. AsidLEGO Ecto 1 Review and Guidee from the size difference, these two toys look almost the same and have identical features.
The Imperial TIE Fighter 75300 model employs the same construction techniques as previous LEGO sets that featured this toy, and it fails to bring any design improvements.
Still, I think that this 432-piece model offers an excellent value for money, especially when paired with Luke Skywalker's X-Wing Fighter 753001 set. I hope that this LEGO TIE Fighter review has helped you decide if this Star Wars set is the right choice for you.
Take a look at our LEGO Razor Crest review if you're still searching for the next Star Wars set you'd like to build.
Recommended Reads: