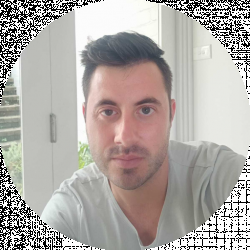 Latest posts by David Borgogni
(see all)
Collecting LEGO bricks in different parts of your home is a time-consuming and futile task because children often return to play shortly after you've put all bricks back into their storage boxes. The best LEGO play table ideas provide children with ample play space and enable you to collect LEGO bricks quickly.
Almost any table with a surface large enough to hold multiple LEGO toys can be converted into a play table. That's why you don't necessarily have to purchase a table designed for this purpose because you can create a DIY LEGO play table.
In this article, I'll explore some of the best LEGO play table ideas and recommend several options that could be a perfect fit for the kids' room. Please read our guide to the best LEGO display shelves if you're looking for the best way to exhibit the LEGO sets you to build.
At a Glance – The 5 Best LEGO Play Table Ideas
Bottom Line Up Front
I recommend the LEGO Compatible Table with Built-in Storage because it offers a large playing surface and a simple LEGO storage solution. In addition, the storage bag detaches from the table easily, allowing kids to carry their LEGO collections wherever they go.
Selection Criteria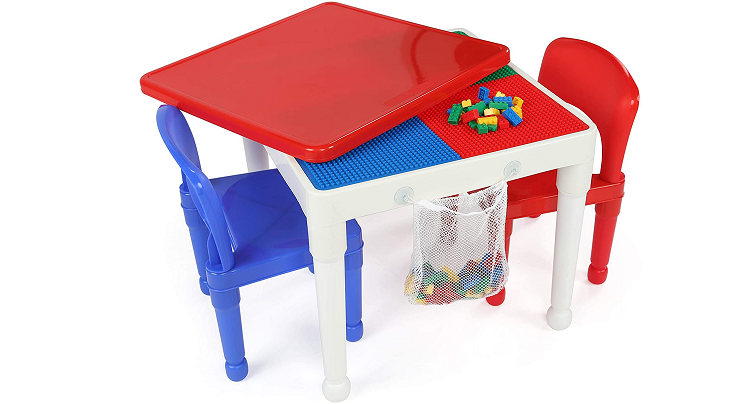 Play tables aren't on the list of home décor items LEGO or brands operating under a LEGO license manufacture. Despite this, LEGO play tables are readily available in online or brick-and-mortar stores, and you can choose from a wide range of models.
The task of choosing the best LEGO play tables was a simple one, even though I had to consider a wide range of models that can meet the needs of young LEGO builders.
I used several parameters that allowed me to pinpoint the best options on the market, so let's take a look at some of the essential ones.
Play surface size – This criterion allowed me to identify the models that offer sufficient playing room for young LEGO fans. Hence, the play tables featured in this article aren't suitable for adults.
Built-in storage – All play tables included in the final selection have a built-in storage option, but their storage capacities vary so that you can choose the model best suited for the size of your LEGO collection.
Check out our guide to the best LEGO sets under $50 to discover some of the best models in this price range.
Crucial Components of LEGO Play Tables
Regardless of their size or type, all LEGO play tables have the same characteristics. The majority of these home décor items are designed to meet the needs of the youngest LEGO builders, and finding an option suitable for an adult LEGO fan can be difficult.
Let's take a look at some of the key components of LEGO play tables.
The surface of each model is covered by baseplates compatible with either standard LEGO bricks or LEGO Duplo elements designed for toddlers.
Most play tables are equipped with storage shelves, storage boxes, or removable pouches that allow easy access to LEGO pieces. However, the number of LEGO bricks these storage options can hold depends on the model.
A set of chairs that offer additional storage space is often included with LEGO play tables, but their dimensions are adjusted to the height of preschool kids.
Please browse through our guide to the best LEGO Harry Potter sets to learn more about the latest models in this theme.
Building a DIY LEGO Play Table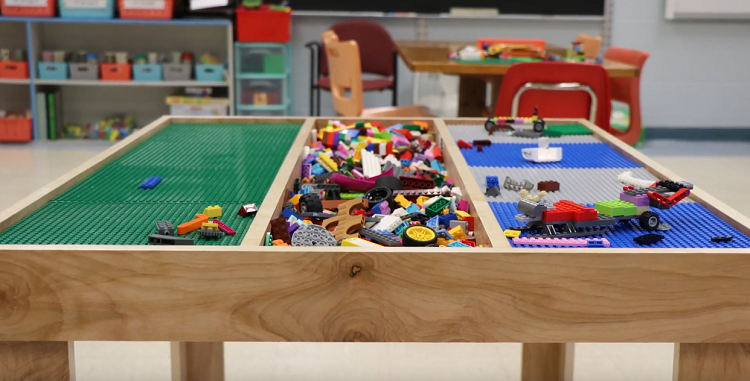 Custom-made solutions are probably your best option if you're looking for a play table suitable for a teen or adult LEGO builders. Turing an old table you're no longer using into a LEGO play table is a simple DIY project anyone can complete.
Let's take a look at what you're going to need to build a DIY LEGO play table:
28 to 32 inch tall wooden or plastic table, with a top that measures approximately 60 x 30 inches.
Up to 20 baseplates in colors of your choosing.
Elmer's glue or other all-purpose glue
Once you have all materials in place, you should arrange baseplates over the tabletop to check if you have to cut some of them to fit the surface. Use a circular or miter saw to remove parts that can't fit on the table and start gluing baseplates to the table.
Optionally, you can install shelves under the tabletop to create a storage space for your LEGO collection. Please go through our guide to the best Walmart LEGO sets to learn more about some of the best models this retailer offers.
Assessing the Available Space
Most LEGO play tables designed for preschoolers don't occupy a lot of space since their length rarely exceeds 30 inches. Nonetheless, determining how much free space you have at your disposal can make the search for a LEGO play table much easier.
You should leave enough room around the table so that kids can approach it from different sides and reach the entire surface of the tabletop. Doing so will also enable you to add chairs to the setup and ensure your kids stay comfortable for hours.
In addition, getting a LEGO play table can help you save space because most models come with built-in storage, eliminating the need to explore different storage options. Please read our guide to the best LEGO trucks to find out what makes these toys so popular.
Choosing the Right LEGO Play Table Material
The durability of a LEGO play table depends on the material. Plastic models are relatively easy to damage, and they usually last for a few years. This makes them a great option if you're looking for a LEGO play table suitable for kids aged four or younger.
Wooden play tables are durable, but they're also considerably more expensive than plastic models. Hence, they might be the right choice for you if you need a LEGO play table your kids won't outgrow quickly.
Besides the quality of the table material, you should also pay attention to the quality of the table's storage boxes and pouches. These components are usually made of plastic or mesh fabric, so you won't have to worry about replacing them often.
Please go through our guide to the best LEGO display cases to discover how to exhibit your minifigure collection or the latest set you built.
The Key Factors to Consider While Choosing a LEGO Play Table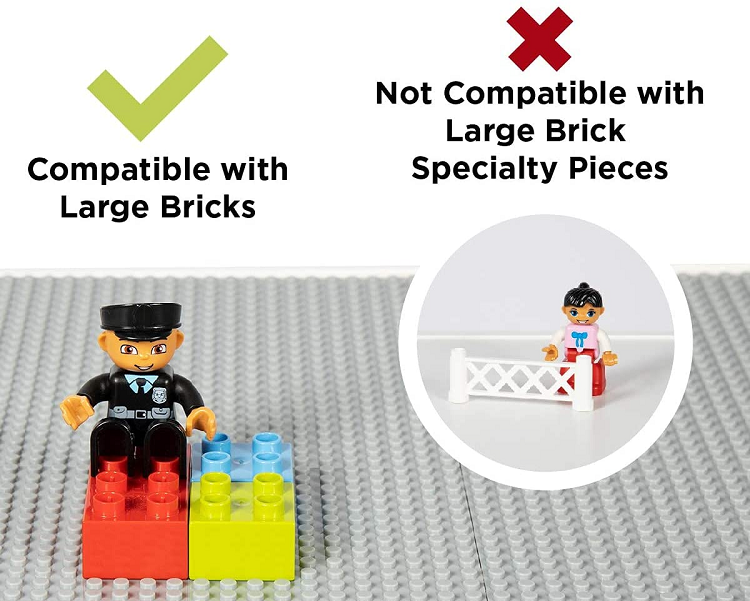 Most LEGO play tables have similar or identical features, so finding the model that fits your requirements shouldn't take much effort.
Besides the size of the room where the table will be located and the model's durability, there are only a handful of factors you need to take into account during this process. Here are some of the essential aspects you'll have to pay attention to while deciding which LEGO play table to choose.
Table's Dimensions
Checking the table's dimensions will enable you to determine how much play space a specific model offers and how much room it is going to occupy in your home. Obtaining this information is easy because most manufacturers include it in product descriptions.
Keep in mind that most models you can find on the market are relatively small, and you'll have to explore other options if you want to build a LEGO set like the Hogwarts Castle, Diagon Alley, or Daily Bugle.
The Size of LEGO Set You Want to Build
LEGO sets with thousands of pieces are bulky, and they may be too large to fit on a LEGO play table. The models you can find on the market are only a good option for LEGO sets with fewer than a thousand pieces. You should consider building a DIY play table if you'd like to construct large display LEGO models.
In addition, most models feature baseplates that are compatible with standard LEGO and Duplo bricks.
Table's Design and Functionality
Even though they have similar features, play tables come in a variety of designs. Hence, finding the model that matches the rest of the furniture in the room where you want to keep it shouldn't be too difficult.
Aside from the baseplate at the top and storage shelves, most models resemble regular coffee tables. However, some models come with a double-sided playboard that allows kids to use it for more than just playing with LEGO bricks.
LEGO Storage Options
Storage compartments are a standard feature on all LEGO play tables, but each model has different storage capacities. Play tables equipped with mesh storage pouches are best suited for small LEGO collections containing several hundred pieces.
Models equipped with storage boxes can store more than a thousand pieces, but their storage capacity depends on the number and dimensions of the boxes. However, most LEGO play tables aren't large enough to store medium-sized and large LEGO collections.
Price Range
Materials, size, or storage options are some of the factors that can affect the prices of LEGO play tables. The most affordable models cost less than $50, while high-end options can cost more than $200. It's worth adding that the least expensive models often have limited storage capacities.
That's why building a DIY LEGO play table is usually the most affordable option, especially if you already have an old table you no longer need.
The Advantages of LEGO Play Tables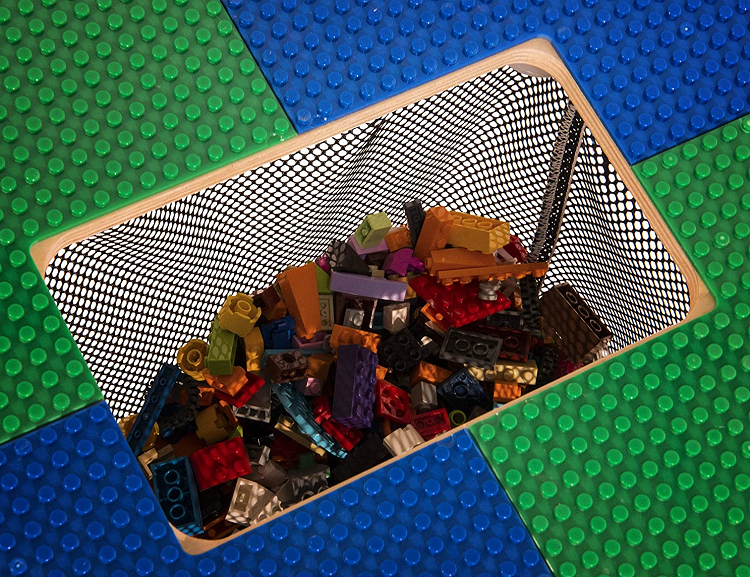 LEGO Play Tables Provide Children with a Designated Play Space
These tables prevent kids from leaving LEGO bricks lying around the house by providing them with a designated area where they can play with toys they build. LEGO play tables also feature storage options that allow kids or parents to put all pieces to their places after a playing session.
Excellent Selection of Models
Numerous brands manufacture tables that have tabletops equipped with baseplates. These tables are compatible with standard or Duplo LEGO bricks. In addition, most LEGO play tables arrive with the tools you need to assemble them.
LEGO Play Tables are Durable
Even the models made of inexpensive materials can last for years, while high-end models have anti-scratch protection and various other features that ensure durability.
The Disadvantages of LEGO Play Tables
Most LEGO Play Tables are Designed for Children
Most LEGO play tables are too small for adult or teenage LEGO builders. That's why repurposing an old table is often the easiest solution if you need space where you can build large LEGO sets.
Top 5 LEGO Play Table Ideas
LEGO Compatible Table with Built-in Storage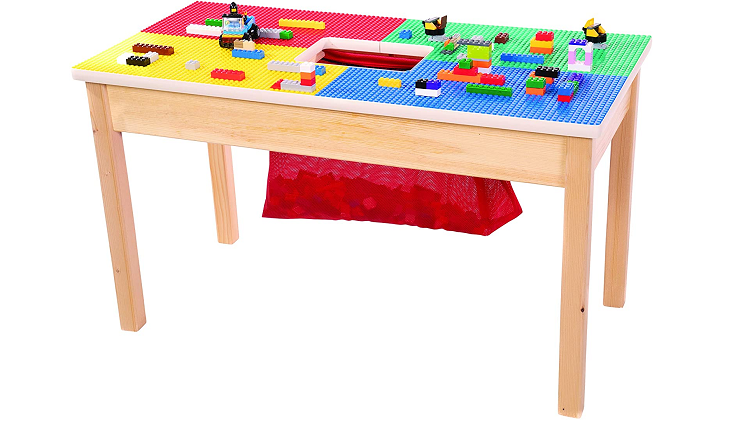 The sturdy wooden frame ensures the durability of the Fun Builder's LEGO Compatible Table with Built-in Storage. This play table features a baseplate tabletop that is compatible with all types of LEGO bricks, and you can use it to construct models from standard or Duplo pieces.
The tabletop has a hole with a storage bag in the middle so that kids can return all bricks they used to their place when they finish playing. The table arrives preassembled, and you have to attach its legs to the tabletop before your kids can start using it.
Pros
Simple and elegant design
It has a spacious playing surface
Baseplates are compatible with all types of LEGO bricks
The center bag keeps all LEGO bricks in one place
Cons
This model is expensive
The frame isn't resistant to scratches
Reversible Wooden Activity Table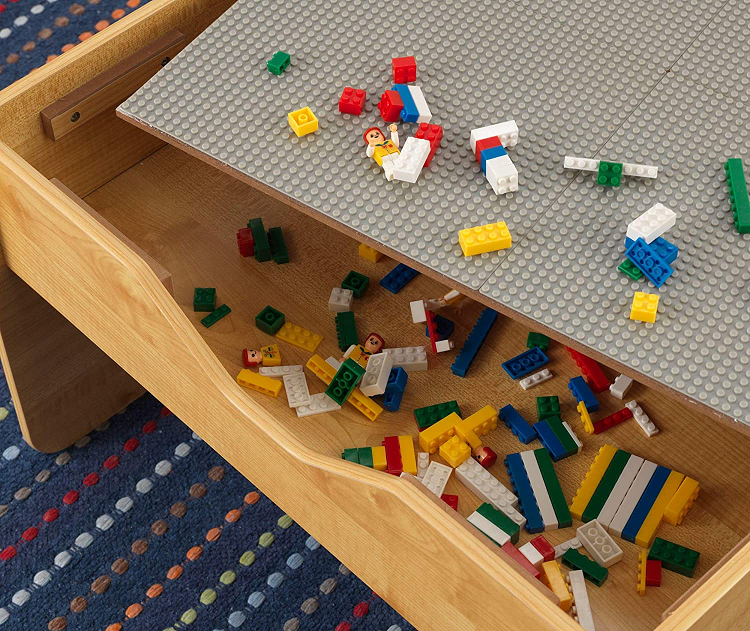 Even though it is relatively small, the Reversible Wooden Activity Table still offers plenty of playroom for children aged three or older. The play surface has two sides so that children can play with LEGO bricks or use the flat illustrated surface when they want to play with other toys.
The toy storage compartment is located underneath the playing surface, allowing children to find the toy they need quickly. The table has rounded corners to protect toddlers from potential injuries.
Pros
The table's frame and top are made of engineered wood
 Affordable price
It features a two-sided playboard
The table ships with 195 building bricks
Cons
Complicated assembly process
You have to remove the playing surface to reach the storage space
Time 2-Play LEGO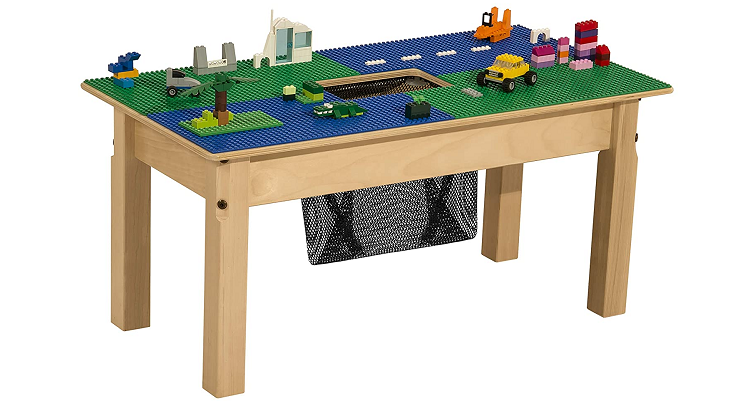 You should consider getting the Wood Designs' Time 2-Play LEGO model if you're searching for a table that encourages collaborative play. The tabletop is made of Baltic Birch, and it features blue and green baseplates compatible with all standard LEGO pieces.
The play surface has a centrally positioned storage pouch that can hold hundreds of pieces. The storage bag detaches from the table, allowing children to take their LEGO bricks with them wherever they go.
Pros
Sturdy wooden frame
Assembling this play table is easy
A spacious play surface
It's easy to clean
Cons
This table isn't multifunctional
Sorting out LEGO pieces is impossible
3-in-1 Play Table and Chair Set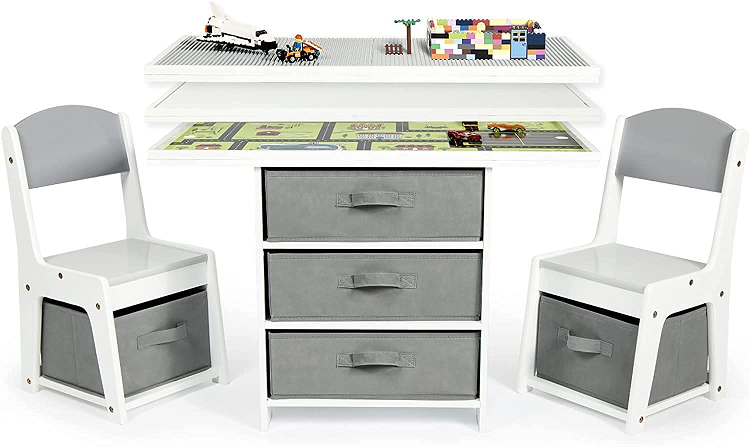 Besides building LEGO models, kids can use the 3-in-1 Play Table and Chair Set to play with various toys. The model comes with the city road map, making it an excellent option for children who like to play with toy cars.
Its double-sided playboard has baseplates compatible with standard and Duplo bricks on one side and a flat surface on the other so that kids can choose which side they want to use. The table has three storage shelves that make it easy to organize your LEGO collection.
Pros
Both chairs have storage boxes
The table arrives with the tools you need to assemble it
It can be used for different purposes
The table has a two-tone scratch-resistant finish
Cons
This model is available in just one color
Storage bins are made of fabric
Kids 2-in-1 Activity Table and Chair Set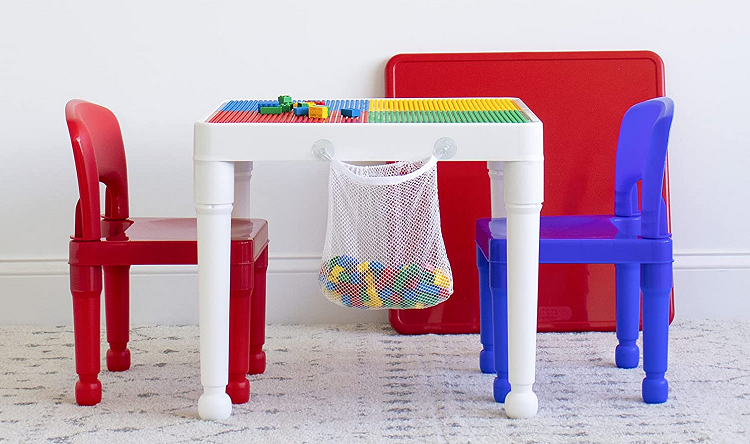 A simple and compact LEGO play table like the Humble Crew's Kids 2-in-1 Activity Table and Chair Set is an excellent option for first-time LEGO builders. Its tabletop features baseplates compatible with Duplo bricks, while the storage pouch is attached to its side.
The table comes with a plastic cover that provides toddlers with an extra play surface they can use to paint, do homework or play with other toys. Two plastic chairs enable children to build LEGO sets together.
Pros
Low upkeep requirements
It doesn't occupy a lot of space
Chairs can support up to 50lbs of weight
The table weighs just 11lbs
Cons
The frame is made of plastic
The table is too small for kids aged six or older
Frequently Asked Questions About LEGO Play Tables
Question: Can I Remove Baseplates from a LEGO Play Table?
Answer: Baseplates are attached to the table, and you cannot remove them.
Question: How Many Bricks Can I Store in LEGO Play Table?
Answer: Some LEGO play tables can store more than 4,000 pieces.
Question: Do All LEGO Play Tables Have Rounded Corners?
Answer: No, only models designed for kids under four have rounded corners.
Question: Is Assembling a LEGO Play Table Difficult?
Answer: All models come with building instructions and the tools you need to put the table together. In most cases, you won't need more than thirty minutes to put a LEGO play table together.
My Verdict: How to Know Which LEGO Play Table is the Best?
Creating a LEGO activity station will provide your children with space where they can explore creative options offered by different LEGO sets and prevent them from leaving bricks lying on the floor after the playtime is over.
In addition, LEGO play tables can encourage children to develop their set-building skills or spark interest in engineering, science, or art. I recommend the Fun Builder's LEGO Compatible Table with Built-in Storage because of its simple but stylish design and relatively large playing surface.
If you need a play table that lets kids switch between different surfaces, models like Kids 2-in-1 Activity Table and Chair Set or 3-in-1 Play Table and Chair Set might be a good choice for you. Which LEGO play table idea do you like the most?
Let me know in the comments or continue reading our guide to creative LEGO ideas to find inspiration for your next DIY LEGO project.
Recommended Reads: